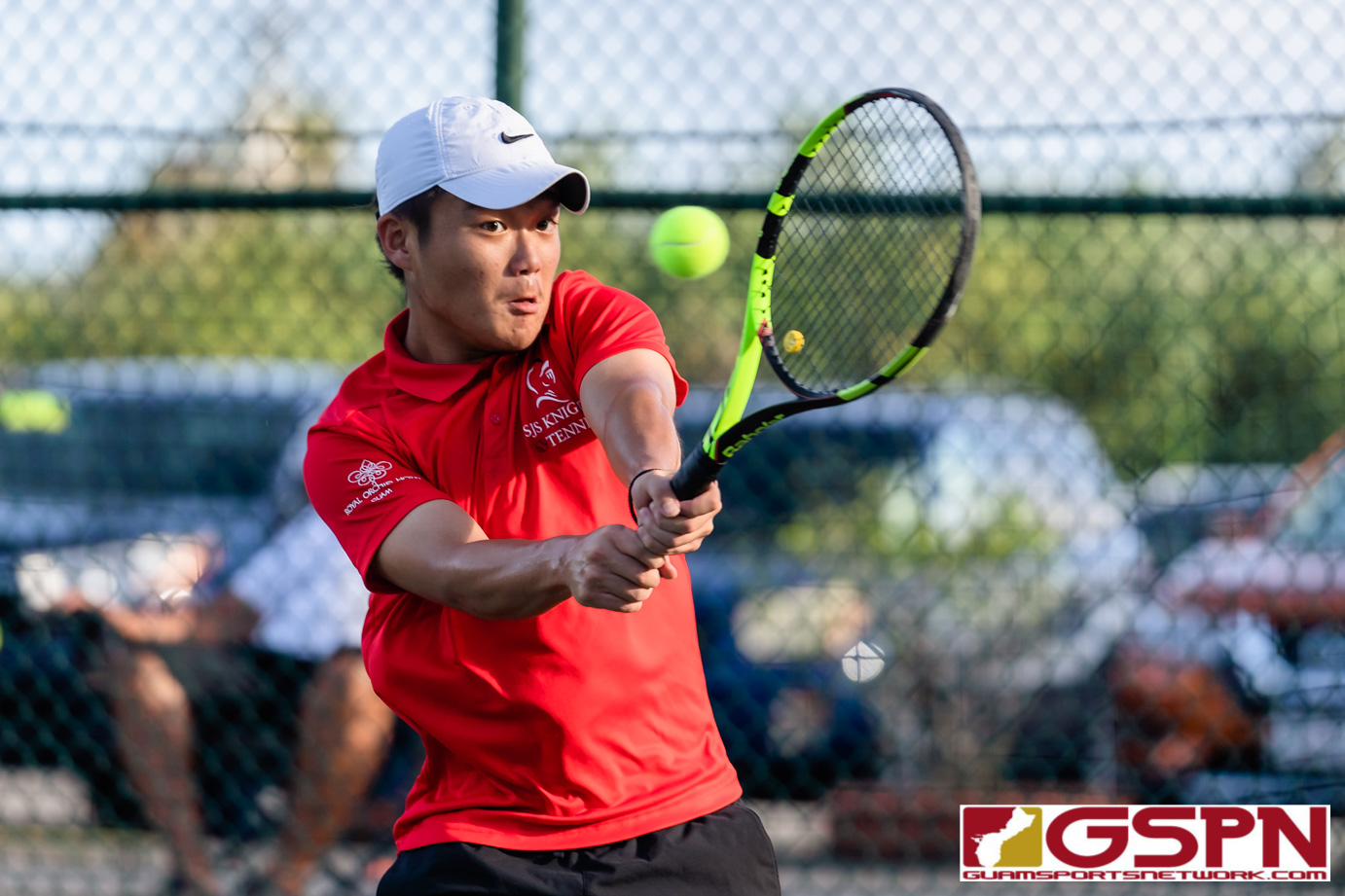 By Robert Balajadia
The IIAAG ISA Islandwide Tennis Tournament held all four of their final matches at the Ninete Tennis Court Friday evening after the week-long tournament came down to the top brackets. St. John's Marshall Zhang defeated JFK's Mark Fontanilla in a close 8-6 match and fellow Knight Kaia Malakooti defeated AOLG Cougar Joycelyn Tenai 8-2.
Knights sweep singles
The match between the top two seeds featured a back-and-forth battle between two friends who grew together playing the sport. St. John's Zhang was only able to hold a one game lead throughout the day as Fontanilla was keeping pace, meeting Zhang at every point until a 6-6 tie. Zhang started to get into his groove to take a 7-6 game lead, ending the game with a shot to the back line that Fontanilla was out of position for.
"This was one of the most intense games I've played all year. We played and trained together which formed our friendship so it was only natural that the competition today was going to bring out the intensity," said Zhang.
The match was greeted by many of the fans cheers as the two traded blows for the Gold Medal. Zhang's consistency proved key as Fontanilla was hoping to take advantage of Zhang's mistakes.
"It was tough. I knew [Zhang's] shots would be heavy and that he'd being playing with consistency, but today, not only was he playing consistent, he was also hitting really good angles. I tried to hit it to his back hand because I noticed he was making mistakes, but I hit it to his fore hand and kept getting killed," said Fontanilla.
"It's all about being consistent and getting the ball back, but I was targeting back hand more and just stepping into my shots," added Zhang.
In the girls showdown, Malakooti jumped out to a big games lead and just stayed the course to grab gold. Even though the young sophomore took the individual award, playing against a long-time friend was what she really celebrated.
"Joycelyn and I have been playing against each other for a long time and we have a really close friendship so just us having fun made it less stressful. It really doesn't matter who wins because we play to have fun. We shared how much we're going to miss playing with each other and how much fun it was to play each other again. We appreciate each others presence, especially since we don't see each other often," stated Kaia.
The Knights didn't take the team title, but showed out in the singles matches.
"I think we stilled showed our place. Even though the title is a team event, I feel we represented our school well individually and I think that's what matters most," added Malakooti.
Titans sweep doubles
The Tiyan Titans were seed underdogs heading into the Tournament, but the duo of Kore Cruz and Michael Sampang and Ricci Fuellas and Sakura Garrido completed the Titans sweep in the Boys and Girls A Doubles.
Tiyan's Cruz and Sampang defeated Eagles Favid Chae and Justin Kim 8-4 after the two singles players decided to join forces for a Tournament Doubles run, despite entering as the lower seeds.
"I think we just had fun. I don't think we cared much about our placements or final seeding, we don't think about that kind of stuff," said Cruz on what inspired their run.
"We didn't have to kill all the balls, just keep it in play. You don't have to hit hard to win," said Sampang.
"It's redemption for the season since we won second place," said Cruz.
"I'm just glad we finally won something," laughed Sampang.
The Girls duo of Fuellas and Garrido defeated the Knights pair of Aprile Kim and Rachel Seo 8-4 after Seo and Kim had defeated the top seeded Eagles to get to the gold medal game.
Team Titles
Girls
1st – Harvest Eagles
2nd – Academy Cougars
3rd – St. John's Knights
Boys
1st – JFK Islanders
2nd – Tiyan Titans
3rd – St. John's Knights
PHOTO GALLERY BROUGHT TO YOU BY:

QUICK HITS
The Figo Islanders 40s women's softball team took gold in the Senior Softball World Championship in Las Vegas. Figo came out of the loser's bracket and beat the Arizona Belles 17-3 in the AA division championship game Sunday afternoon.
Other Guam teams that played in the 40s tournament were: Team SOTTA (women's) and Bud Light Guam, Friars 671 and Sindalun Guahan (men's).
Sindalu finished a respectable 4th out of 24 AAA division teams.