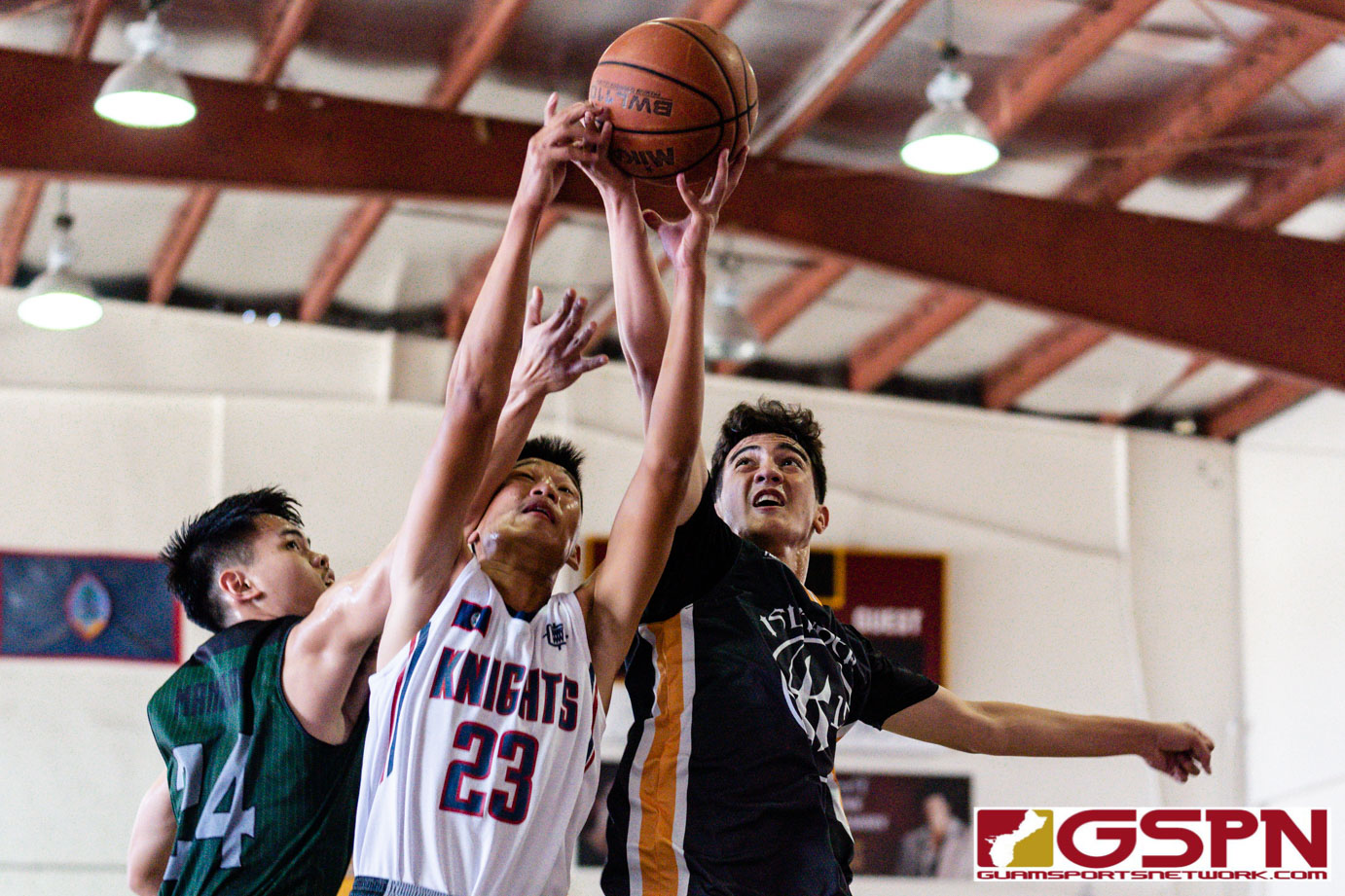 A busy Saturday full of games with all teams officially making their tournament debut. Each game grows more important for teams as only the top team from each pool will advance to Championship game with no playoff games being played. The final seeding in their pool will determine whom each team challenges for the final seeding.
Pool A
Okkodo 2-0
FD 1-0
ND 1-1
Guam High 0-1
Tiyan 0-2
Pool B
St. Paul 2-0
JFK 1-0
Sanchez 1-0
Harvest 0-2
St. John's 0-2
Sanchez 54, Harvest 37
The first game on a busy six-game schedule tipped off in the morning featuring a tournament debut for both the Sanchez Sharks and Harvest Eagles. Sharks John Macaldo poured in 16 points and guard Isaiah Malig added 12. Eagles big man Joe Henderson scored a game-high 21.
Okkodo 44, Guam High 37
The Bulldogs had control of the contest, surviving a late surge by the Panthers in both teams debut. Kobe Santos led all Bulldogs with 13 points and while the Panthers were led by Travon Jacobs with 10.
JFK 74, St. John's 25
The JFK Islanders stuffed the box scores with three players in double figures and 10 different scorers in the their tournament debut. Ralf Manalac was the high-man for JFK with 14 points and big man Erren Chen added 12 for the Knights. St. John's competed hard with their iron man squad, but fall to 0-2 in the tourney so far.
FD 90, ND 31
The Friars made a strong statement in their opening game, which featured a pair of dunks and points from 12 different players. Matt Fegurger, aside from two highlight reel dunks, posted 16 points in the win. Royal Josiah Mendiola scored 11 for the Royals who fall to 1-1.
St. Paul 63, Harvest 39
The Warriors improve to 2-0 in pool play after taking out the Harvest Eagles, who played their second game of the day. Thelo Orichiro and Brandon Miranda scored 12 each to lead the Warriors while Joe Henderson scored 13 for the Eagles.
Okkodo 68, Tiyan 41
Big man Jon Michael Lorena scored a game-high 20 points in the final game of the day with swingman Kevin Cabral adding 12 for the Okkodo top scorers. Despite playing two games in one day, the Bulldogs managed to improve to 2-0 to set up a big game against the FD Friars tomorrow afternoon. Westbrook Concepcion scored 15 for the Titans who fall to 0-2 in Pool play.
Sunday Games
10:30 am – Sanchez vs. JFK
12 pm – Notre Dame vs. Guam High
1:30 pm – St. John's vs. Harvest
3 pm – Okkodo vs. FD
4:30 pm – Guam High vs. Tiyan
6 pm – St. Paul vs. Sanchez
PHOTO GALLERY BROUGHT TO YOU BY: