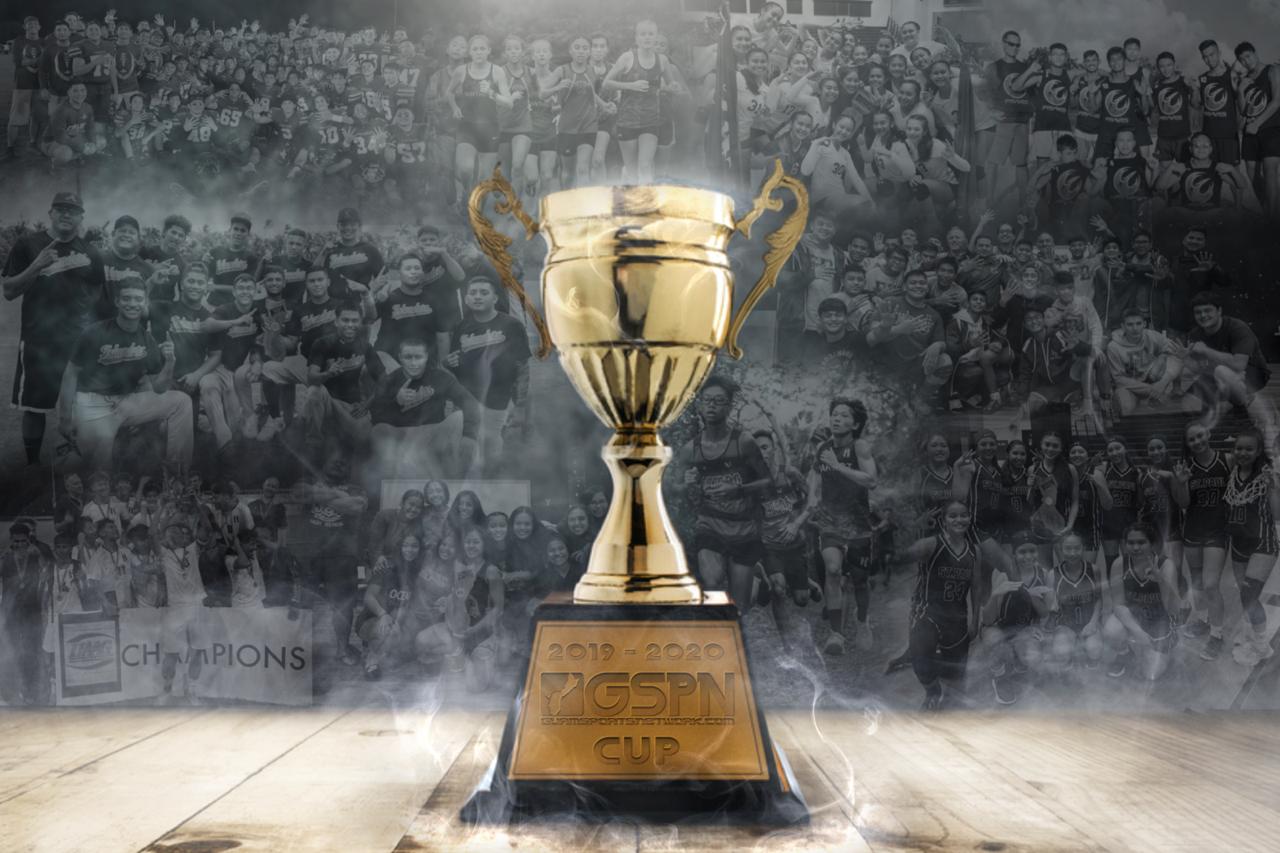 By Michael Cruz
The GSPN Cup has been revamped!
Now, there will be one cup for boys and one cup for girls. Here are the standings after two quarters.
The point system is as follows: 5 points for All-Island Champions. Points for playoff wins have been eliminated, 3 points will go to 2nd place and 1 point for 3rd if allotted. Here are the standings.
Boys Standings
1st FD – 19 points: The Friars maintain a lead as usual over the rest of the league. Repeat champions for dynasties in football, wrestling, and golf. The Friars won the inaugural beach volleyball championship finals over Tiyan.
2nd JFK, Tiyan – 8 points: JFK went from worst to first and ends the decade with a baseball championship win over the league returnees in ND. A second place finish in soccer helped their Cup standings. The Titans finished second in wrestling and on top of beach volleyball proving competitive in the first half of the calendar sports year!
3rd GW – 6 points: A second place finish in football and three third place finishes in the second quarter had GW staying competitive in each sport!
4th Harvest – 5 points: Winning the coveted soccer title was more than enough for the Eagles as they will likely celebrate this title for more years to come.
5th Okkodo, ND – 3 points: The Royals forced the 'if' game against JFK in baseball, but the Islanders regrouped to bring in the 2020 title. Okkodo came within three points of taking the cross-country crown away from the St. Paul Warriors.
6th Guam High, Sanchez – 1 point: A huge consolation game win over the Panthers had the Sharks grab a top three spot in football and the Panthers were right in the thick of cross country, taking third overall.
Results
1st Quarter Football: FD – 5, GW – 3, Sanchez – 1
1st Quarter Cross Country: St. Paul – 5, Okkodo – 3, Guam High – 1
1st Quarter Golf: FD – 5 Points
2nd Quarter Wrestling: FD – 5, Tiyan – 3, GW – 1
2nd Quarter Soccer: Harvest – 5, JFK – 3, FD – 1
2nd Quarter Baseball: JFK – 5, ND – 3, GW -1
2nd Quarter Beach Volleyball: Tiyan – 5, FD – 3, GW – 1
Girls Standings
1st Place Academy – 10 points: A golf title and top three finish in volleyball, wrestling and basketball have the Cougars standing ahead of a close competition for the first ever girls-only cup standings!
2nd place JFK, ND, Southern, St. Paul – 5 points: The Islanders retook their spot as the queens of cross country while ND held down volleyball for a third straight year as well as the Warriors, who captured a basketball three-peat. The only first time champs this time around were the Lady Dolphins, who flipped the All-Island Tournament upside down to win their first evert wrestling title.
3rd place St. John's – 4 points: A top three finish in cross country for 2019 and their third straight second place finish in Girls Volleyball has the Knights at the heels of the rest of the league.
4th place Guam High – 3 points: The Panthers were six points behind JFK in the cross-country standings to take second place in what proved to be an entertaining meet.
5th place GW – 1 point: The Geckos were a game away in both volleyball and girls basketball from competing for, at least, a top three finish with tough losses coming in each of those sports quarterfinals. The Geckos did show up strong in wrestling, taking third overall.
Results
1st Quarter Cross Country: JFK – 5, Guam High – 3, St. John's – 1
1st Quarter Golf: Academy – 5
1st Quarter Volleyball: ND – 5, St. John's – 3, Academy – 1
2nd Quarter Wrestling: Southern – 5, Academy – 3, GW – 1
2nd Quarter Girls Basketball: St. Paul – 5, Okkodo – 3, Academy – 1