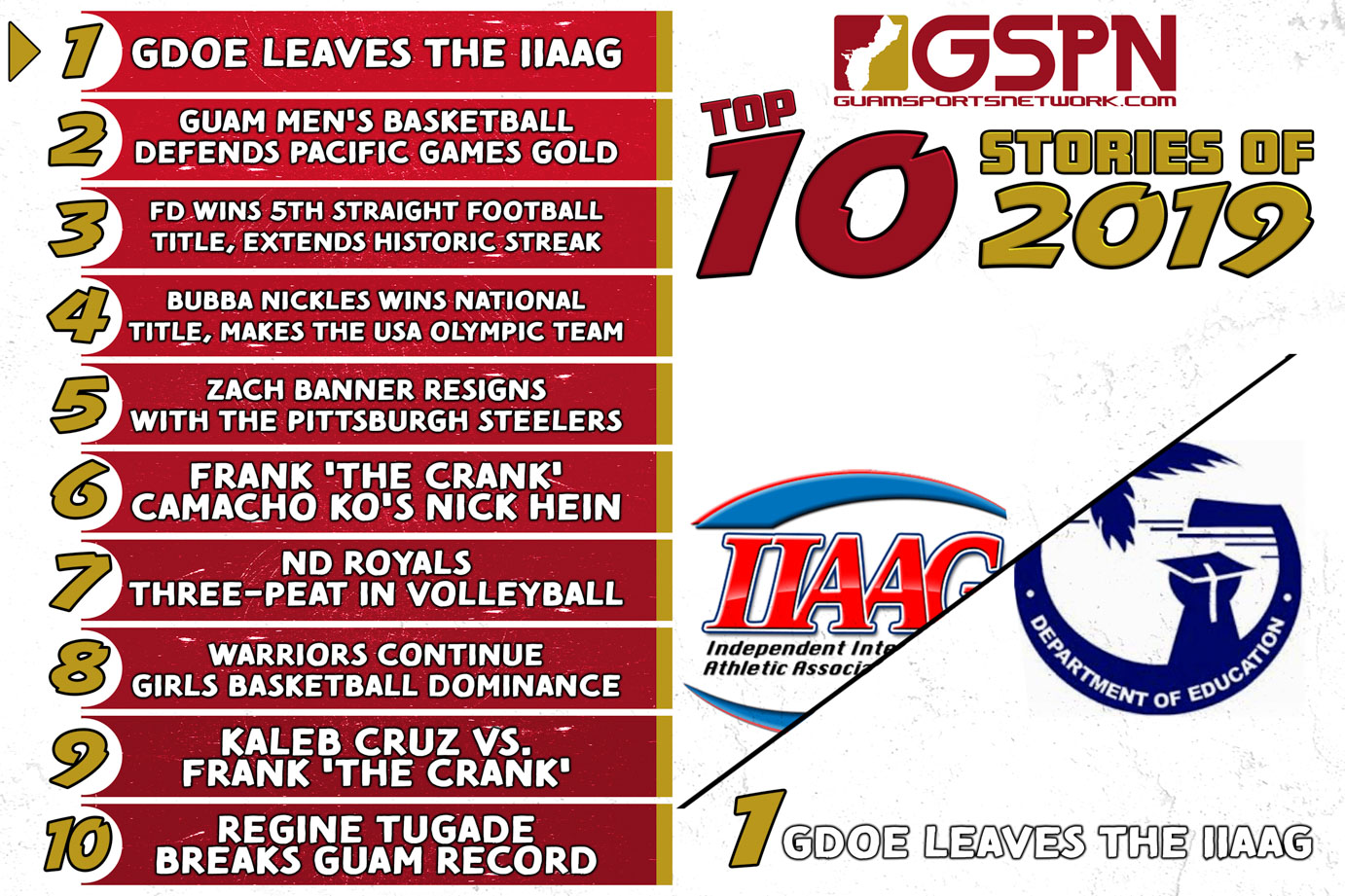 Here are the Top 10 Stories of 2019!
Every year GSPN spends the last days of the closing calendar year counting down the most clicked, read, liked, tweeted and shared stories on the website and our social media as well as their impact on Guam Sports. Your impressions have been documented and here's what YOU were most interested in for 2019.
We'll be revealing a new story every day before ringing in the New Year! Today we continue the countdown with #1. For the list of Honorable Mention stories that just missed the cut, check out the stories below the countdown!
(click story title or photo for full story)
1. GDOE leaves the IIAAG: When GDOE first broke the news that they were looking to separate from the IIAAG back in 2018 it was considered a highly debated topic and one of the top stories that year. In 2019, GDOE officially made the move to take back control of public school sports forming the ISA which will officially begin in January 2020. This story has been a closely followed topic all year long with fans sharing their opinions on the matter like never before all across GSPN's social media accounts. With a shake-up about to happen that could possibly change the outlook on high school sports, this story, and all things tied to it, was the hottest topic in 2019.
——————————————————————————————-
2. Men's Basketball Defends Pacific Games Gold: The mission to defend their Pacific Games Gold Medal after winning it 2015 was completed over the Summer as Guam dominated the Tournament from the opening game. Even with a few missing members from the 2015 run, Guam looked as good as ever in 2019 proving to be the best in the Pacific for another year! The teams performance also allotted them another Most Outstanding Team Award by Pac Games for the second time in a row. The action for the Men's team will only grow more exciting in 2020 as the FIBA Asia Cup 2021 Qualifiers will get underway and Guam faces a strong pool that includes Australia and New Zealand.
——————————————————————————————-
3. Friars win 5th straight football title, extend historic streak: Many believed that 2019 would be the year the FD Football winning streak would end, but instead the Friars ran through to another perfect season, ending in their 5th straight title. The historic win streaks now stands at 48-straight.
——————————————————————————————-
4. Bubba Nickles wins NCAA Title, makes USA Olympic Team: What a year for Chamorrita Bubba Nickles as she and the UCLA Bruins took the NCAA Title while also being added to the 2020 Olympic roster, the youngest member on the team! Madi caught up with GSPN's Patrick Lujan on the feat of her big year in a special conference call.
——————————————————————————————-
5. Zach Banner re-signs with the Steelers: Zach Banner's NFL future was uncertain. After signing with the Pittsburgh Steelers in 2018, Banner played the whole season with the black and yellow and entered the 2019 summer a free-agent. Not only did the Steelers agree to bring back Banner, but he made the 53-man roster to solidify his spot on the team. Guam's faithful Steelers fans were ecstatic to have Banner back with the squad and plenty from Guam have come to the games early and even stayed back just to snap a picture with the beloved Chamorro professional football player!
——————————————————————————————-
6. Frank Camacho KO's Nick Hein: Frank 'The Crank' Camacho turned in his most impressive win of his UFC career back in Stockholm after knocking out Nick Hein in the 2nd round last June. Camacho picked apart the German fighter for his second win in the UFC after perfectly executing his gameplan of attack Hein's midsection. Camacho even hopped on a video call with GSPN's Patrick Lujan the morning after his big fight!
——————————————————————————————-
7. Royals Three-peat in Volleyball: ND won their first title in 26 years back in 2017, but they then proceeded to dominate the league for the next two years. The Royal reign continued after claiming the title of Champions in 2019 against the St. John's Knights, who they faced for the title in all three years.
——————————————————————————————-
8. Warriors Continue Girls Basketball Dominance: The St. Paul Warriors continued to rule the girls basketball world in 2019, wrapping up a perfect 2019 season with their third straight title. Warrior Jan Quintanilla once again had proven the biggest stage is where she thrives, leading the Warriors with 24 points in their victory over the Okkodo Bulldogs.
——————————————————————————————-
9. Kaleb Cruz vs. Frank 'The Crank' Camacho: The UFC dream for young 11-year-old Kaleb Cruz was brought to life in August thanks to the Marianas own UFC star Frank Camacho and the Make A Wish Foundation. Cruz had the full UFC experience with a walk out song, cut and corner men and fans cheering him on through all three rounds. It was an inspirational day that neither Kaleb, Frank or anyone involved would ever forget!
——————————————————————————————-
10. Regine Tugade breaks Guam record: Guam's track superstar Regine Tugade holds Guam's high school records, but in February she became the newest record holder for Navy by posting a 24.64 on the 200m. The previous record was set in 2007 at 24.87 with Tugade breaking former record holder Loni Forsythe by 0.23 seconds. In Day 1 of the Conference, Tugade finished with more record breaking times, notching a 7.65 in the 60m to become a new Guam Record holder.
60m: 7.65s (Guam record)
200m: 24.64s (Naval Academy record, Guam record)
Honorable Mention stories
The passing of Joey Santos
GW snaps FD Friars rugby streak
Men's Basketball wins 3×3 Gold
2019 Bodybuilding Championships
High School All-Star Games
Asia Topasna: Champion of Life
Guam Women's Rugby beats Tapei

Foody's 5 Fun Facts
Harvest Eagle Trinity Terlaje
DID U KNOW?
FD senior Matt Fegurgur first dunked a basketball in his freshman year when he was 6'4″. The now 6'9″ center looks to dominate high school hoops.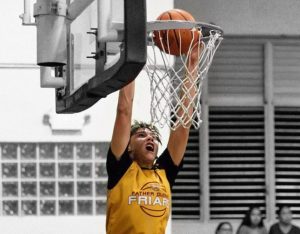 COMING SOON …
– FIBA Asia Cup: Guam vs. New Zealand, Feb 23
– Rizin 21: Aguon and Martinez
– Zach and Larry Return to Guam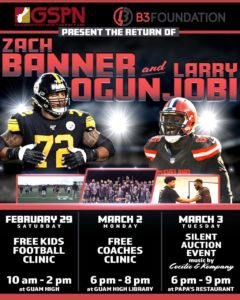 Brawl MMA March 13
QUICK HITS
190 runners took part in the 48th Hafa Marathon (half marathon).
Here are the top 5 finishers:
Ryan Matienzzo 1:13:17
Kris Lawrence 1:24:12
Taiga Sato 1:25:05
Chris Rasmussen 1:26:48
Carlos Leon Guerrero 1:28:46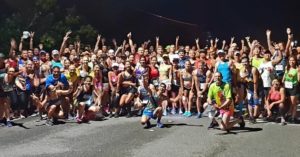 —————————————————-
Guam flags were waving in Clearwater, Florida in support of Bubba Nickles and Team USA in their Pre Olympics Softball Tour.