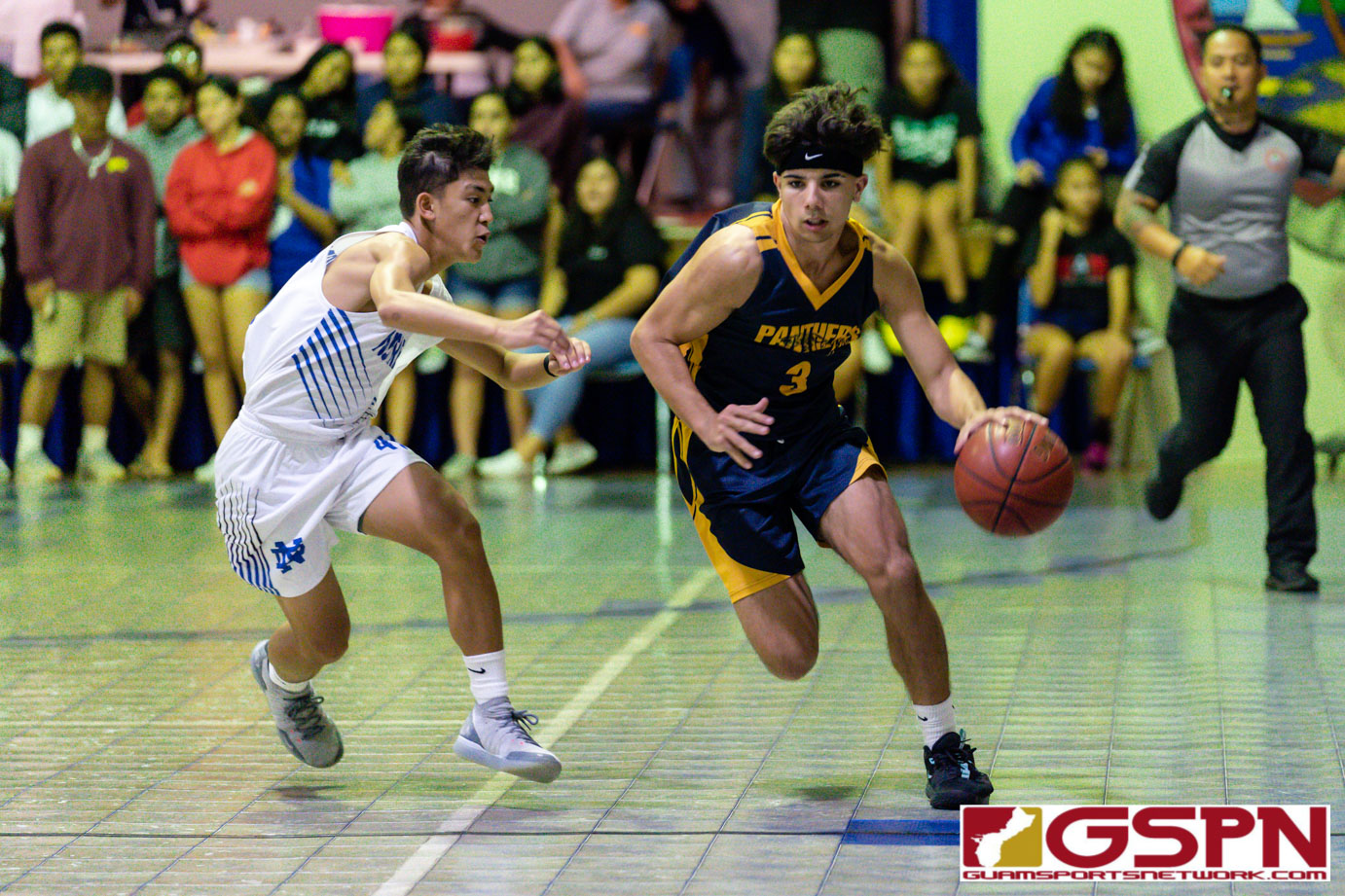 By Jay Leon Guerrero
Tobias Eckles had a huge game to help the Guam High Panthers defeat the ND Royals 50-41 to open up their IIAAG Boys Basketball season Friday evening down South at ND.
Eckles, a 6'4″ sophomore, had 12 points and 20 rebounds to lead the Panthers to victory over a scrappy ND team.
"I owe it all to my teammates for helping me out and spreading the floor," said Eckles. "Its a good team victory and sets the tone for what we want to do this year. Hopefully we continue doing this and take it all the way this year."
Royals strike first
The Royals started the game on fire, going ahead 11-2 in front of their home crowd. Bryce Chargualaf and Branden Cruz each hit 3-pointers to help the Royals establish an early advantage.
Guam High was cold from the field to start the contest but offensive rebounds from Eckles enabled guards Nick Keefe, Travon Jacobs and Jayson Jackson to score. The Panthers clawed their way back into the game and trailed 23-24 by halftime.
Panthers grab lead
The Panthers took their first lead of the game after Kyle Dato hit a pair of free throws to go 28-27. Guam High's Jacobs snatched a steal on the ensuing possession and went coast-to-coast to give the Panthers a 30-27 lead.
The Panthers went up by as much as eight points in the fourth quarter, but the Royals countered with a three-pointer from Tyler Concepcion. The Royals followed up with a free throw conversion from Shawn Lamparero and a basket from Kevin Tainatongo to get the home crowd feisty. 
With two minutes left in regulation, Panthers power forward Damien Dela Cruz converts an "and-1" basket and free throw to end the Royal run. Keefe converted 3-4 shots from the charity stripe to secure the victory for Guam High down the stretch. 
"No matter how much we have it down in practice, this is still a new team," said Keefe of his team's slow start.
Keefe said his team is getting better with their chemistry and by mid season they will get better at starting off games. Keefe had nine points and seven rebounds. 
"It's good to get this win but we got to get some rest in and prepare for our game tomorrow," said Keefe.
The Panthers will play a back-to-back with an interleague game against the Interscholastic Sports Association's (ISA) Southern High Dolphins.
The Panthers had a significant advantage in rebounds, collecting 58 total boards compared to ND's 28. Jackson and Dela Cruz each scored eight points for the Panthers, Jackson also grabbed 10 rebounds.
Cruz led the Royals in scoring with eight points. Josiah Mendiola had seven points; Nolan Sablan had five points and four steals for ND. The Royals fall to 0-1 for the season and will also play Saturday night in interleague play against the JFK Islanders.
PHOTO GALLERY BROUGHT TO YOU BY: