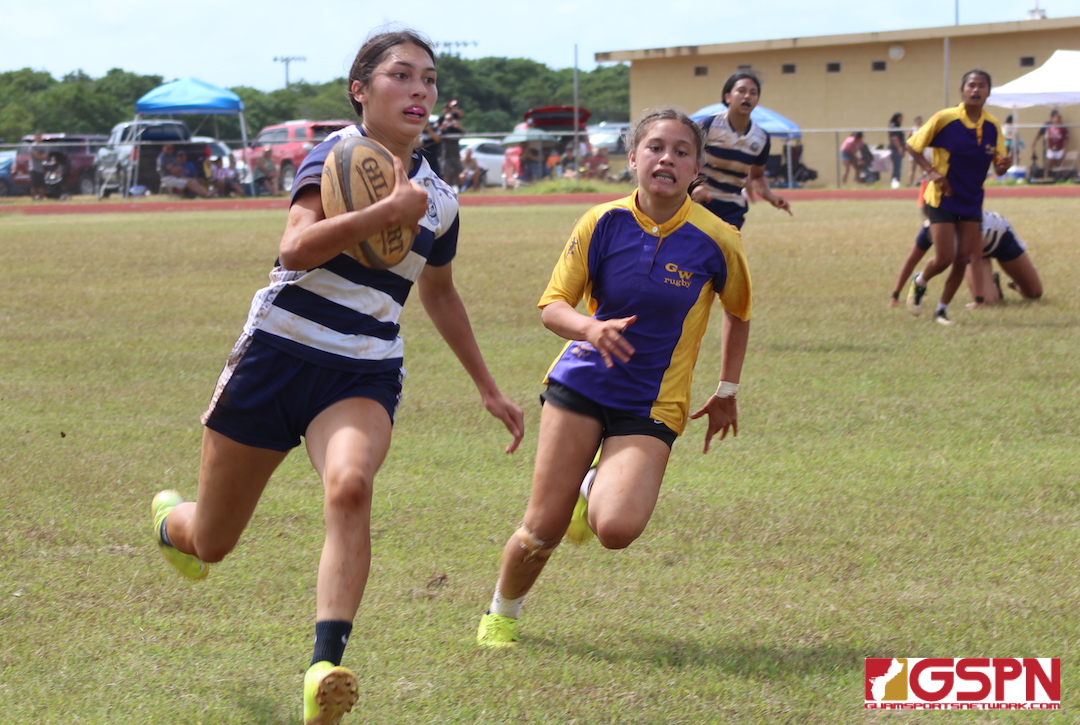 By Robert Balajadia
Opening weekend in the GRFU/ISA High School Rugby League operated as smooth as the jam-packed rugby Saturday's usually operate, just under a different organizational moniker. Despite a numerous amount of coaching changes from team-to-team and the absence of the JFK Islanders due to no coach for girls or boys, the Okkodo Field welcomed the players back to high school rugby for the first time in 2020.
Royals, Titans go 2-0
The featured match-up of the day between the ND Royals and GW Geckos was a rematch of last season's Championship Game, which ND had won in comeback fashion. ND would pull out another comeback, not as dramatic, to get a 19-7 victory in their final game of the busy day. But for the first five minutes of their Saturday showdown, the Geckos were displaying early dominance.
GW would punch in a try from the middle to take a 7-0 lead and threatened to score once more right before the half.
The Royals would make a big defensive stand near the try line after ND's Faith 'Twinkle' Moylan forced a turnover with the Royals able to get the ball down 30 yards in their favor. Royal Austia Mendiola would then pitch pass to Gia Camacho, who used her break away speed to go untouched for a 60-yard try. Camacho's score helped the Royals tie the game right before halftime.
"We were already planning it," said Camacho on how her opportunity opened up. "[After the stop] Faith kept telling me to be ready because Tia and Hana were doing their best to try and draw the defense in which opened up the outside for me."
Gia would get more work done in the second half as she received a heads up play from Mendiola once again as Austia pitched a perfect pass to a wide-open Camacho who would go 60 yards down the field for a lead-changing tie.
Moylan would put the finishing touches on the game late in the second half as she was the beneficiary of two wide passes to the outside, using her dancing skills to glide outside for the final try.
"We were nervous at first because it was GW. This is a very big game on just our first day, but we just needed to play like it was our last game. Since it was our last game of the day, we gave it our all and put our hearts in it," said the junior Camacho.
The Tiyan Titans, under new head coach Conrad Kerber, put forth an impressive day as well defeating the Guam High Panthers and Okkodo Bulldogs for an early 2-0 season start.
Girls Scores
Sanchez 22, Southern
Tiyan 17, Guam High 5
Okkodo 12, Academy 0
ND 17, Sanchez 0
GW 33, Southern 5
Academy 7, Southern 7
Tiyan 14, Okkodo 5
ND 19, GW 7
Academy 10, Guam High 10
Boys Scores
The home team Bulldogs picked up a big-time win in the opener against the Sanchez Sharks 17-7. The defending Champion GW Geckos powered through the Guam High Panthers 29-0 and the Friars found the try zone a plenty in their 38-0 victory over the Southern Dolphins.
PHOTO GALLERY BROUGHT TO YOU BY:

2022 GSPN I MÅS METGOT COMPETITION
2022 GSPN I MÅS METGOT COMPETITION
2022 GSPN I MÅS METGOT COMPETITION
2022 GSPN I MÅS METGOT COMPETITION
2022 GSPN I MÅS METGOT COMPETITION
2022 GSPN I MÅS METGOT COMPETITION
COMING SOON …
GNYFF Championship Saturday
2nd Annual Greg D. Perez Fishing Tournament on Saturday
GML Playoffs
1st Quarter Sports
QUICK HITS
Team Onslaught represented Guam at the National X-Ball League paintball tournament in Sacramento, CA. The squad finished in 3rd place out of 12 teams in the Division 5 category.
Front L-R: Frankie Borja, Robert Delos Reyes
Back L-R: Marvin Reyes, Ericka Camacho, Gavin Santos, Nick Rivera, Nikki Tan, Adrian Mora, Ralph Sgambelluri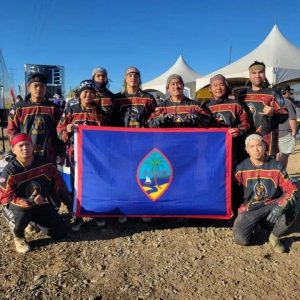 ———————————————–
Purebred Jiu-Jitsu Guam adds three more to their black belt stable. Daniel Cayanan, Cameron Mantanona and Peter Ungacta received their black belts on Saturday from Professor Stephen Roberto.