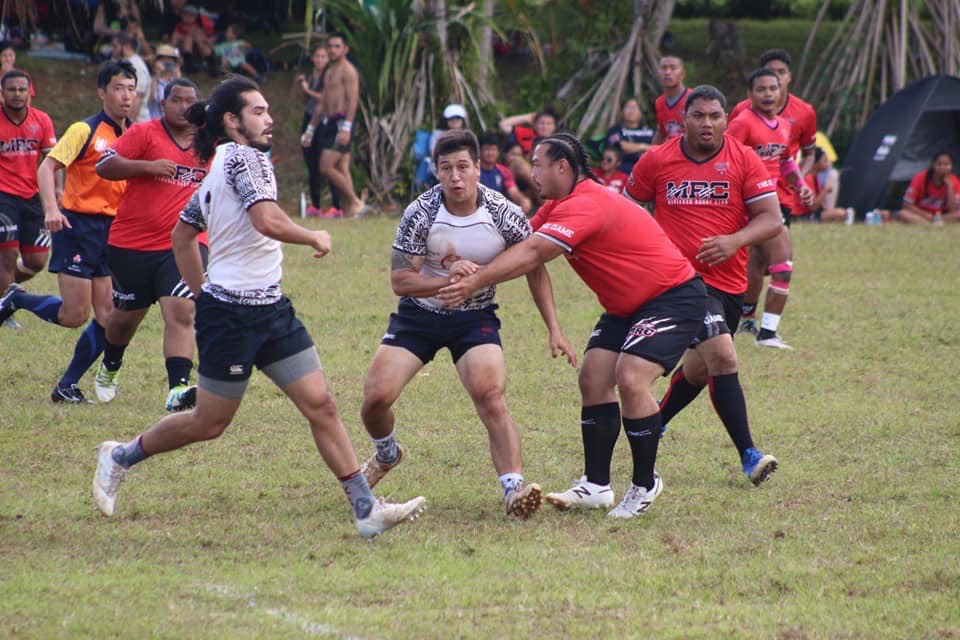 PRESS RELEASE – Guam Rugby Club's (GRC) officials announced today that for the first time in the event's 21-year history, it will be forced to cancel the True G.R.I.T. (Guam Rugby International Tournament) event held annually in March as a result of the revoked access to the Wettengel Rugby Field in Dededo. The GRC Board of Directors stated that they were denied access to the field because of political conflict with Mr. Ivan Shiroma of the Hal's Angels Football Association.
This is one of the biggest cancellations that resulted from the access issues associated with the Wettengel Rugby Field. All tournaments including the Senior Men's 10s Tournament, Women's 7s Tournament, and Under 19s Boys' 10s Tournament have been canceled as a result of the dispute.
"For the past 20 years, True G.R.I.T. was Guam's main rugby event that helped to elevate Guam as a destination where serious rugby can be played and enjoyed. Without a field, it won't be possible this year," said GRC President Doug Perez.

True G.R.I.T. History
GRC's annual True G.R.I.T. event began in 1999 and usually takes place over two days each March. The event includes local and international rugby teams from Japan, Australia, The Philippines, Korea, Hong Kong, The Commonwealth of Northern Mariana Islands, and The Marshall Islands competing to test their skills for the coveted True G.R.I.T. titles.
True G.R.I.T. has been Guam's premier rugby event and has attracted participants of all skill levels and rugby enthusiasts from around the world to enjoy the sport in a vacation destination. The tournament fosters camaraderie and friendships among the youth and provides exposure for athletes on a collegiate and professional level.
Cancellation Will Affect Community
Officials are concerned that the cancellation would create a domino effect for the island's rugby program and will negatively impact the community.
Perez shared, "GRC was recently forced to reject three men's and a women's team from Japan from attending. The three teams represented 65 players, in which our local players will lose the opportunity to compete against."
"This ultimately prevents our local athletes from a year of intense training and competition. True G.R.I.T. serves as an excellent training ground to develop our U19 Men's and Women's 7s players. The cancellation diminishes their opportunity to have the experience of playing at collegiate or international levels."
Loss of Sponsorship Opportunities
GRC officials are also concerned that the canceled event will negatively impact corporate sponsorships and their ability to retain future sponsorship support. Sponsors will be losing exposure opportunities in 2020 to reach local and international participants as well as their friends and family who attend the annual event.
"We thank our dedicated Sponsors such as Budweiser, Mobil Oil Guam, Pacific Rim Development, and Morrico Equipment LLC for helping us to grow rugby on Guam. It is unfortunate what the sport will be losing as a result of this issue, but our hands are tied. The sponsorship support not only helps with the operation of the True G.R.I.T. tournament, but it also serves as an annual fundraiser to support important annual youth programs, provides training opportunities, maintains the Wettengel Rugby Field and hosts ongoing tournaments," said GRC Vice-President Mike Mateo.

Loss of Tourism Dollars
In 2019, it was estimated that about 300 people traveled to Guam to attend the tournament, which included international players and their friends and families. Organizers note that the 2019 event contributed close to $700K to Guam's local economy through visitor expenditures and an estimated $200K in airfare revenues. It is estimated that the sports tourism event has contributed more than $500K to Guam's economy each year since True G.R.I.T. was established in 1999.
"The cancellation will affect us in many other ways. Because of the dispute, Guam is losing out on important economic revenue. We could also potentially see a decrease in international participation for future events," Mateo added.
GRC laments other losses for athletes. Athletes in our region may miss their only chance to travel to compete this year. Guam's officials and players won't have the opportunity to learn from the international referees from Hong Kong and Japan who officiate the tournament.
"We've built a 20-year tradition and a strong reputation for Guam rugby. We hope this doesn't affect the rugby community's perception of our commitment to the sport," said Perez.

COMING SOON …
High School Football starts Sept. 29
Brawl 3: Oct 13
Guam's Strongest Man and Woman Competition October 29
QUICK HITS
The Figo Islanders 40s women's softball team took gold in the Senior Softball World Championship in Las Vegas. Figo came out of the loser's bracket and beat the Arizona Belles 17-3 in the AA division championship game Sunday afternoon.
Other Guam teams that played in the 40s tournament were: Team SOTTA (women's) and Bud Light Guam, Friars 671 and Sindalun Guahan (men's).
Sindalu finished a respectable 4th out of 24 AAA division teams.