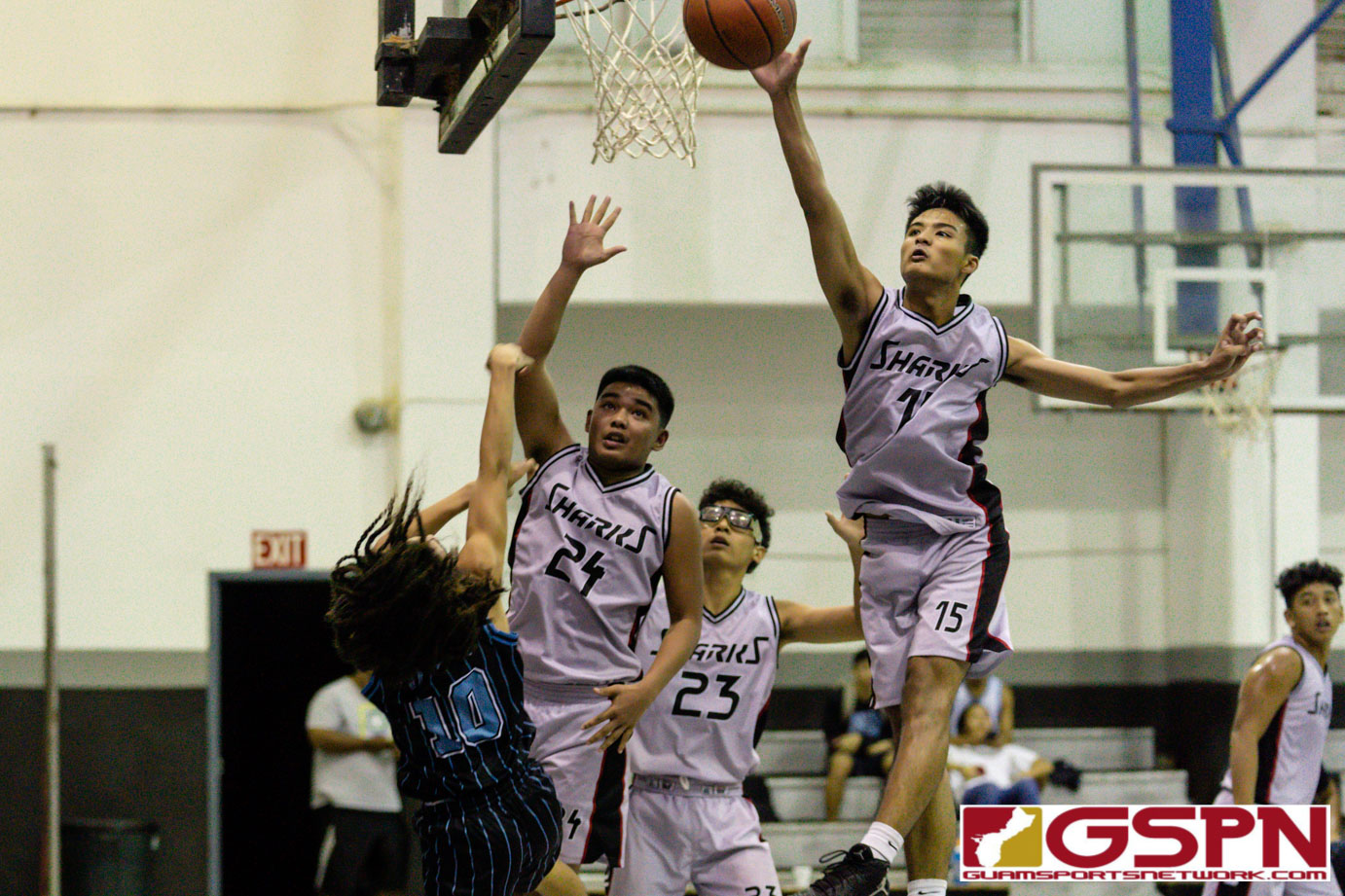 By Robert Balajadia
The Sanchez Sharks were in the midst of a two-game losing streak before Tuesday evening's game agains the visiting Southern Dolphins in an ISA Boys Basketball showdown. The short skid had proven enough was enough for the Sharks as their offense came alive to beat the Dolphins 83-63.
A 22-point evening from sophomore forward John Macaldo had led the Shark attack with the home team pulling away from a close contest in the 4th quarter. Sanchez outscored the Dolphins 28-18 in the quarter to prevent a Southern comeback.
"We wanted to bounce back from those two bad losses. [Southern] are competitors, but we came out on top today," said Macaldo on what inspired their strong play Tuesday. "It gives us more confidence heading forward, but the season is not over so we're going straight back to practice."
Sanchez repeatedly attacked the basket and scored at will inside the paint in the opening quarter with forward Andrei Mantoya scoring nine points in the opening period to push the Sharks ahead 22-16.
Southern would stay close trailing no more than 10 points in the first half as they too were finding success attacking the basket, but the streaky Macaldo started to find his rhythm in the 2nd quarter. Macaldo would net seven points in the 2nd, giving him 11 by halftime.
"I'm definitely a rhythm player. Once I hit one shot, I'm not afraid to let it fly. But my teammates always boost me up and keep telling me to shoot, even if I miss, so I owe a lot to my teammates," added Macaldo.
A three-pointer to open the 3rd quarter followed by two strong drives to the basket by Macaldo had the Sharks keeping their lead 52-43 late into the period.
Sanchez started to pull away in the 4th after a fast break score from Nathaniel Carreon was immediately followed by a steal on the Dolphins inbounds, leading to a wide-open three pointer from Macaldo on the wing to take a 64-49 lead in just the quarters first two minutes.
Macaldo wasn't the only sophomore stud on the court with Southern's dynamic guard Elijah 'EJ' Cruz also in action. Cruz had a rough shooting night tallying just 13 points, but game recognize game as Macaldo had told his defense to stay at Cruz's hip all game.
"I told my defenders that he's a shooter and he can shoot it from anywhere, so just stay close and hope for the best. If he makes it then he makes it, just get back on defense," said John.
Dolphin Eric Quintanilla led the way with 20 points, doing most of his scoring off second chance buckets. Sharks' Montoya finished with 13 points and point guard Isaiah Malig finished with 12.
PHOTO GALLERY BROUGHT TO YOU BY:

COMING SOON …
High school girls volleyball playoffs
Brawl 3: Oct 13
Guam's Strongest Man and Woman Competition October 29
QUICK HITS
The Figo Islanders 40s women's softball team took gold in the Senior Softball World Championship in Las Vegas. Figo came out of the loser's bracket and beat the Arizona Belles 17-3 in the AA division championship game Sunday afternoon.
Other Guam teams that played in the 40s tournament were: Team SOTTA (women's) and Bud Light Guam, Friars 671 and Sindalun Guahan (men's).
Sindalu finished a respectable 4th out of 24 AAA division teams.