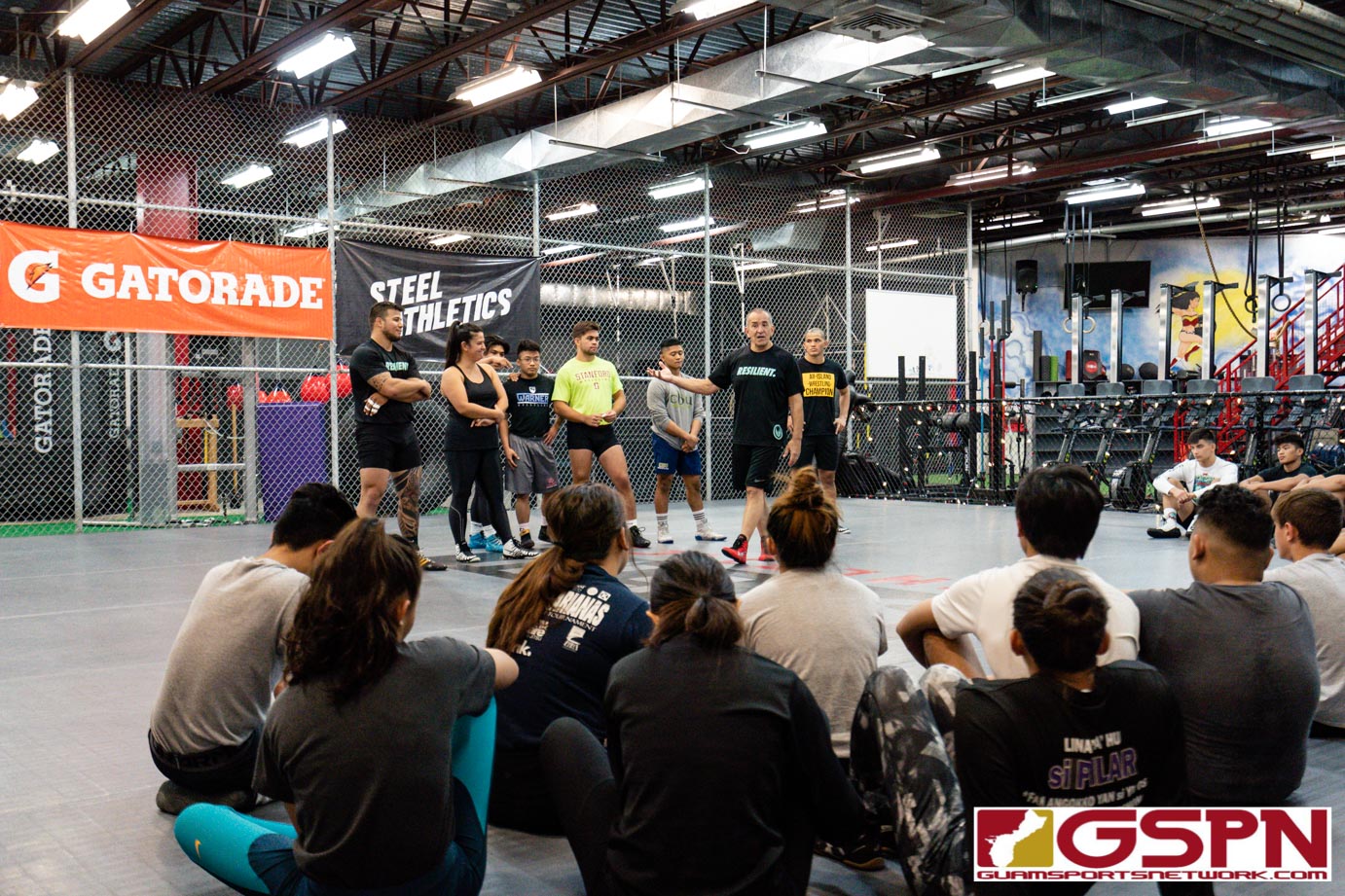 By Robert Balajadia
Guam's top wrestlers packed the mats at Steel Athletics Thursday evening with a free wrestling seminar for all ages to display technique, their favorite moves and provide an open workout for Guam's young wrestling enthusiasts from 4-6 pm.
The event was put together by Guam's very own national wrestler Mike Shinohara, who really wants to see the sport grow. Shinohara contacted J.J. Ambrose at Steel to host the free seminar and the Guam's best wrestlers all flocked at the opportunity to share their knowledge.
"What inspired this event was just a group of individuals who can see Guam wrestling growing. You see the jiu-jitsu and MMA community growing… I think that if we push wrestling then it'll give more athletes an opportunity to choose how they want to build their foundation," said Shinohara.
Instructors included collegiate National Champion Jose Cruz, Guam's first female Olympian Maria Dunn and collegiate wrestlers and former FD Friars Nainoa Calvo, Pavin Blas and Cyril Maravilla.
What was expected to be a little more than a handful of wrestlers turned out to be a wave of over 50 participants from all of Guam's high schools and even younger hopefuls.
"When we first walked in here we were amazed. It's amazing that it's really happening. We have the top people here on Guam in wrestling and we're about to help create even better wrestlers with all these young kids coming out," added Shinohara.
The instructors each displayed what their favorite move to do in a match was and even allowed the participants time to practice those moves. In the last hour of the event, the wrestlers were separated into groups and were allowed a one-minute live wrestling exercise to complete the seminar.
With events like Thursday bringing the wrestling community together, many of Guam's current wrestling athletes see its importance. League MVP in Academy Cougar junior Chloe Stanley was one of the seminar's participants and she wasn't about to let an opportunity like this one pass up.
"I always try and make it a point to get the off-season training in and wrestling has been a big part of my life these past couple of years… I mostly enjoy having input in what I do, like if I'm doing something wrong, they'll teach me to do it the right way instead and that really helps me get through my matches," stated Stanley.
Guam's top wrestlers stressed that if competing at a collegiate or national level is the dream then their commitment has to be year-round. Stanley is very much on that track as she's elected to sit out this upcoming rugby season to commit more time to wrestling, especially after putting in a successful season that ended in an 2019 All-Island Gold medal.
"Off-season training is very important. It keeps you in shape and ready to handle the upcoming season. Off-season training is something I'm definitely going to be prioritizing next year since it's my last year," added Stanley.
Shinohara also shared that Guam wrestling has hopes to organize a league to give wrestlers on Guam more opportunities to compete.
PHOTO GALLERY BROUGHT TO YOU BY:

QUICK HITS
Bishop Obispos beat Mt. Carmel for the IIAAG Middle School Girls Basketball championship 37-25.
—————————————-
The Benavente Roadrunners crushed the Agueda Pirates 17-1 to win the 76 PONY Middle School Baseball League. Rodney San Nicolas was a beat, striking out 13 batters in a complete game while going 4-for-4 at the plate, including a homer and 4 RBI.