PRESS RELEASE – Tennis Academy of Guam served up the first day of their Family Classic Tournament, sponsored by ASC Trust on April 30th, Friday at the Guam National Tennis Center, Sports Complex in hopes of creating a tournament environment for the tennis community while promoting family bonding. A total of eight matches were played.
One of Friday's winners- mom and son duo, Sunaina (41) and Aarjan (15) Sachdej shared that they were very grateful for the Family Classic Tournament, as it gave them "the opportunity to play tennis for the first time together." Sunaina thanked her son for being patient with her, while Aarjan shared that they worked well together. They extended their gratitude to Tennis Academy of Guam for organizing the event, even going as far as recommending the Family Classic Tournament to other families as it "helped bring families together, as well as allowed (us) to meet new families through playing tennis."
Other Winners were:
Aarjan & Sunaina Sachdej , 6-1 | 6-0
J. & Rachel San Agustin, 6-3 | 6-3
Jacob & Jeffery Hsiao, 6-0 | 6-2
Hyo & Stella Ji, 4-6 | 6-3 | 10-5
Ronald & Elizabeth Su, 6-0 | 6-0
The second day of the ASC Trust Family Classic event was held by the Tennis Academy of Guam at the Guam National Tennis Center, in Harmon and The Hyatt Tennis Courts, on Saturday, May 1st. Fifty (50) families participated and strengthened their relationships as they played against other families, while following TAG's COVID-19 safety protocols.
Yuko Noble, 41, agreed that the Family Classic event "ignited a sense of competitiveness" within them, especially since they are playing against other families. She added that this is her "first time playing a tennis match and she had fun playing it with (my) daughter."
When the event was announced, Arn Diaz,64, said that she registered her and her daughter, Tressa Diaz, 48, in hopes of spending quality time together and that the event was able to fulfill her expectations. Mina Noble,14, said that they enjoyed the tournament even though they lost the game, because at the end of the day, she was able to bond with her mom through playing tennis. Both the Diaz and Noble family agreed that they would definitely register for next year's ASC Trust Family Classic Tournament, if held again.

Athletes Birthdays by W5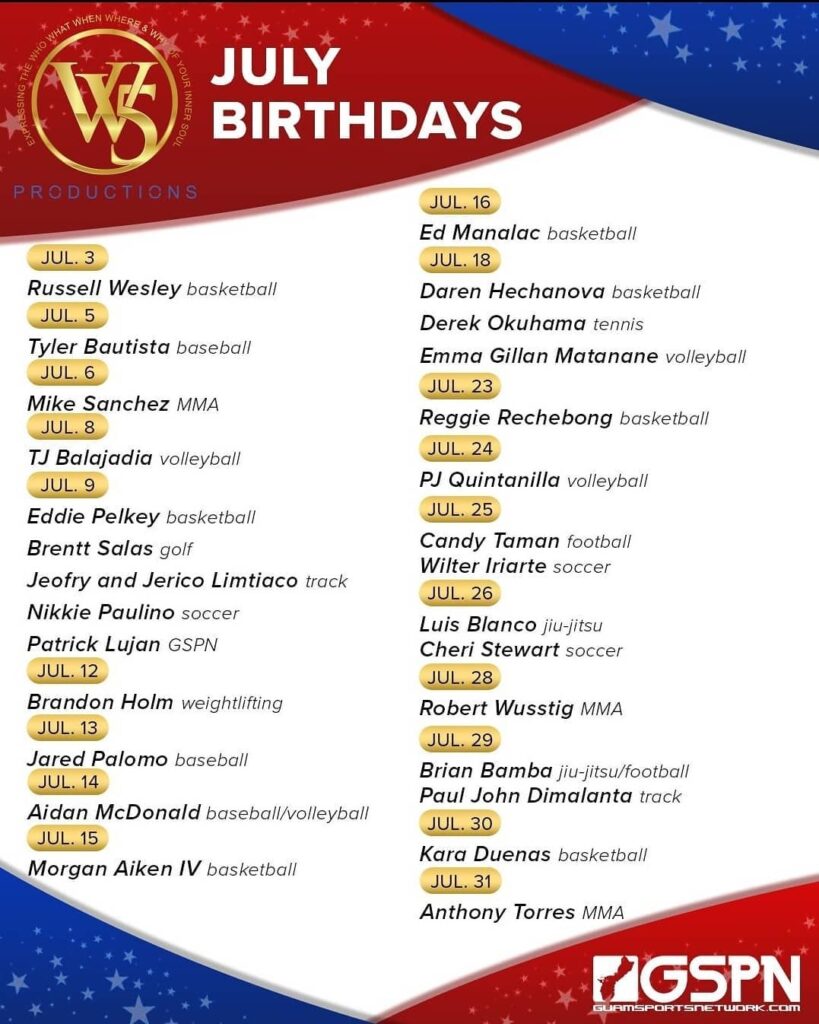 Foody's Fun Facts
Favorites From Year 2
COMING SOON …
2020 Tokyo Olympics
UFC Fight
Aug 1: Trevin Jones vs. Tony Kelley
QUICK HITS
——————————————————–
Guam's Joey Miranda met up with Chamorrita Softball Star Bubba Nickles and Olympic Teammates Dejah Mulipola and Aubree Munro out in Tokyo as we approach the Olympics!
Photo credit: GNOC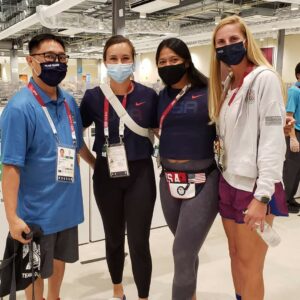 ——————————————————–
Former Guam resident Tre Taylor has committed to play cornerback for the Southwestern Junior College Jags.
Turner attended Harvest and FD before transferring to Hawaii where he played for Saint Louis, the 5th ranked team in the nation.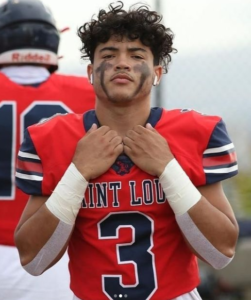 ——————————————————–
The big man Zach Banner getting to throw out the first pitch earlier today for the Pittsburgh Pirates!