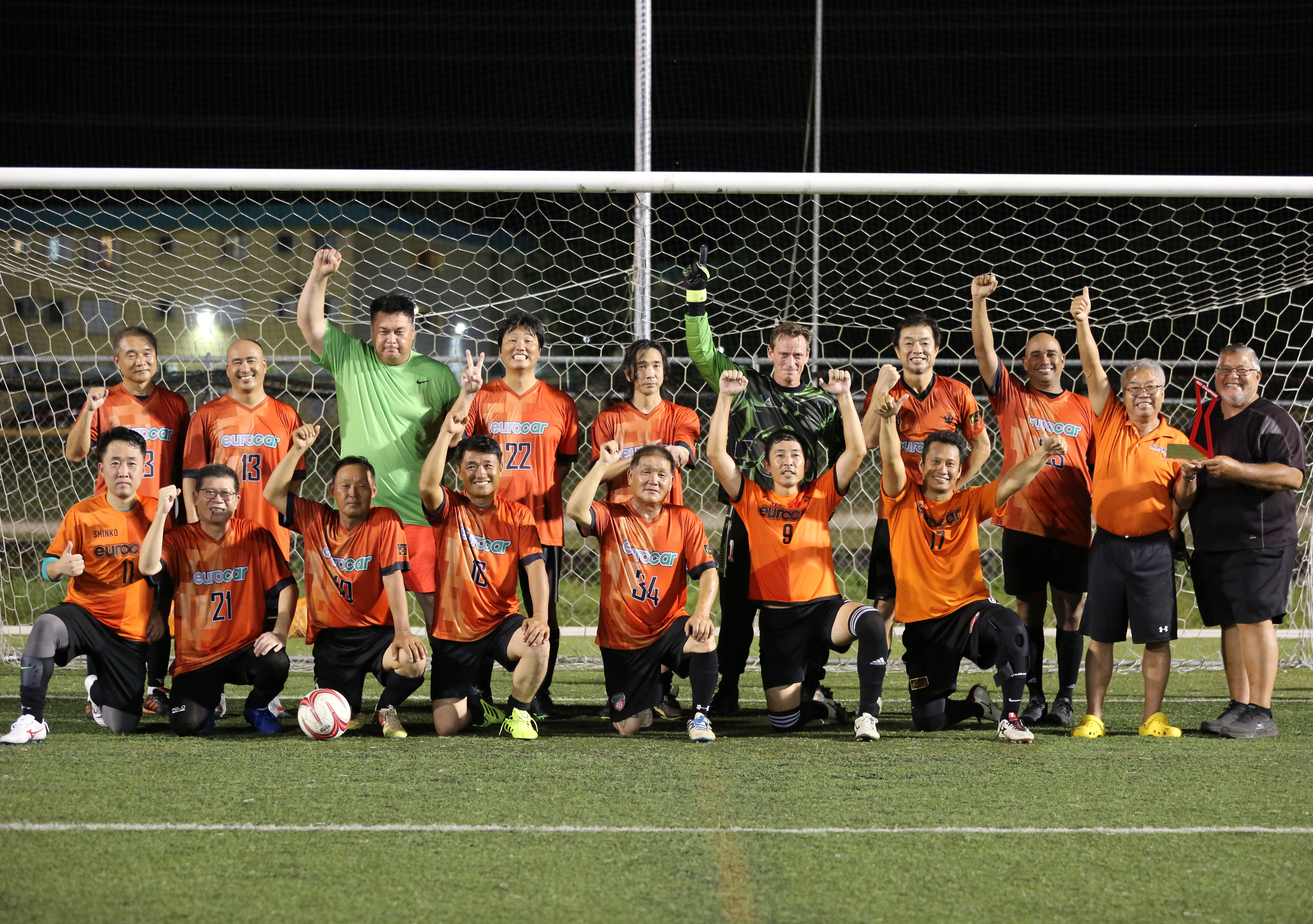 PRESS RELEASE – Guam Football Association General Secretary Marvin "Ike" Iseke presents the 2021 Budweiser Summer Masters League Champions trophy to CY Leung of Eurocar FC following the team's final league match against Gino's FC. Eurocar FC defeated Gino's FC 10-0 Friday evening to keep its perfect record through the season after already clinching the league title with a 4-2 win over the Bank of Guam Strykers Masters Aug. 6. In Friday's match against Gino's FC, Chui Woo Park and Yu Tanabe finished with a hat trick each and teammate Takefumi Inoue scored twice. Jang Kyun Ryu and Jun Xu also scored in the win. Present in the group photo are, standing, from left to right: Tony Liu, Long Huang, Robert Jensen, Hiroyasu Tokumaru, Naoki Takahashi, Frederick Davidson, Takefumi Inoue, Terence Walker, CY Leung, and GFA General Secretary Marvin "Ike" Iseke. In the front row, kneeling from left to right, are: Jun Xu, Robert Tran, Chui Woo Park, Jang Kyun Ryu, Chan Sik Park, Yu Tanabe, and Nohea Villatora. The league officially concludes Aug. 20 with a rescheduled match between Gino's FC and Guam Shipyard Big Blue Masters.

QUICK HITS
Bishop Obispos beat Mt. Carmel for the IIAAG Middle School Girls Basketball championship 37-25.
—————————————-
The Benavente Roadrunners crushed the Agueda Pirates 17-1 to win the 76 PONY Middle School Baseball League. Rodney San Nicolas was a beat, striking out 13 batters in a complete game while going 4-for-4 at the plate, including a homer and 4 RBI.