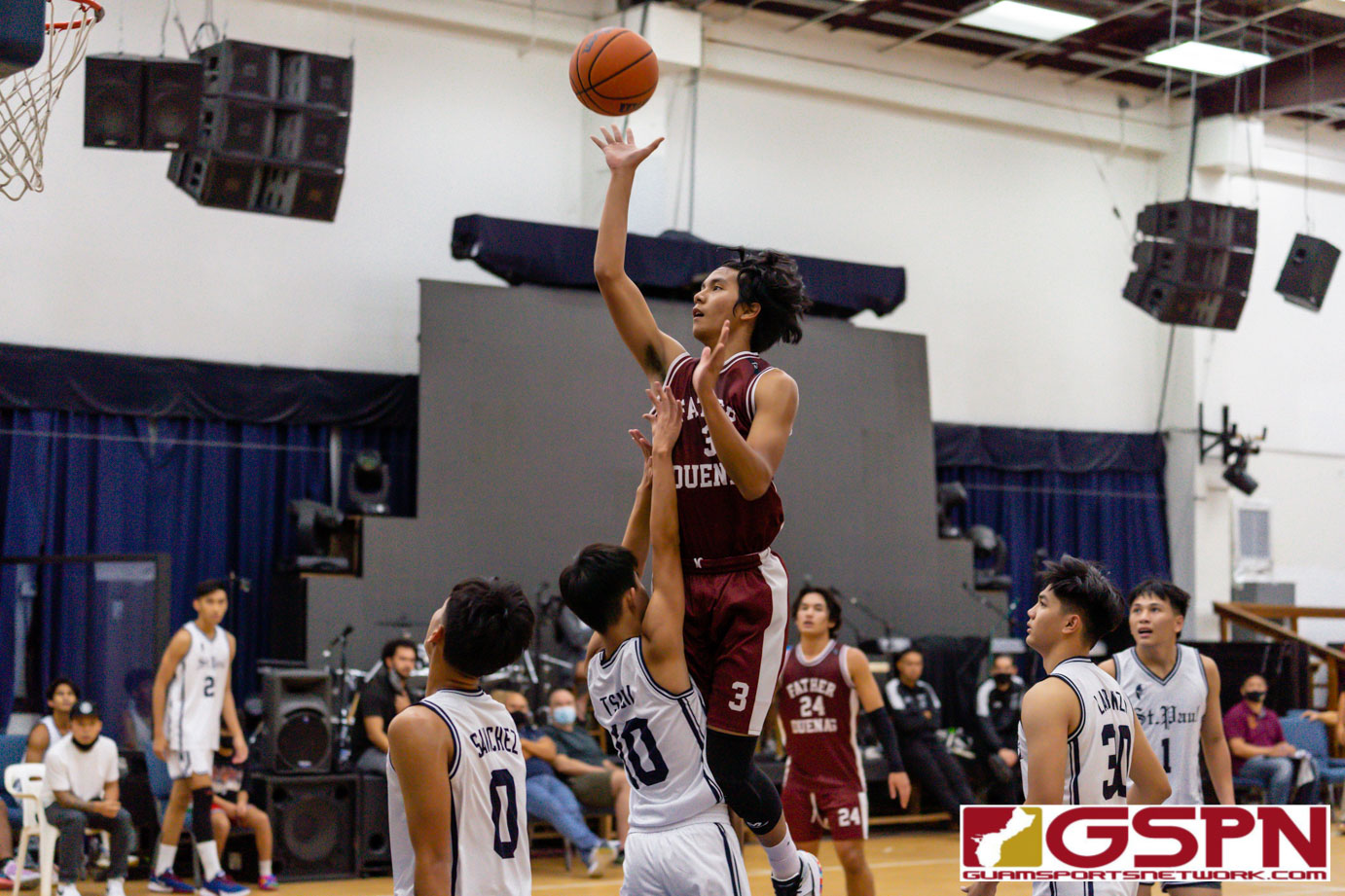 By Jay Leon Guerrero
The FD Friars survived a fourth quarter comeback from the St. Paul Warriors to remain undefeated in the ISA Boy's Basketball League with the 46-39 victory.
Daryll Robles had a double-double with 14 points and 16 big rebounds to help the Friars remain atop the standings in the league with a 4-0 record.
The Friars led comfortably after three quarters with a 35-28 advantage but the Warriors stormed back. Warrior guard Jacob Miranda started the comeback scoring four straight points to start the final period to trail 35-32.
With five minutes left in the game, Josiah Quinatanilla from St. Paul drove aggressively to the basket and scored to cut the lead to 37-35.
The home Warrior crowd went crazy after the Warriors took their first lead of the game with 2:30 left after Jeff Lanbanza hit a jumper and Miranda hit one of two free throws to go up 39-38.
The Friars were staggered, but fought back a regained the lead with Robles converting a lob from Matt Santos with 1:50 left. The Friars played good defense and got a stop as Santos made a lay-up on the ensuing possession to go up 42-39.
Quintanilla got called for an offensive foul and fouled out after Friar guard Jeremiah David stepped in for the charge.
FD's Blaise Ada stepped up to the free throw line and made the first free throw but missed the second. The Warriors needed a rebound, but it was Santos who battled for the board to preserve the possession and the Warriors were forced to foul once again.
Robles and Ada made free throws down the stretch to help the Friars win 46-39.
"We are learning and growing after every practice and every game," said Santos. "In the last three minutes of the game, we showed progress. It was a tough challenge and it showed we can not do things as individuals but as a team."
"This was a big win for us. It helps us grow as a team," said Robles.
Robles suffered a leg injury but got back into the game late and grabbed big rebounds to help the Friars keep their undefeated streak alive since 2019.
Santos was crucial, especially down the stretch, contributing 11 points, five assists and four steals. Ada had 14 points and three steals for the Friars who improve to 4-0.
The Warriors (3-1) suffered their first loss of the season and kept the game close despite being out-rebounded 43-18. Quintanilla had a game high 17 points; Miranda had six points and a game high five steals.
In the junior varsity game, the Friars remained undefeated with a 64-46 victory. Aaron Arceo led the Friars with 15 points, Alfred Leon Guerrero contributed 12 points. Raven Pascual from St Paul led all scorers with 26 points.
PHOTO GALLERY BROUGHT TO YOU BY: