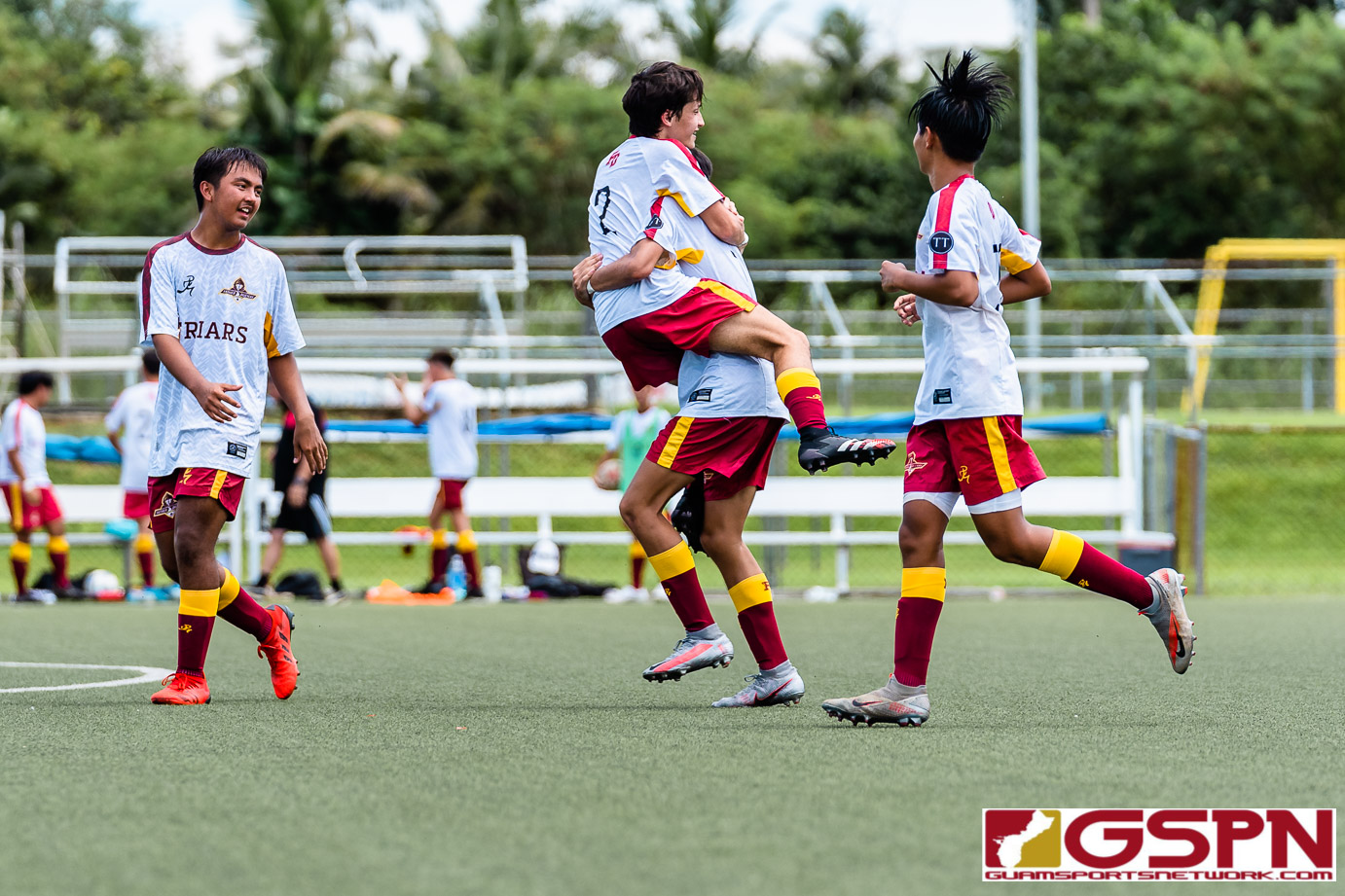 By Robert Balajadia
The rematch between last years IIAAG Boys Soccer Champion St. John's Knights and FD Friars was already set to be one of the more anticipated games of the following season. Both teams suited up for an early Saturday morning clash at the GFA Training Facility with the Friars getting the better of the Knights behind two second half goals by Daniel Glasscock and Bobby Haddock to get the 2-0 win.
Glasscock struck first in the 49th minute, getting a good look right up the middle where he used a left boot that fired towards the right side getting just past Knights keeper Miles Ganeb for the first score.
"We didn't really play our game in the first half, but we really changed in the second half with our speed of play. The pitch is really nice and we're not always going to get this opportunity [to play on the pitch] so we needed to take advantage of it. We put executions on target and that left foot was pretty alright," said Daniel on his goal.
Haddock scored not long after in the 60th minute after getting a pass from Glassock. Bobby used a patient approach before bending a shot towards the top right of the goal for the teams second score. Haddock admitted that his teams slow start on offense was all an internal matter.
"I don't think it was anything good about their defense, we were just making our errors and kicking ourselves in the butt. We came out too slow… They're a good team and we have to respect that," said Bobby.
Haddock also wanted to give credit to his defense who didn't allow much past them Saturday morning despite being a new-look unit.
"Our defensive line just keeps holding it down. Even though we lost a lot players, they still work hard and prevented any goals," said Haddock.
The Friars are fresh off a huge opening day victory against the ND Royals where they put up 17 goals, but they quickly put that one behind them as they prepared for the Knights.
"As soon as that whistle blew we put it behind us," said Haddock on the victory over the Royals. "We always want to focus on our next opponents no matter how good or bad they are, we all treat them the same."
St. John's head coach P.K. Harmon knew Saturday a highly anticipated rematch, but also understood that this was a different game for both sides with not a lot of returnees taking the field.
"I lost a lot of seniors and I have a new backline so mentally it's different game. My aces in their places remembered that Championship game and we won that midfield in the first half. We played well, but the problem is I don't have the engines that I did to play a full game like I did a few months ago. [FD] is only going to get better and that's only going to make us better moving forward," said Harmon.
And facing a team like the Friars sets the tone for how teams need to bring their best every game.
"FD makes us better and makes the league better," added Harmon.
The Knights will travel to face the Harvest Eagles Wednesday while the Friars have a BYE before facing the same Eagles next Saturday.
PHOTO GALLERY BROUGHT TO YOU BY: