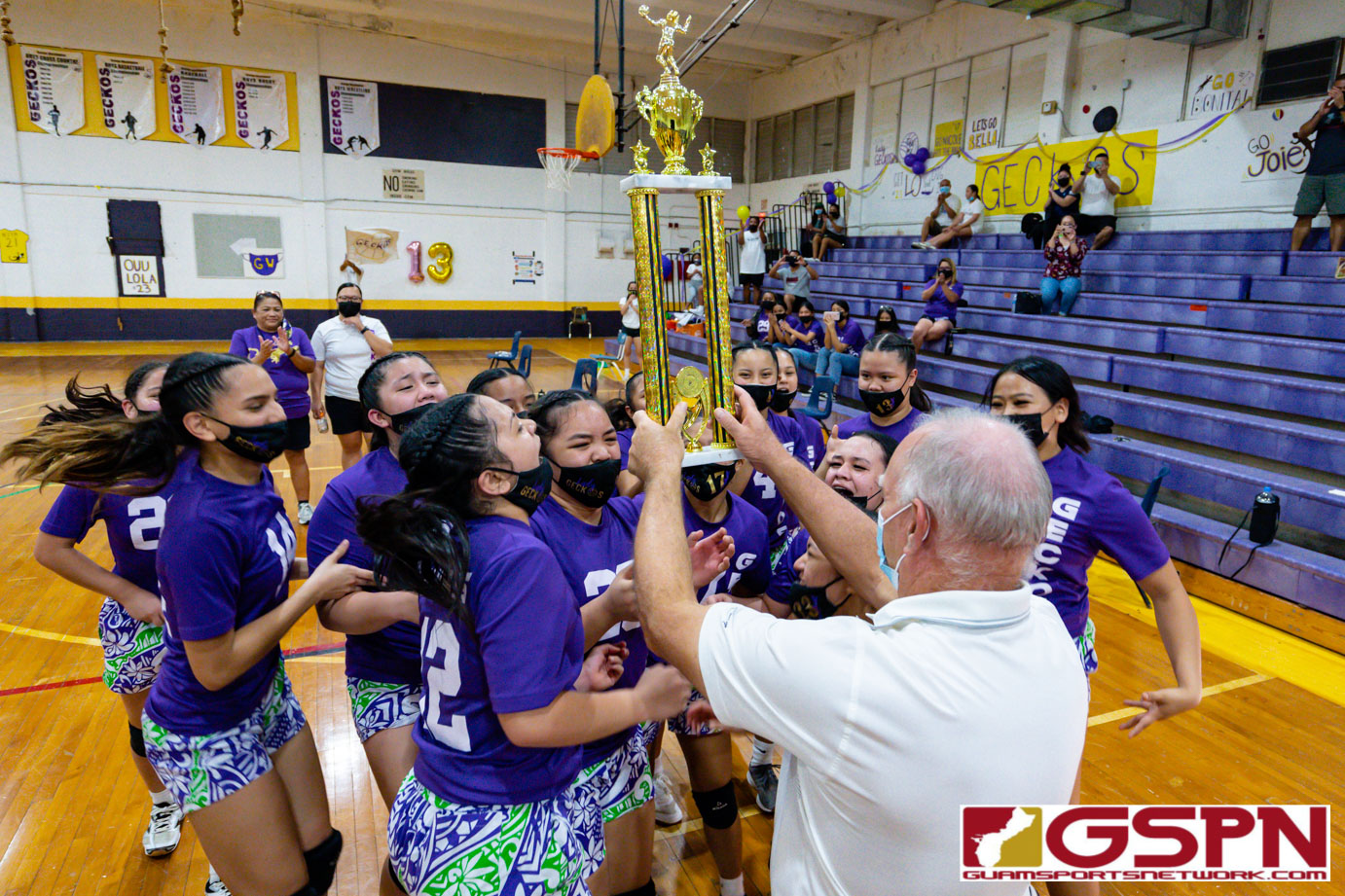 By Robert Balajadia
The GW Lady Geckos can officially lay claim to the title of first ever ISA Girls Volleyball Champions after completing a dominant 2021 season by defeating the Tiyan Titans in straight sets 25-20, 27-25, 25-13 for the league title at the Gecko gym Wednesday evening.
A shaky 1st set by both teams, a come from behind nail-biting 2nd set and an ultra-focused 3rd set was the story that unfolded for the Geckos as they roped in the ISA title.
Gecko Bonita Castro had seven kills to lead the teams offense, but her and libero Lola Aguon's biggest moments came when their team needed it most, facing a 24-20 deficit in the 2nd set. The Titans were in the midst of a furious serving rally from Rylee Guzman, who served four straight aces to get a 23-19 advantage. Hitting errors from both sides set up the 24-20 game with the Tiyan bench getting as loud as they could get.
Aguon stepped up to serve knowing that one mistake at the line could be the difference between a dominant 2-0 set lead and a 1-1 set tie to put teams on equal footing.
"Every time I serve I try to take a deep breathe so I at least started with that," said Aguon on what was racing through her head in that moment. "There was an immense amount of pressure but I knew I needed to push through. I knew that this wasn't just for me, but for the whole team. I just had to take that breathe and think of all the power I have in my tiny body and bring it out. I just had to serve and not think too deep about it."
Aguon did her part and put the ball in play with the Titans committing three hitting errors and a bad pass to knot the game at 24. A kill from Tiyan's Precious Pecson would give them a 25-24 lead, but Castro would rise to the occasion with a kill to even the score at 25. A net error by the Titans followed by another Castro kill up the middle would give the Geckos the 2nd set, 17-25, and complete momentum.
"I really wanted this win and my team was counting on me," said Castro on her number being called in crunch time. "We kept telling each other to keep being aggressive and play our game… We just kept picking up our heads no matter what we were going through."
Even from the bench, the Geckos never allowed each other to hang their heads.
"We were cheering for them like there was no tomorrow," said freshman setter Joie Almoguera, who was on the bench due to rotations. "I'm so proud that they continued to push and win that set."
The Geckos flipped the switch in the 3rd set, using a 9-0 run to get up 13-4, highlighted by a big kill from the libero Aguon that got the team even more into the game.
"We just knew we wanted it more. The second we looked at each other and saw the potential of [winning] this game, we just knew we couldn't stop," said Aguon on the dominant 3rd set.
GW refused to be denied as they kept their foot on the gas pedal as the cruised to a 25-13 3rd set victory.
"We realized that we needed to stop playing so sloppy. We needed to get our heads in the game if we wanted to win. Our coach [Bobbi Quinata] had always told us she can take us the top, but we've got to do the work and so we did do that. My whole team contributed to this win, even those who didn't get to play. Even though they didn't play they were cheering their hearts out on the bench," said Joie on the total team effort.
GW's Castro also had two blocks to go along with her seven total kills. Teammates Niolynn Marcus and Tasi Tainatongo had three kills and a serve ace each.
Tiyan was led in kills by Guzman and Pecson, who finished with three total to go along with Guzman's four aces.
3rd place Game
The Sanchez Sharks defeated the Okkodo Bulldogs in four sets to claim the 3rd place title.
PHOTO GALLERY BROUGHT TO YOU BY: