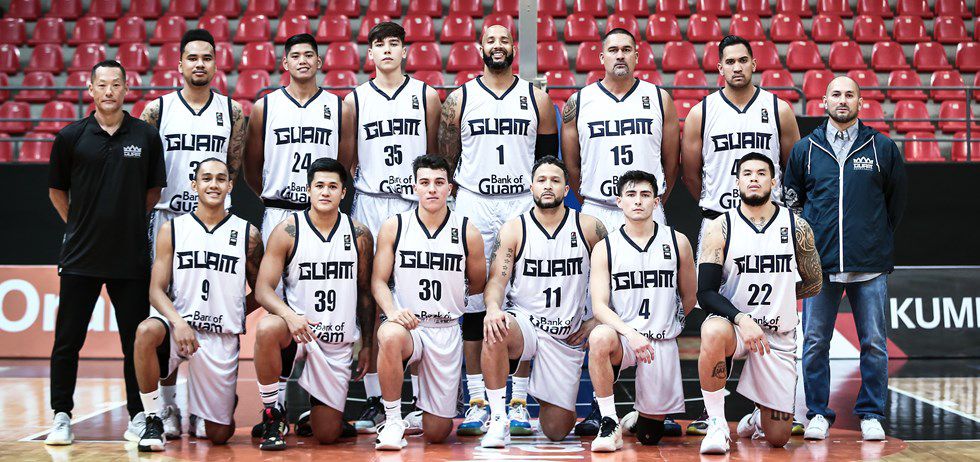 PRESS RELEASE – It has been a long and challenging road for our Bank of Guam Men's National Basketball Team, and there is one more hurdle this month for Team Guam on their mission to advance in FIBA competition and continue to climb the world rankings.
As Guam lifts restrictions on sporting events, the Guam Basketball Confederation (GBC) has agreed to host a two-game showdown against the Men's National Team from Chinese Taipei (Taiwan) at the UOG Calvo Field House on August 26th & 28th. Winner of these games will advance to the FIBA Asia Cup as well as FIBA World Cup qualification games for the AsiaOceania region starting later this year, making these games arguably the most important basketball games to date in our national program's history!
Fans are expected to be allowed to attend the games, and tickets will be available online via GUAMTIME.NET by August 10th . Spectators will be required to show proof of vaccination or a negative covid test, and wear masks at all times. Details will be available online soon.
Games are scheduled for Thursday, August 26th, with Tip-Off at 7pm; and Saturday, August 28th, Tip-Off at 2pm. Visit gubasketball on Instagram, and Guam Basketball Confederation on Facebook for regular updates on the big games!
COMING OFF BIG WINS AGAINST HONG KONG
On June 13th, Team Guam battled Hong Kong in their first game in over a year and came away with a 103-83 win. Guam shot over 52% from the field with 34 total assists and maintained a lead for most of the game. In the rematch against Hong Kong on June 15th, Team Guam hit their stride and finished with a 112-66 dominant victory. Guam's Defense was turned up, causing 17 turnovers and only 35% shooting by the Men from Hong Kong. Offensively, Team Guam was even more efficient with only 8 turnovers, 29 total assists, and 42 points from the bench!
If Guam can advance, they will be scheduled to face some of the best of Asia & Oceania soon, including more games to be hosted in Guam against basketball powerhouses like China, Japan, Korea, the Philippines, New Zealand, and Australia, who just won the Bronze at the Olympics!
Team Guam currently has the highest scoring average in this year's FIBA Asia Cup Qualification rounds with 103 points per game, with an average of 26 assists against only 12 turnovers per game. The latest roster includes a mix of veterans along with a young group of up and comers ready to contribute. Since 2014, Team Guam has won 32 games with only 2 losses in Micronesia Games, Pacific Games, and FIBA Qualification matches, and are currently ranked #85 in the FIBA World Rankings, while Chinese Taipei is ranked #67.
The Guam Basketball Confederation is proudly supported by our sponsors: The Bank of Guam, Docomo Pacific, Gatorade, Foodies, KFC, Island Beverage Distributors, Sixth Car Rental, and Pay-Less Supermarkets.
Si Yu'us Ma'ase to our public partners—Governor Lou Leon Guerrero, Lt. Governor Josh Tenorio, the Guam Legislature, the University of Guam, Department of Public Works, Department of Parks and Recreation, Department of Public Health & Social Services, Guam Economic Development Authority and Guam Visitors Bureau.

QUICK HITS
Bishop Obispos beat Mt. Carmel for the IIAAG Middle School Girls Basketball championship 37-25.
—————————————-
The Benavente Roadrunners crushed the Agueda Pirates 17-1 to win the 76 PONY Middle School Baseball League. Rodney San Nicolas was a beat, striking out 13 batters in a complete game while going 4-for-4 at the plate, including a homer and 4 RBI.