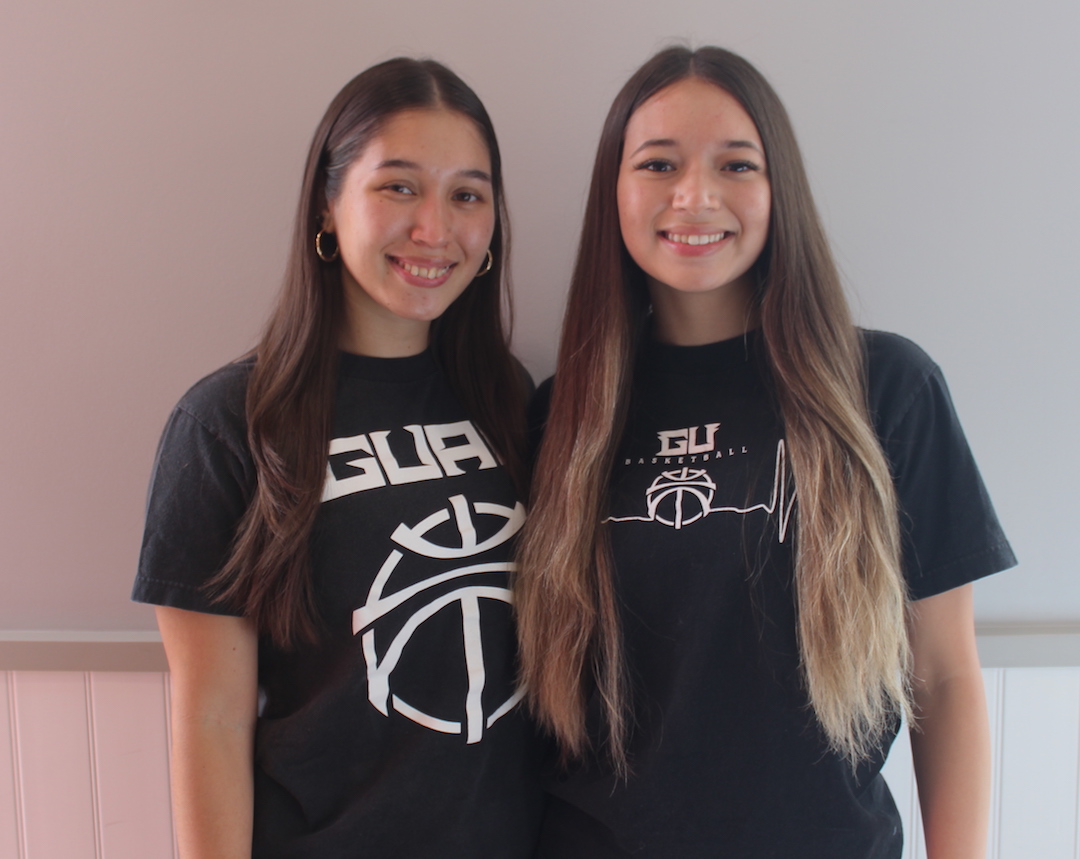 By Robert Balajadia
ND alumni Elysia Perez and younger sister Nicolete Perez didn't find out they would be venturing off to play collegiate basketball until just earlier this week. Elysia, a graduate in 2018, will be heading out to West Virginia Institute of Tech, an NAIA school, while Nic, a 2021 grad, will be heading to Cowley College in Kansas, a Ju-Co school.
Both sisters will be leaving the island Thursday to begin their collegiate basketball careers!
Elysia has been attending college at UOG and had already closed the door on playing collegiate basketball after turning down offers right after high school. Since then, she's been in contact with a few coaches, with the assistance of former coach Josh Torres, and Elysia got the call just days ago that she was being recruited. Perez decided on West Virginia Institute of Tech, even though she's never been to the States before as she's set to turn 21 in just a couple of weeks.
"I woke up one morning to text messages [from college coaches] and I was very confused," said Elysia after sending her basketball resume around. "It made realize that I can still do it if I tried hard enough."
Sure enough, Elysia decided to enroll into a four-year program in the coming days with just a few days to pack and prepare before she joins her new school.
Nicolete was planning on attending UOG this Fall, but Torres had sent Nic's senior highlights around which had a few schools interested in her game in a month span.
"I was in contact with my old coach [Torres] and he was asking for footage of my senior year and he sent it around. I got a few messages from coaches from different places and I spent the whole month finding out about the schools. It wasn't until last week that I started to finalize everything," said Nic on the choosing process.
Nicollete made a tough decision to forgo playing volleyball for a chance at a four-peat this past year, electing to play basketball instead. Perez's sacrifice to play basketball instead played a big factor in her collegiate recruitment, with her highlight videos being sent around, even though she had no intention of pursuing a collegiate basketball career.
"I was already practicing playing volleyball, but when I found out basketball season was on, I knew I'd have more fun in basketball," admitted Nic on choosing basketball over volleyball. "Since I already decided I was going to stay here I didn't think playing was going to help me get into college, but in the long run it looks like it did."
Finding their footing
The sisters haven't spent much time away from the home island which is making them as nervous to venture off alone as one could be, but as soon as they hit the court they're hoping to find some familiarity.
"I think it's the new environment that we have to adjust to. It's not going to be easy, but it is an opportunity that we're able to have that I'm really grateful," said Elysia.
"I'm only familiar with what I saw online, but it looks really nice. I'm excited for a new routine and it's really different from Guam so I'm nervous, but also really excited," said Nicolette.
Elysia has been regarded has a tough on-ball defender and can hit the deep ball with regularity. She might even be considered average height with her teammates after finding out some teammates are actually smaller than her. Nicolette has been a point guard her whole career with a dangerous touch from down town, which is what she's expected to play with her coaches saying their team needs ball handlers.
"Couldn't be more proud of the Perez sisters ! This will be a great experience for them and will create more opportunities for the younger generation! I'm excited for them!," said coach Jimmie Yi, who's helped train both sisters in the off-season.
Elysia will be pursuing a degree in health science while Nic will be focusing on a degree in business.
Accolades
Elysia has won a gold medal with Guam in the 2018 Micro Games, was a member of the Women's National Team who competed in Samoa, and has competed in U15-17 International events. Elysia is also a 1st Team All-Island Guard.
Nic has not played ball overseas, but has been selected as an All-Island/All-Star 1st Team Guard for her junior and senior seasons.
"Shoutout to coach [Jimmie] Yi, coach [Arleen] Mad and coach Josh [Torres]. They're probably the biggest reasons that we're even going," said Nic.