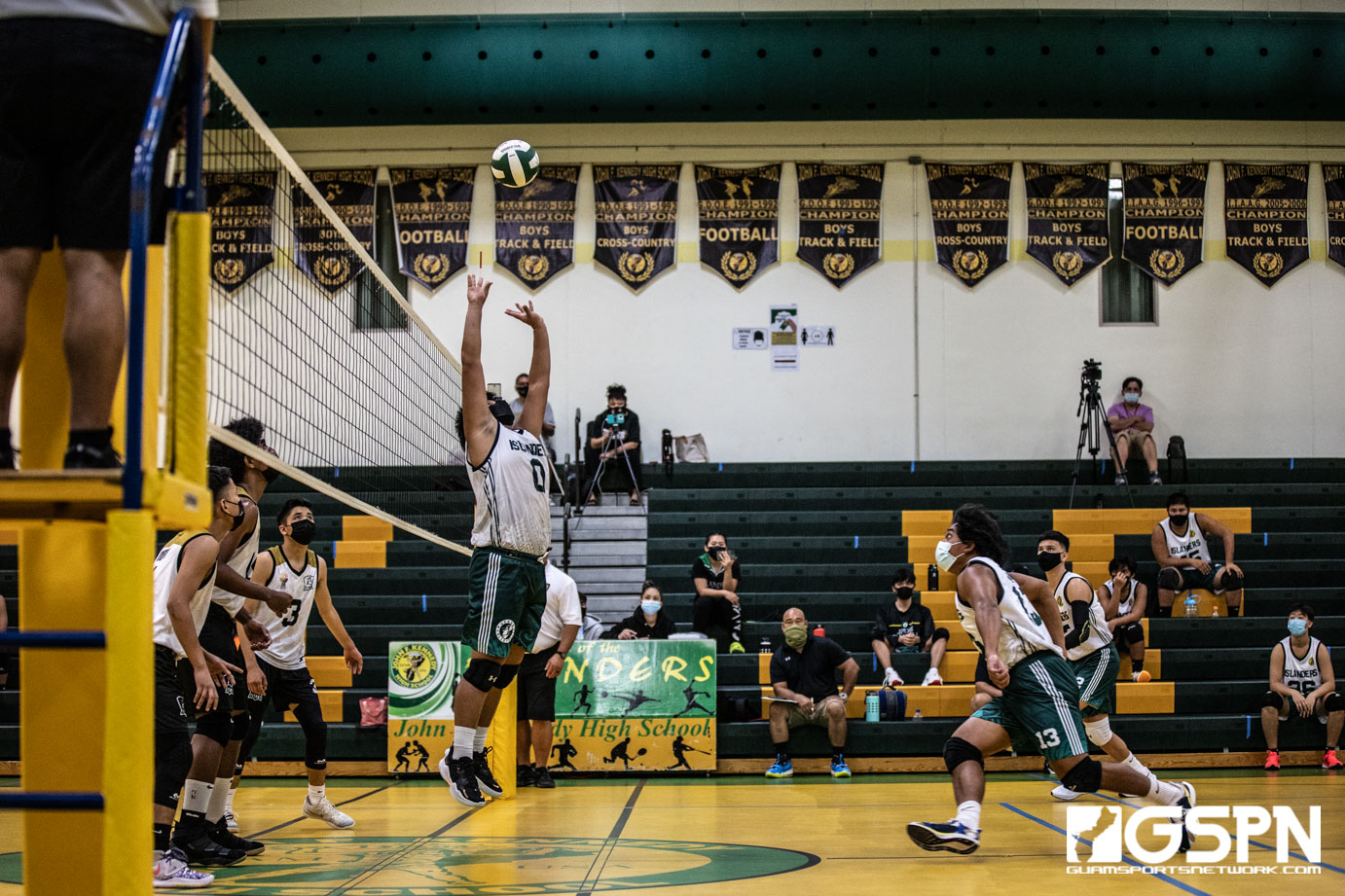 By Robert Balajadia
An early season matchup between the ISA Boys Volleyball's top two unbeaten teams filled the unusually empty (due to no fans allowed in games) JFK gymnasium Thursday evening with plenty of intensity as the hosting Islanders defeated the Tiyan Titans in five sets 25-21, 27-29, 25-20, 21-25, 15-11.
Leading the way for the Islanders was hitter Dean Weilbacher, who had 11 total kills and two blocks to pace an active Islander offense. In true back-and-forth fashion, neither team was able to win consecutive sets which set up the 5th and final. JFK capitalized on Tiyan position and hitting errors to outlast the visiting Titans late in the final set to remain unbeaten (3-0).
"I like these kinds of games where it's really competitive between both teams. They have a lot of talent on their side, but we just showed that we have more hard work on our team," said Dean on the games intensity.
Weilbacher went to work in the pivotal 3rd set, registering four kills and two blocks to surge his team to a 2-1 set advantage. Weilbacher proved difficult to stop in the set as he started to figure out how to get through the tall block that is Titan's middle Dewayne Ngirarikl.
"Their big guy likes to block away from the net so if you hit in into his hands then it's going to drop straight down and he wasn't really penetrating. [Tiyan] also didn't really cover so it was easy to pick spots, especially hitting long since they didn't like to cover the outsides," added Weilbacher on his approach towards his attack.
The Islanders got six kills from Irvin White and five from Karl Medrano, who was key in the 5th set, to round out the teams top point getters. Standing at the center of the action was setter Jaron Ceria, who not only aided in being at the controls for his team, but also met plenty of Titan hitters at the net by collecting five blocks on the evening.
Ceria also knew the play styles of his opponents a little too well after sharing the court with a majority of them during his days at Untalan.
"Since I played with in middle school some of [the Titans] and won a championship with them, I just read every play they made and penetrated," admitted Ceria.
Tiyan's offense was led by Ngirarikl, VJ Rasario and Xander Duenas who all had eight kills apiece.
"My teammates were giving me the right passes that I needed to set and I just kept giving the ball to whoever was hot," said Ceria on his high functioning offense.
Trading blows in the 5th
Ceria was stealing the show early in the 5th and final set after a pair of serve aces gave his team a 6-2 advantage. An error off a free ball shifted momentum momentarily as the Titans got two big blocks and a kill from Ngirarikl to get within 8-7. Rosario would make a diving save on a seemingly dead ball to have teammate Duenas put away the kill in the same sequence to knot the game at 8.
Duenas would give the Titans a 9-8 lead on a thunderous kill, but the Islanders didn't panic. A pair of hitting errors gave the Islanders the lead right back, followed by a statement block from Ceria to take a 12-10 advantage.
An ace from Jacobe Quinata would put JFK up 13-10 with the Islanders bench making enough noise to rattle the gym. Duenas would get his final kill to get within 13-11, but errors would due the Titans in for the final two points.
"We can never take any team for granted, but we have to keep pushing every game. We're taking this one game at a time," said Ceria.
Both teams suit up Saturday with the Titans taking on the Sanchez Sharks while the Islanders will travel to face against the GW Geckos.
PHOTO GALLERY BROUGHT TO YOU BY:

QUICK HITS
Bishop Obispos beat Mt. Carmel for the IIAAG Middle School Girls Basketball championship 37-25.
—————————————-
The Benavente Roadrunners crushed the Agueda Pirates 17-1 to win the 76 PONY Middle School Baseball League. Rodney San Nicolas was a beat, striking out 13 batters in a complete game while going 4-for-4 at the plate, including a homer and 4 RBI.