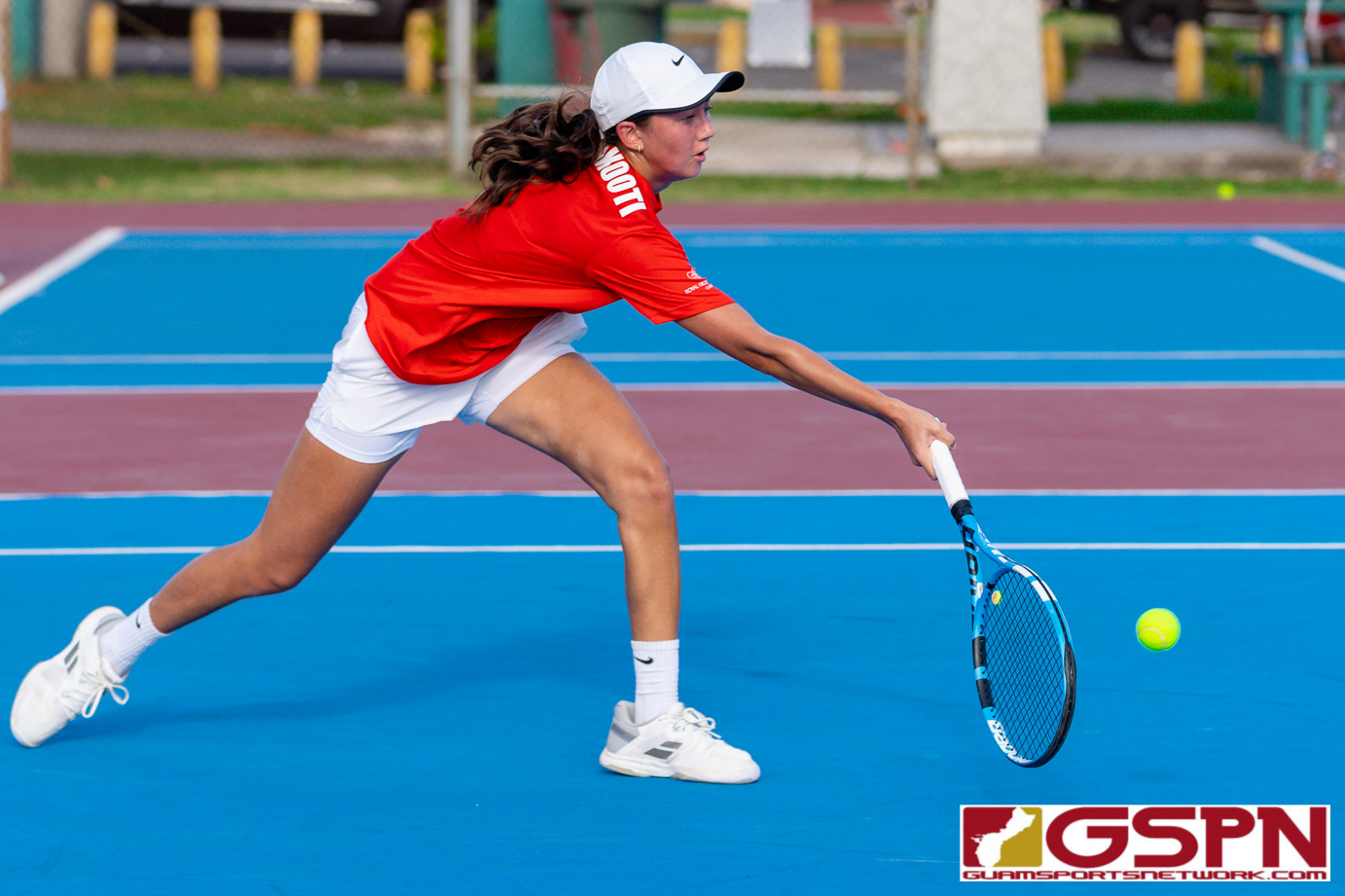 By Robert Balajadia
St. John's Knight Kaia Malakooti and Academy Cougar Maria Gregoire put on quite the entertaining show at the Tamuning Tennis Courts Tuesday afternoon to highlight an exciting showdown of IIAAG Tennis. Malakooti would win the match 8-5, but her victory was well earned after trading games with the rising star Gregoire.
"I've always known how good she was. [Maria] played a fantastic game and she's always one of my toughest match ups. I'm grateful for the win, but that back-and-forth I have to just stay mentally in it and go for it," said Malakooti on the exciting match.
Malakooti took Game 1 of a possible 15 with 40-all, but Gregoire answered right back taking Game 2 30-all to heat things up. Both competitors would battle to a tie of five games win after trading games back-and-forth.
"It was really hot and my stomach was hurting, but [Maria] had me moving and her shots were really good and she had me running! I just had to dig deep and keep running for it. You're always going to be tired out there, but you've got to just keep pushing yourself," added Kaia.
It wasn't until Game 11 where Kaia started to pull away. A close 30-all victory followed by a sweeping 0-all in Game 12 had Malakooti up 7-5 in the games column.
Kaia would grab a 40-15 lead before a pair of serves would keep Gregoire in the game. Two hits outside the field of play would give Malakooti the match, concluding a heat-inducing 13 rounds of action!
"The pressure is always there, but my teammates and everybody are always there to support me and tell me there's nothing to lose because at the end of the day it's just a game so you play to have fun really," said Malakooti.
Full scores will be posted when available
PHOTO GALLERY BROUGHT TO YOU BY:

QUICK HITS
The Okkodo Bulldogs secured third place at the Far East Division I Girls' Basketball Tournament in Camp Humphreys, South Korea. Jasmine Samson and Haley Cabrera were named All-Tournament selections in recognition of their hard work on the court. Vaysia Blas won the 3-point shooting contest. The Bulldogs played nine games in three days with a squad of eight:
Erin Moldez
Jasmine Samson
Haley Cabrera
Sharm Tauiwei
Hanna Meinik
Jordyn Zacarias
Jordin Hernandez
Vaysia Blas