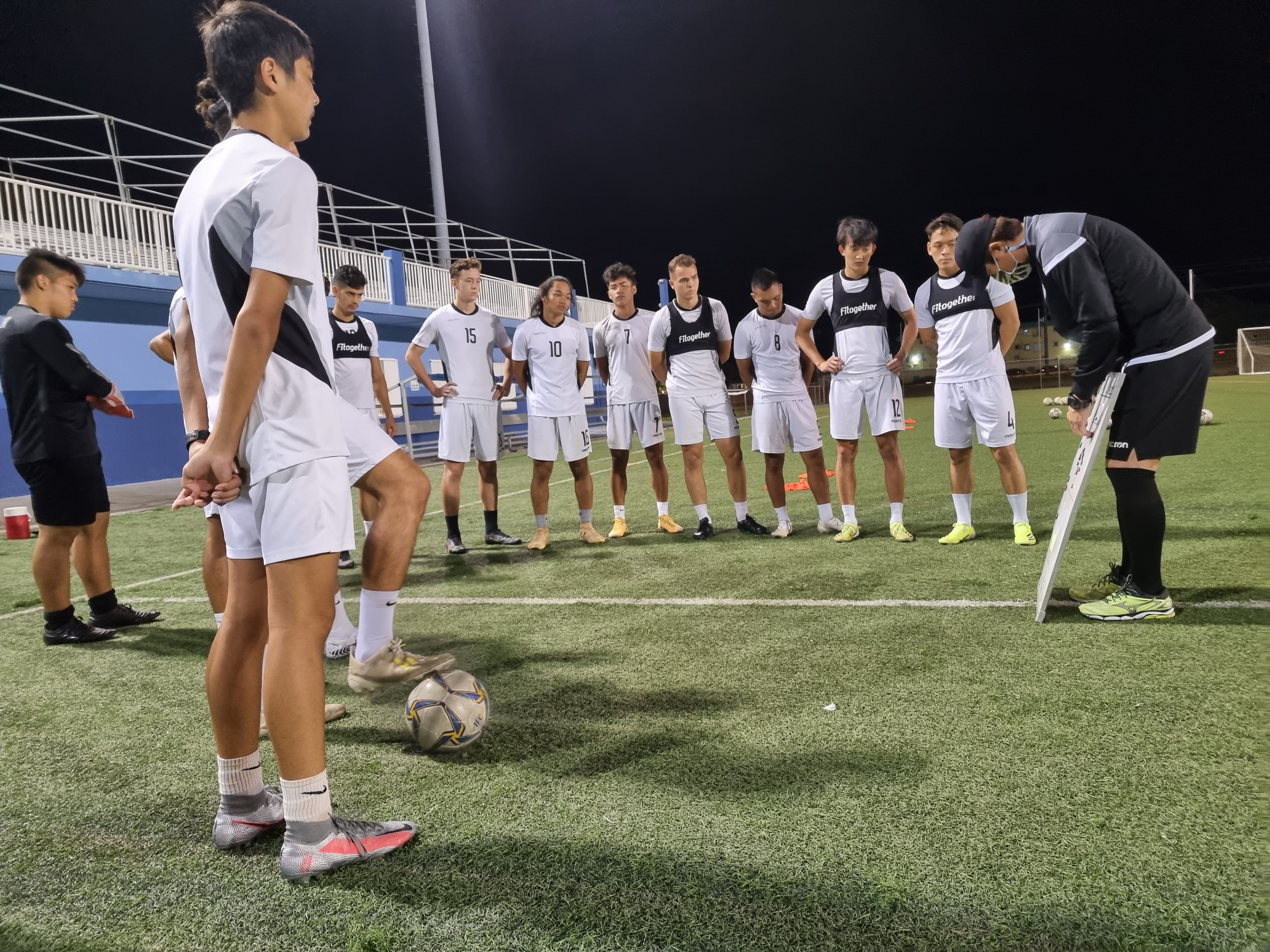 By Robert Balajadia
The Matao is set to depart May 20th to complete the remainder of their Round 2 matches of the FIFA World Cup Qatar 2022™ and AFC Asian Cup China 2023™ Asian Qualifiers, set to be played in Shanghai, China PR. Guam will face China PR on May 30th.
Members of the team were able to meet with the media Monday evening right before their 8 pm practice.
Guam's last match in the FIFA World Cup Qatar 2022™ was back in 2019 in a loss to Maldives. The world went through a pandemic in 2020 postponing action up until 2021, which also put a dent in the training routine for a lot of the Matao members.
"We were putting our family's health first in mind so we paused training for a few months. Everyone did have to get over this little hump initially, but once we got back it was business as usual. Everyone knew the exact date of our next game and how many weeks we had left to that and I don't believe anyone has been slacking off in terms of getting our fitness back to where it needs to be," said Marlon Evans.
With two years away from competition, The Matao is aiming to finish Round 2 strong.
"We're just super eager to get a result. We didn't have the matches we thought we would in the first round, but we're hopefully going to try and get a couple of victories and squeeze out some points and finish this campaign on a high note," said John Matkin.
Guam is also set to challenge the Philippines on June 3rd and Syria on June 11th to wrap up Round 2.
Welcoming interim coach Wong
The Matao recently underwent a coaching change last month after former coach Karl Dodd had to depart due to a family emergency. The team will be under the tutelage of interim head coach Suh Dong Won and the team is ready to embrace their new coach when the whole team comes together in Shanghai.
"We have an extreme amount of gratitude for what Karl (Dodd) laid in place, not only for the National Team, but also for the youth and those coming up who eventually will play for the National Team. We're just trying to use everything [Karl] taught us and implement our new coaches tactics. Whatever our new coach needs us to do that's what we're going to do," said Evans.
State of the team
The Matao roster has gone through changes over the recent years with the calling up of many local youngsters to compete on the big stage. For Matkin and Evans, being a part of the process has been a unique experience.
"It's amazing to see. It just goes to show that GFA and the plan they implemented is actually working and we're producing more home-grown talent. I've been able to coach some of these players that are getting called up to the roster so it's always exciting to see fresh new faces," said Matkin.
"I've always said that the entry into the Guam National team may be as easy as getting into the Brazil National Team, but the amount of pride Neymar Jr. feels when he plays for Brazil is the same amount of pride I feel when I play for Guam. It's always been a dream of mine and I'd say it's a dream of every young player growing up on Guam and the fact that I can live it and be an example to youth, it makes all the training sessions and everything I put into the game a lot easier," said Evans.
Men's 24-man roster
Shawn Aguigui
Mark Chargualaf
Jason Cunliffe
Marlon Evans
Sean Evans
Kyle Halehale
Shane Healy
Dallas Jaye
Isiah Lagutang
Alexander Lee
Justin Lee
Nathaniel Lee
Marcus Lopez
John Matkin
Jacob McDonald
Morgan McKenna
Devan Mendiola
Anthony Moon
Leon Morimoto
Travis Nicklaw
Eduardo Pedemonte, Jr.
Ryan Quitugua
Nathan Sablan
Clayton Sato.