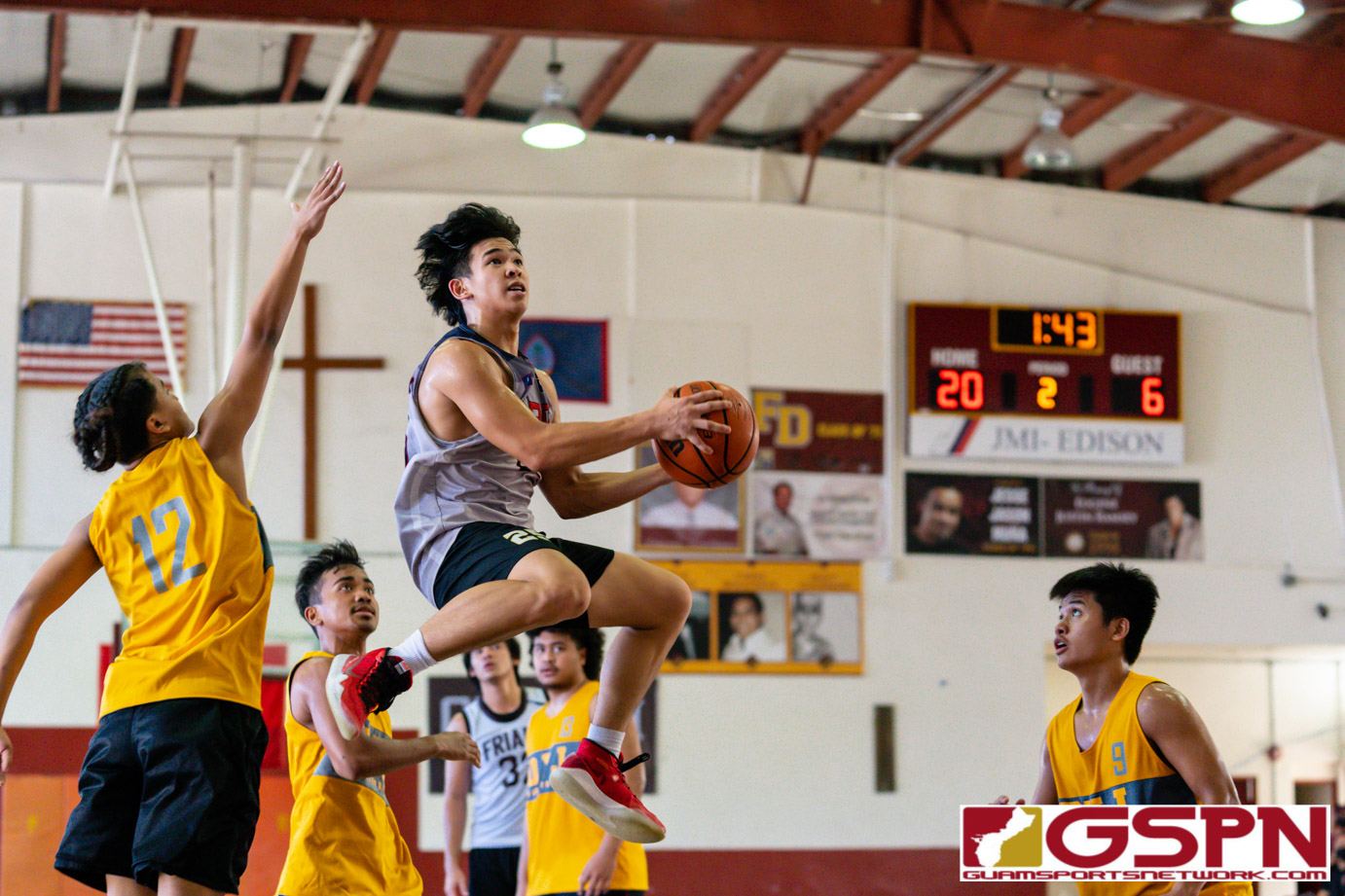 By Jay Leon Guerrero
The 2021 McDonald's High School Pre-season Basketball Tournament wrapped up its pool play on Saturday with all teams headed into the single-elimination playoffs. The playoffs, which will take place on Sunday at the FD Jungle gym, will feature eight games in a win-or-go-home format.
In the girl's division, the St. Paul Warriors finished undefeated in pool play and claimed the top seed heading into the playoffs.
In the boy's division, the FD Friars (POOL A) and the JFK Islanders (POOL B) finished undefeated as well heading into the semi-finals. Both teams will play in the afternoon, awaiting the winners of the quarter-final round. (See schedule below).
Feature game
In the girl's division, the Okkodo Bulldogs needed a win against the JFK Islanders to avoid being the lowest seed in the semi-final round. After a close battle in the first half, the Bulldogs pulled away in the third quarter thanks to the play of forward Amaiya Fontanilla.
The first half went back-and-forth with the Islanders maintaining a small lead until the Bulldogs went on a run just before halftime.
Erin Moldez made a driving lay-in and was fouled to give the Bulldogs a slim 16-15 lead by halftime after she sank the free throw.
JFK's Hannah Gogue and Laila Smartt each had 5 points in the first half in a game that displayed good defense by both teams.
Okkodo looked like a different team coming out of the break and went on a run to capture momentum. Fontanilla was crucial in the run, recording two steals which turned into lay-ups to ignite an 8-0 run to start the third quarter.
The Bulldogs took advantage of poor Islander shooting to open up a 29-18 led after the third quarter.
Fontanilla continued to play aggressively and sank a pair of three-pointers in the fourth quarter to secure the game and a second seed for the Bulldogs. The Bulldogs ended up winning the game 43-29 behind Fontanilla's 17 points.
"It's been a year and half and we are all just glad to back," said Fontanilla. The Bulldogs will now face the Academy Cougars in the first round while the Islanders face the St Paul Warriors.
Although it's a goal to always win, Fontanilla hopes her team can gain experience in the pre-season tournament. "Some of the things we've learned is that we we need to work on our defense and communicate better. I think we will be ready by the season opener," said Fontanilla.
PHOTO GALLERY BROUGHT TO YOU BY:
Here is the schedule for Sunday:
GIRLS VARSITY DIVISION
12:10PM
# 1 SPCS V #4 JFK
1:30PM
#2 AOLG V. #3 OHS
5:30PM
CHAMPIONSHIP GAME
——————————————
BOYS SCHEDULE
POOL A
#1 FD
#2 SSHS
#3 OHS
POOL B
#1 JFK
#2 SPCS
#3 ND
930am GAME 1
A3 OHS V. B2 SPCS
1050am GAME 2
B3 ND v A2 SSHS
250pm
WINNER OF GAME 1 v FD
410pm
WINNER OF GAME 2 v JFK
650pm
Championship