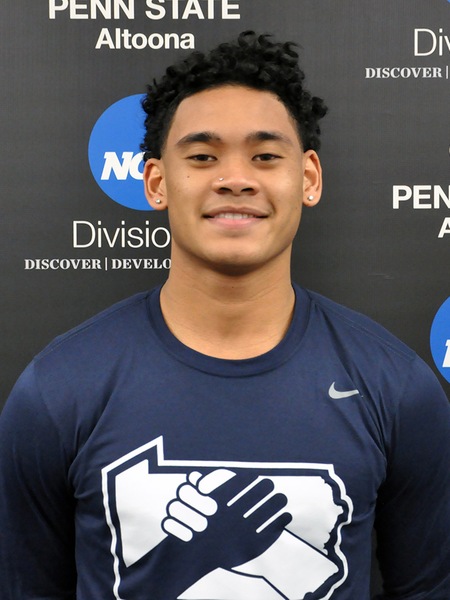 By Jay Leon Guerrero
Former St. Paul basketball star Jahmar White has completed his first year at Penn State Altoona Basketball, an NCAA DIII program. White scored 25 points through four games his freshman season while earning three starts!
We caught up with White to ask about his first season.
Name: Jahmar White
Age: 20
School: Penn state Altoona
Village: Yigo
Major: Undecided
GSPN: How are you enjoying your first year of collegiate basketball?
JW: Things are going great. I am enjoying college so far.
GSPN: What adjustments did you have to make against the competition out there compared to the competition on Guam?
JW: The biggest thing was really developing my jump shot, at my height if you can't shoot the ball it will be hard for you at the college level. On Guam because players are a lot smaller I was able to almost hide the fact that I couldn't shoot the ball well with my handle and driving ability. I am at the level now where that is no longer possible, every team you play will have a scouting report on you. In the states you can find guys a lot taller than me that can do everything I do on the court, I had to find a way to make myself stand out with defense and shooting the ball.
GSPN: What has been your most accomplished game?
JW: I think my best game was my first ever collegiate game, which was also my birthday. I was really nervous but ended up scoring 28 points only missing 3 shots. That was when I knew I could be a top player in our conference.
GSPN: What advice do you have for the young ballers trying to get to that next level and play college basketball overseas?
JW: My advice is to of course just continue to work hard and just get after it. Majority of the young basketball players coming out of Guam aren't physically gifted like the players in the states so we have to work harder. The basketball world is big and there are people out there trying to get where you want to be.
GSPN: What do you miss most on Guam?
JW: My mom. If you know me personally you know my Mom is my rock. I haven't seen her since I left two years ago.
GSPN: Are there any other people from Guam in your area?
JW: Yes, I met a girl on campus that her family lives on Guam. She came to the states for high school and flies back every summer to live with them.
GSPN: What are your plans for the future in basketball?
JW: In the next three years of college basketball I want to be an All-Conference player and win a conference championship at Penn State Altoona. This year was proof that those two things are possible in the future. After college I want to pursue a professional basketball career.
GSPN: Lastly, if there are any people you would like to thank feel free!
JW: I would like to thank Coach John Alexander from Global Squad. He saw me play my sophomore year of high school, kept tabs on me and helped get me to the states and helped me get recruited after my senior year. Without help from him none of this would have been possible.