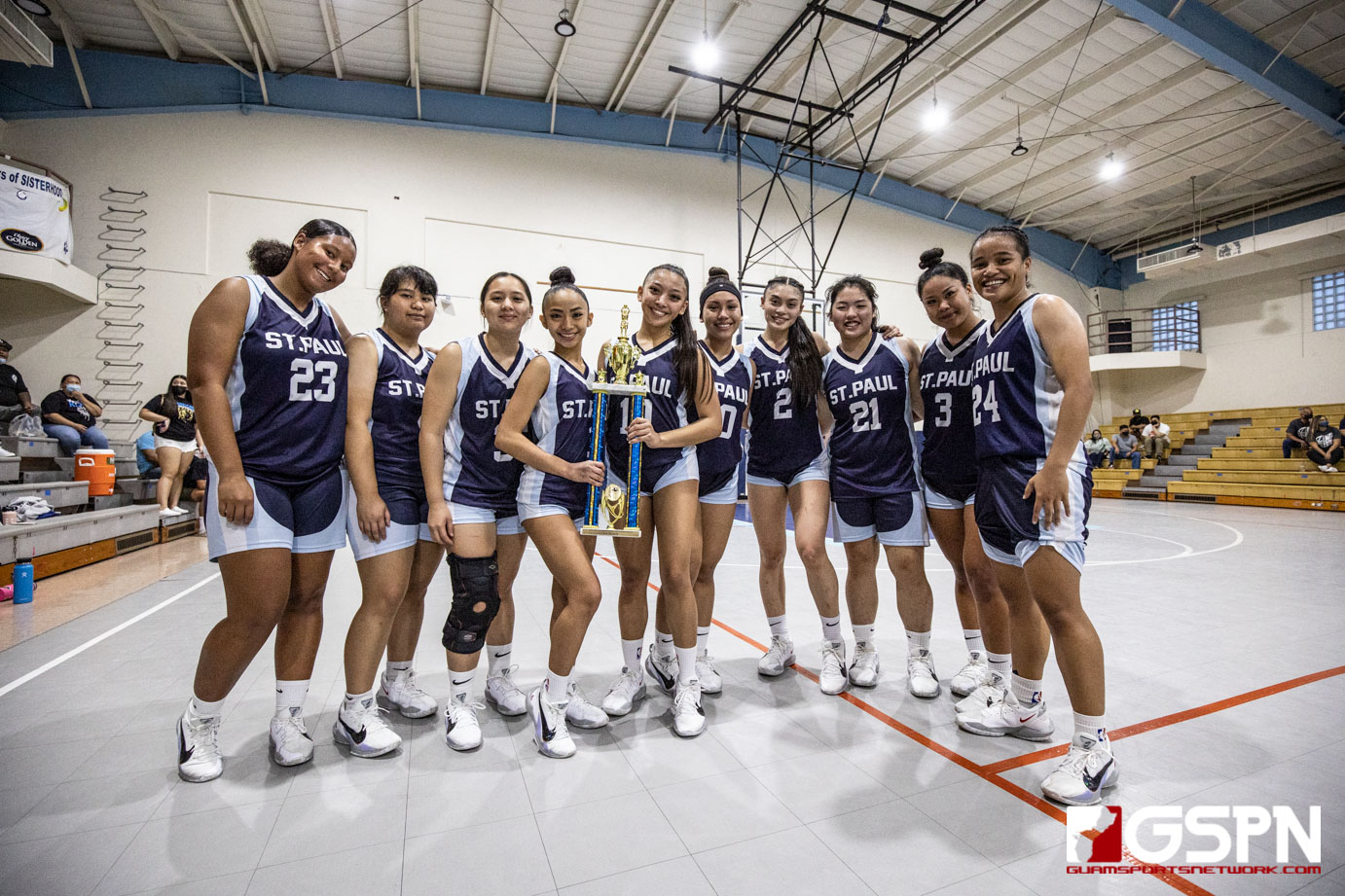 By Jay Leon Guerrero
The dynasty continues. The St. Paul Warriors won their fourth straight girls basketball title after defeating the Academy Cougars 63-50 Friday night in the ISA championship game.
Janniliese Quintanilla set the tone for the Warriors playing every second of the game. She stuffed the stat sheet with 24 points, 11 assists, six rebounds, six steals and two blocks. Quintanilla heard the "MVP" chants by the small St. Paul crowd in attendance.
"This is special because a lot of people didn't believe we can do it, so proving them wrong feels so good," said Quintanilla.
The Warriors came out swinging, jumping ahead 13-4 to open up the contest.
"We wanted to start the game strong so we wouldn't have to struggle at the end," said Quintanilla. She had 14 points in the first quarter, forcing the Cougars to deny her the ball for the rest of the game.
St. Paul continued to add to their lead in the second quarter with Kailie Celo hitting two three-pointers. The Warriors went ahead 38-22 by halftime, shooting 61 percent from the field in the first half.
Cougars bite back
Academy fought back in the third quarter and went on a 12-0 run. Coco Paulino dished out three assists during the run with Myka Terlaje and Mia Taitano scoring in the paint.
The Cougars trailed 42-35 after Annika Almario making a basket, but a buzzer beating lay-in by A'lura Hernandez from St. Paul gave her team a 44-35 advantage after three quarters.
The Warriors expanded their lead to 49-35 with Hernandez scoring five straight points to start the fourth quarter.
Academy answered, going on another run that ended with Taitano converting an and-one play to trail 49-42 with five minutes remaining in regulation.
With the Cougar crowd getting back into the game, Quintanilla quickly silenced the home crowd with two steals that turned into lay-ups.
The Cougars attempted to get back into the game but the Warrior defense did not allow any open shots. St. Paul went ahead 59-46 with 1:50 left after Caressa Eter made a lay-up.
Quintanilla got the Warrior fans celebrating with a steal that led to a lay-up with less than a minute remaining. The final score was 63-50.
"We wanted this really bad. This championship is special because it's our fourth straight championship and we really wanted to win this for Jan," said Hernandez.
Hernandez was huge in the fourth quarter, making all of her free throws. She ended her night scoring 24 points and grabbing eight rebounds. Celo made three three-pointers for nine points.
Terlaje had 15 points and eight rebounds for the Cougars. Taitano had nine points and 11 rebounds; Paulino scored seven points and dished out six assists.
PHOTO GALLERY BROUGHT TO YOU BY: