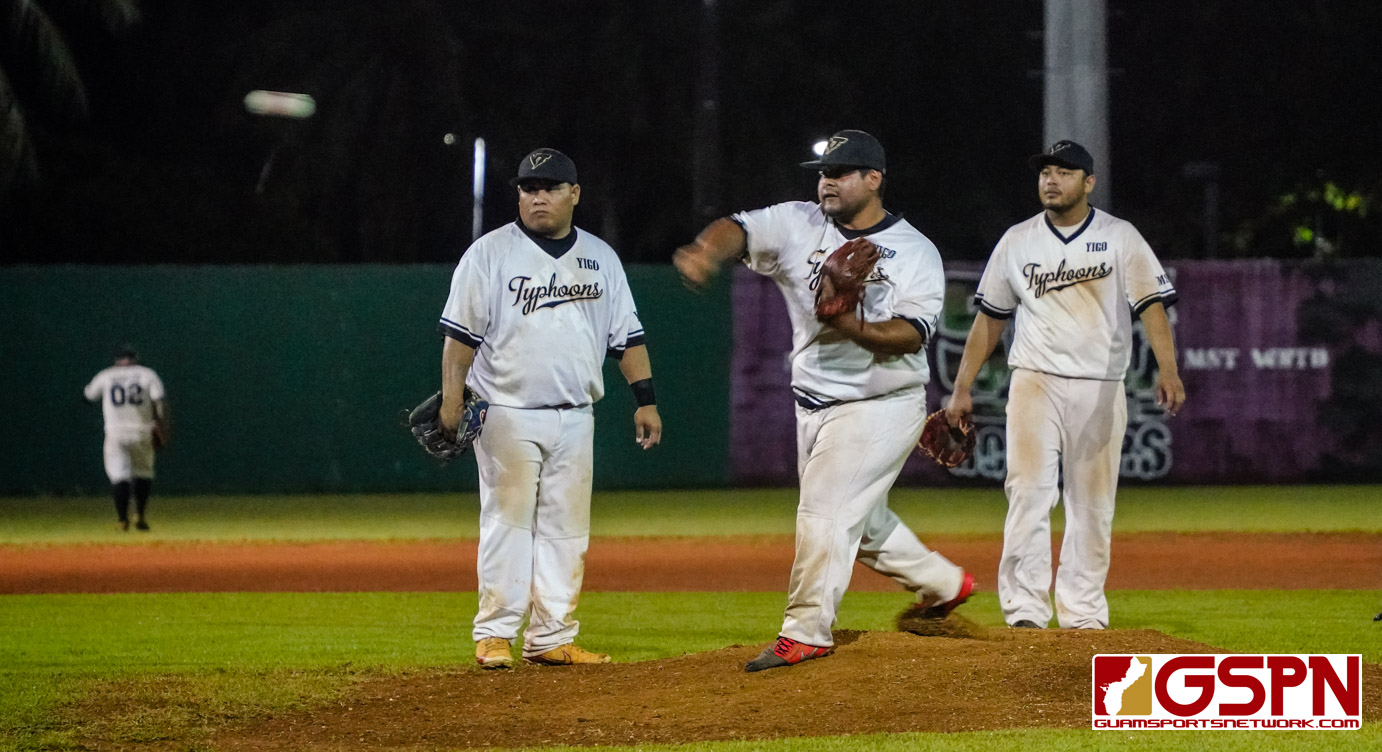 By Patrick Lujan
The Yigo Typhoons aren't supposed to be here, yet after eliminating the Who's Who Dodgers in five games of the 2022 GML Semifinal Series on Saturday night, they now take on the top-seeded Junior Nationals in the best-of-7 Championship Series tonight in Game 1 at the Paseo Stadium. (UPDATE: Game 1 was rained out)
For the first-year Typhoons, their success is quite a surprise to the average baseball fan, except not surprising to the players themselves.
"Not really (surprised)," said manager Jeff Concepcion about making it to the Championship Series. "This team is very, very hungry. They wanted to prove to the league that they belong. In my boys' minds, they are supposed to be here."
Successful teams usually dub themselves as 'family'. The Typhoons take it to the literal sense as the dozen-plus roster are all first-second-third cousins for the exception of R-Jay Joe and D.C. Nena – both who've grown up with the Yigo boys.
"That's what makes us a little more different, because we're all related. We're family."

– Typhoons manager Jeff Concepcion
CONCEPCION HOUSEHOLD
The intrigue doesn't stop there. Jeff's son Jake Concepcion is an intrical part of Yigo's championship run. At the other dugout, however, Jeff has two younger sons playing for the Jr.'s – Javier and Jace. He says the competitiveness is running high in the Concepcion house.
"In the house right now, we're going at it to beat each other's @s$," the dad said.
To add to that intrigue, Concepcion's previous bench coach when they were the Astros is John Salas, who is now the Junior's bench coach and youth coach for all the Concepcion boys.
"John Salas was my go-to guy. He's still my go-to guy. He and JT (Juniors manager Joe Tuquero) really helped me get through the semifinal series."
PITCHING IS KEY
Concepcion feels that the tandem of Joe and Julian Flores propelled Yigo over the Dodgers in the five-game series.
"Those are our horses. We aren't going anywhere without them."
With a long seven-game series, Concepcion looks to start tonight's Game 1 with another arm after a tough semifinal series for the duo.
"Of course, I want to use them right off the bat, but I'm not going to ruin their arms. They need to get their rest."
Regular season game: The Jr. Nats and Typhoons squared off in their only match of the regular season in their season opener with the Juniors winning 4-2.
NEW CHAMPIONSHIP SERIES SCHEDULE
Game 1: Friday, September 16
Game 2: Sunday, September 18
Game 3: Tuesday, September 20
Game 4: Friday, September 23
(If necessary) Game 5: Sunday, September 25
(If necessary) Game 6: Tuesday, September 27
(If necessary) Game 7: Friday, September 30

2022 GSPN I MÅS METGOT COMPETITION
I Mås Metgot Athlete Spotlight: April Flores
2022 GSPN I MÅS METGOT COMPETITION
I Mås Metgot Athlete Spotlight: April Flores
2022 GSPN I MÅS METGOT COMPETITION
I Mås Metgot Athlete Spotlight: April Flores
QUICK HITS
Guam boys Kekoa Toves and Matias Calvo went head-to-head on the rugby pitch as American International College took on Dartmouth College, both top-ranked men's rugby programs in the country.
Calvo (FD) is the captain of Dartmouth and scored, but Toves (Sanchez) and his AIC squad came away with the win in Springfield, Mass.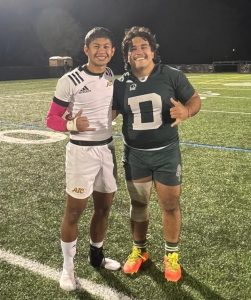 ———————————————–
1LT Belizabeth Nicole V. Rengiil is known to be the first female from Guam and Palau to make the All-Army Women's Rugby Team. She is an active duty Signal Officer with the US Army and is stationed at Joint Base Lewis-McChord in Washington.
Her team won the Armed Forces Women's Rugby Championship with a 4-0 record.
Belizabeth is the daughter of Edwin and Juliana Rengiil with siblings Johanna and Edwin-Isaiah Rengiil from Mangilao.