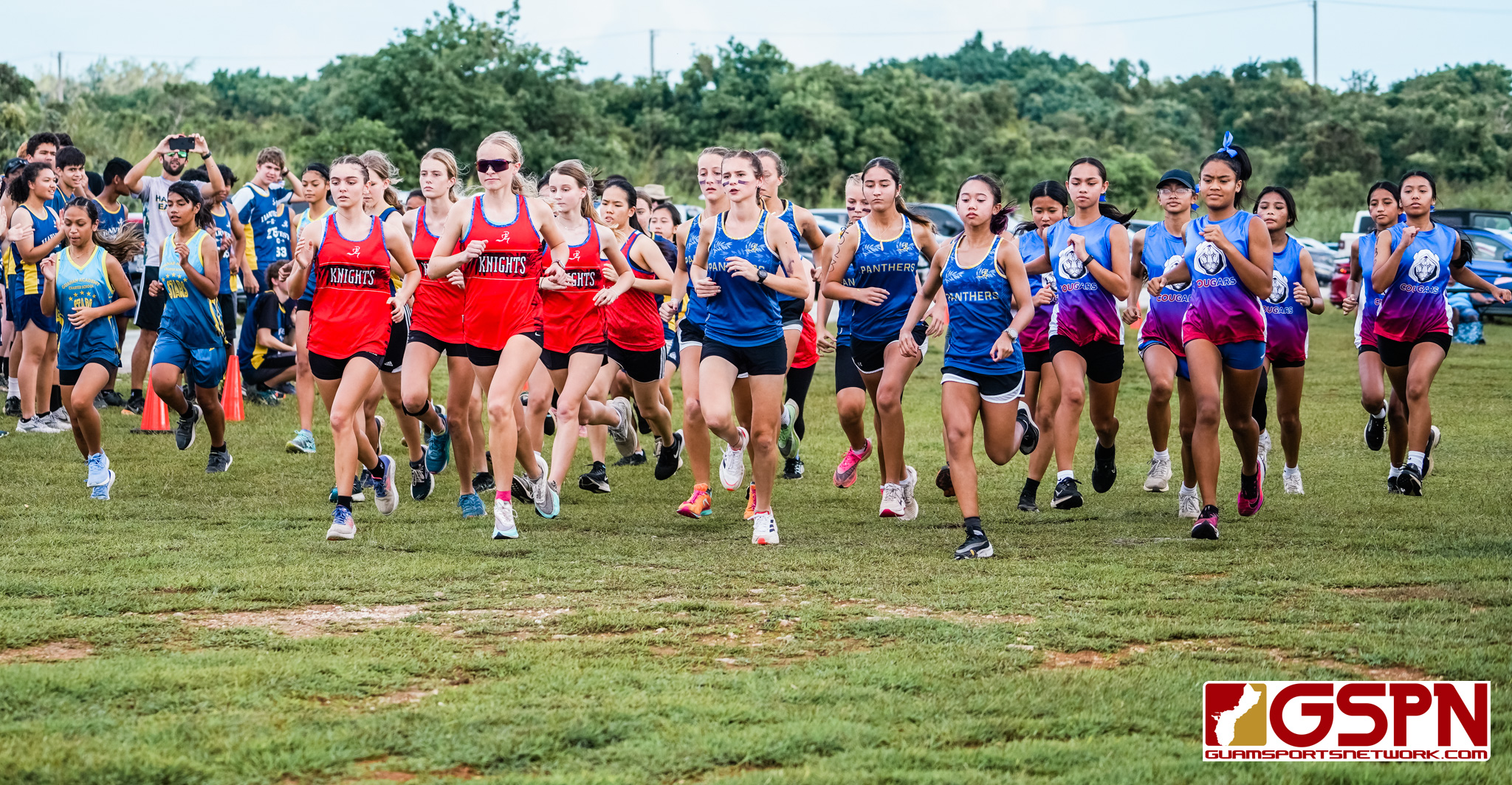 By Jay Leon Guerrero
The Guam High Panthers scooped the 2022 IIAAG Cross Country Championships at the All-Island Meet held at the Two Lover's Point course.
The Panthers had five runners in the top 10 for both boys and girls races to claim another championship under legendary coach Joe Taitano.
Boy's Team Scores
1. Guam High Panthers (GH) – 30 points
2. Father Duenas Friars (FD) – 63 points
3. St. John's Knights (SJ) – 73 points
4. Harvest Christian Academy Eagles (HCA) – 83 points
Girl's Team Scores
1. Guam High Panthers (GH) – 31 points
2. St. John's Knights (SJ) – 40 points
3. Academy Cougars (AOLG) – 75 points
4. Harvest Christian Academy Eagles (HCA) – 91 points
5. Guahan Academy Charter School (GACS) – 154 points
Schwartz Claims Top Spot
Joseph Schwartz from Guam High was crowned the All-Island individual champion in the boys division with a time of 18:23.
Schwartz, a senior, said the win was an emotional one for him after suffering a right leg injury last season. "I was ready for a good season (last year) and the injury prevented me from running cross and track out there with my brothers and sisters," said Schwartz.
Comeback Kid
After recovering from his injury, Schwartz was determined to make a comeback. With proper guidance and discipline, Schwartz accomplished his goal. "It feels amazing," said Schwartz. "I was just trusting in the training that coach (Joe) Taitano puts me through".
Schwartz said the training included hot afternoon runs and early Saturday morning long distance solo runs.
"I just trusted in the training program and most of all God who gave me my strength and ability to run," added Schwartz.
Schwartz said the team camaraderie was special: "I see everyone on this team as my brothers and sisters, even outside of running. I can't emphasize how close we are as a team".
The Father Duenas Friars held off the St. John's Knights to finish second in the team event. The much improved Friars had their highest finish in over a decade in Cross Country and look to contend for a championship next year with loads of up-and-coming underclassmen talent.
Alexander Clark from St. John's finished with an impressive time of 18:38 to earn the second spot. Guam High runners Sean Muller, Trayton Crandell and Nathaniel Carlson finished third, fourth and fifth, respectively to secure the team championship. FD's Soccer star Erwin Manibusan Jr. finished sixth with time of 19:46.
Jordan Rules
In the girls division, St. John's senior Jordan Baden was not to be denied of an All-Island title after finishing the course with a time of 21:43. Baden gave everything she had and needed some medical attention after the race to recover.
Baden is on a hot streak after winning the Asia Pacific Invitatational, the Oceania U20 Cross Country 6K Championships and now an IIAAG individual champion. Baden looks to add to her remarkable senior season with an ISA Track & Field gold medal next semester.
Finishing a respectable second in the girls race was Guam High's Keira Paz (22:09) and third was Academy's Taylor-Ann Santos (23:24).
"It feels amazing to experience winning a championship with this team and I'm proud to be a Panther," said Paz. "The camaraderie on this team is strong and coach Taitano did all he could to prepare us for this race and I feel we did all we could to perform well," added Paz.
The Knights finished second in the team totals, Academy had enough points to finish third.
Boys Top 10
1. Joseph Schwartz, GH – 18:23
2. Alexander Clark, SJ – 18:38
3. Sean Muller, GH – 18:56
4. Trayton Crandell, GH – 19:18
5. Nathaniel Carlson, GH – 19:26
6. Erwin Manibusan Jr, FD – 19:46
7. Clay Martin, GH – 19:57
8. Elijah Dixon, HCA – 19:58
9. Braden Flinn, GH – 20:12
10. Luca Flores, SJ – 20:20
Girls Top 10
1. Jordan Baden, SJ – 21:43
2. Keira Paz, GH – 22:09
3. Taylor-Ann Santos,  AOLG – 23:24
4. Maeva Conroy, SJ – 23:54
5. Molly Lang, GH – 24:07
6. Elizabeth Wigley,  SJ – 24:13
7. Almira Carlson, GH – 24:19
8. Jordynn Crandell, GH – 24:52
9. Aracell Ariaga, GH – 25:15
10. Rebekah Stringham, GH – 25:32 
PHOTO GALLERY BROUGHT TO YOU BY: