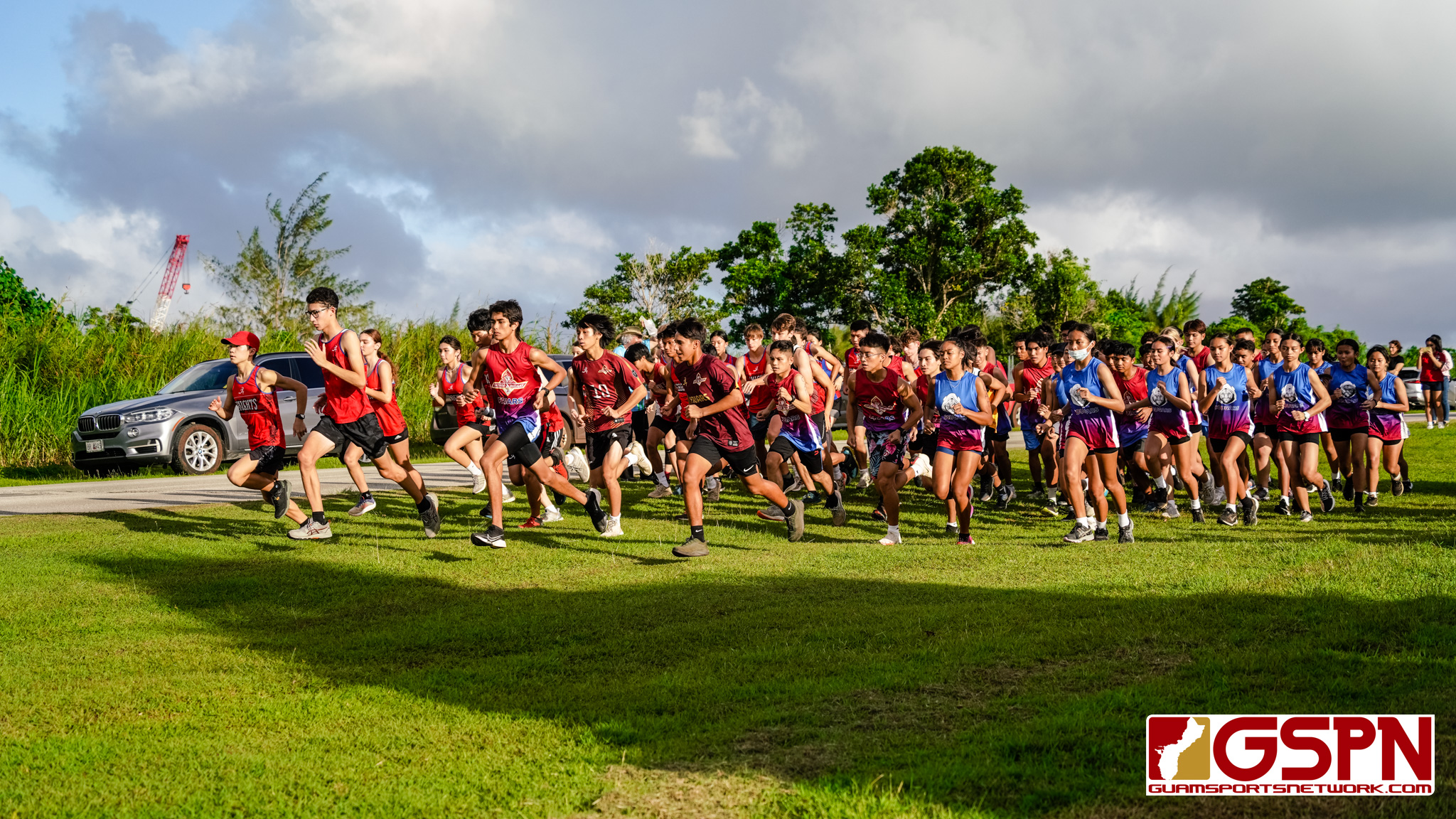 By Jay Leon Guerrero
The FD Friars/Academy Cougars swept the St. John's Knights in the IIAAG Cross Country League regular season meet held Thursday at the Two Lover's Point course in Upper Tumon. The Friars/Cougars brought an army with them to their meet and are looking to contend for an IIAAG championship that has eluded them for over a decade.
The Friars/Cougars defeated the St. John's Knights with the Friars winning 26-33 and the Cougars winning 24-35.
Taylor-Ann Santos was the first female to cross the finish line with a time of 23:16. Santos said she is having fun with the team this season and is hoping for the Cougars to finish high in the rankings at the All-Island meet scheduled for December 9th.
"It's possible for us to finish in the top. We just need to keep training hard and prepare mentally for the All-Island," said Santos.
St. John's Clark Finishes First
Alexander Clark finished first overall with a time of 18:33 for the Knights. Clark sprinted to the finish line, finishing almost 90 seconds faster than the next runner.
Clark will look to help his team move up in the rankings and despite the loss against FD, the Knights are working really hard to improve.
Individually, Clark is ranked in the top five and he said that Guam High has runners that are fast. "The two Guam High runners have really been working hard and you can see that in their results. It will be a challenge to catch and surpass them," said Clark.
Strength in Numbers
The Friars and Cougars are on the verge of their best team finish in over a decade. With a combined squad of 47 runners, the Friars/Cougars look to make a championship run.
"We have a lot of talented freshmen that have signed up to run this season," said Santos. The Cougar pack running helped earn enough points to hold off the talented Knights who were without API (Asia Pacific Invitational) female winner Jordan Baden.
The Cougars finished 1st, 4th, 5th, 6th and 8th to secure the victory against the Knights. Madeline Lobaton, Avianna Borja, Camille Leon Guerrero and Maiya Franco all finished in the top ten for Academy to clinch the victory.
For the Knights, Elizabeth Higley and Hazel Wilson came in second and third, respectively. With Baden at 100 percent, the Knights will also make a run to contend for a team championship.
Erwin Manibusan, Jr. was the first Friar to cross the finish line with a time of 20:02 which was good for second place overall. Friar senior C.J. Lobaton followed with a time of 20:34 to finish in the third position.
Jacob Jackson and Luca Flores from S.t John's finished in 4th and 5th place, respectively. The Friar pack followed and occupied the 6th through 19th positions to secure the victory.
Sean Halehale, Napu Blas and Ryan Douglas finished 6th, 7th and 8th overall for FD.
"This year, our pack running has been the strongest it's been since my freshman year," said Lobaton. "To begin our season, we worked on aerobic endurance and now we will focus on speed workouts. From now until the All-Island meet, we will work on speed to help on our final kicks."
"For my entire cross country experience, this is the course with the most fun. There are long straights and you can see the runners ahead of you that push you to catch up to them," said Lobaton.
"The course had an uphill trek that took a lot out of the legs, but I find going through the jungle more fun," said Clark.
The All-Island meet is scheduled for December 9th at a location to be determined.
Boys Score: FD 26, SJ 33
1. Alexander Clark, SJ – 18:33
2. Erwin Manibusan Jr., FD – 20:02
3. CJ Lobaton, FD – 20:34
4. Jacob Jackson, SJ – 20:45
5. Luca Flores, SJ – 20:51
6. Sean Halehale, FD – 21:09
7. Napu Blas, FD – 21:10
8. Ryan Douglas, FD – 21:23
9. Dylan Lizama, FD – 21:56
10. Breyton Sison, FD – 22:07
11. Landon Brewster, FD – 22:12
12. Bas Schils, FD – 22:16
13. Taga Blas, FD – 22:17
14. Jacob Coopernurse, FD – 22:17
15. Nathan Balbin, FD – 22:23
16. Jurien Limtiaco, FD – 22:33
17. Cameron Bordallo, FD – 22:45
18. Steffen Surban, FD – 22:49
19. Ethan Dela Cruz, FD – 22:52
20. Bubba Sullivan, SJ – 23:21
Girls Score: AOLG 24, SJ 35
1. Taylor-Ann Santos,  AOLG – 23:16
2. Elizabeth Wigley, SJ – 24:48
3. Hazel Wilson, SJ – 25:01
4. Madeleine Lobaton, AOLG – 26:05
5. Avianna Borja, AOLG  – 27:45
6. Camille Leon Guerrero,  AOLG  – 28:06
7. Raylene DeBenedictis, SJ – 28:20
8. Maiya Franco, AOLG – 28:42
9. Adriana Sabinay, AOLG – 28:48
10. Maria Calvo, SJ – 28:58
11. Veronica Fernandez, AOLG – 30:05
12. Chelsea Domingo, AOLG – 31:26
13. Sophia Taitano, AOLG – 31:44
14. Jordyn Crisostomo, AOLG – 32:07
15. Rhiann Ecalnir, AOLG – 33:10
16. Jayden Clark, AOLG – 35:53
17. Vivian Wen, SJ – 37:28
18. Shelby Applegate, AOLG – 38:39
19. Dayton Duenas, AOLG – 39:13
20. Siwen Shao, SJ – 42:10 
PHOTO GALLERY BROUGHT TO YOU BY:

QUICK HITS
3rd place: Big ups to the Para Todu Rugby Club for finishing 3rd out of 16 teams in the Manila 10's Rugby Tournament today. Biba Guam Rugby!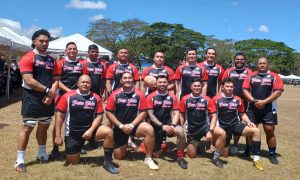 ——————————————
Guam MTB National Championship: Edward Oingerang and Jennifer Camacho are your 2023 MTB national champions. Oingerang finished the course in 1:13:24 while Camacho won her second straight title in 54:08.