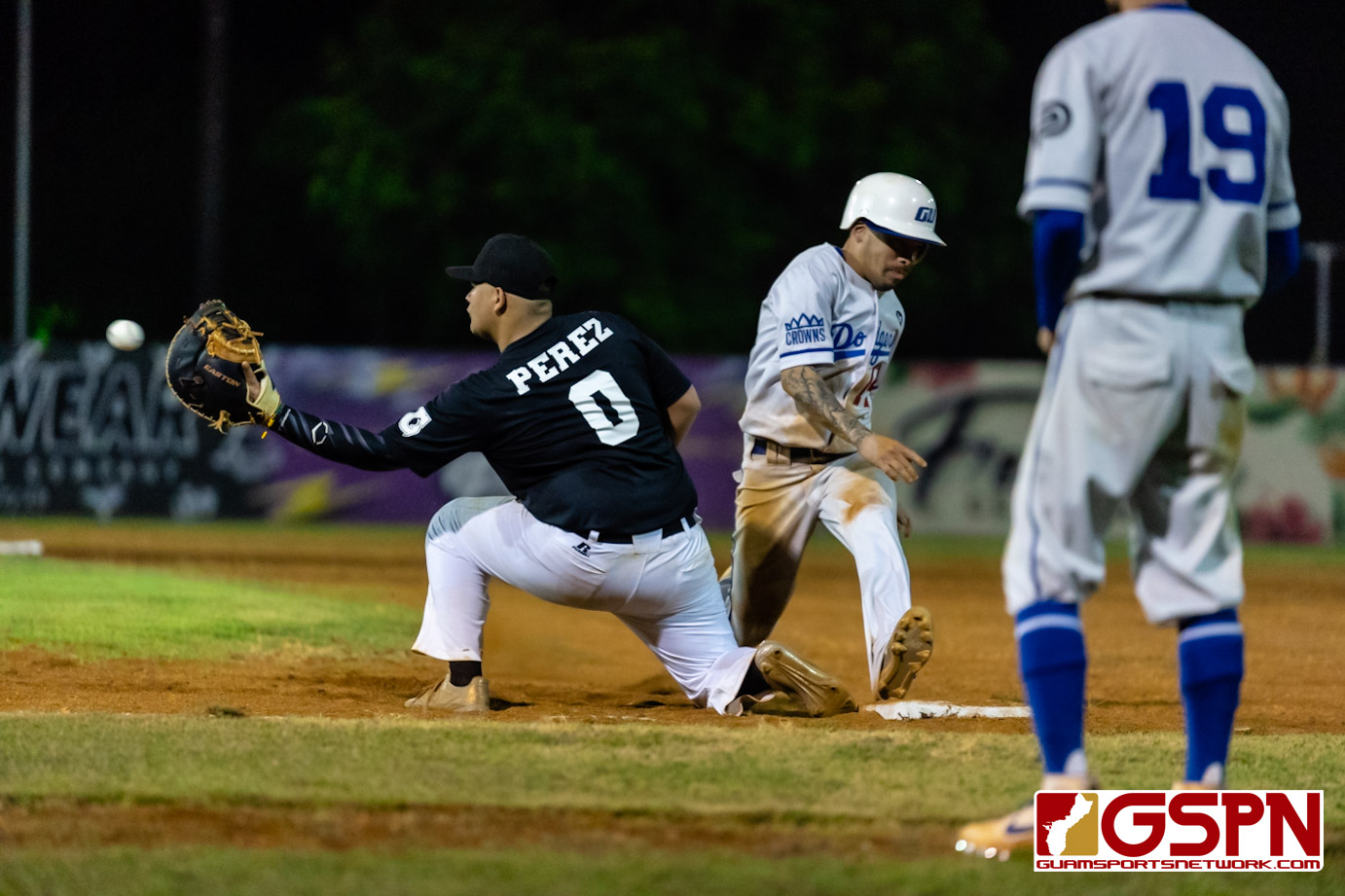 By Robert Balajadia
It was a historic night of baseball Friday evening at the Paseo Stadium as the diamond welcomed back the UOG Tritons to the scene after a 20-year absence via the Tritons Baseball Invitational. The Tritons were on the verge of celebrating an opening night win in over the Dodgers leading 4-1 in the top of the 7th inning, but big hitter Mike Bautista had other plans as he fueled a comeback victory for the Dodgers as they grabbed the 6-5 win.
With the bases loaded, Bautista smacked a shot deep left that was too difficult for the Tritons left fielder to make a play for a two-run double. The third run would come in as the ball made its way back to the infield, but Bautista's swing tied the game at four runs each to put all the pressure on the Tritons.
For this invitational, pool play only goes up to seven innings with nine innings slated for the playoffs. The Dodgers needed at least three runs to extend the game, which is exactly what Bautista delivered.
Triton O'Neil Yobech appeared to start the bottom of the 7th with a lead single, but the umpire on the play called Yobech out at first with plenty in the stadium reacting to the questionable call. After a short discussion between the officials, Yobech was officially called out which deflated the Triton momentum as they were shut out to force an extra inning.
The Invitational rules begin extra innings with runners at second base to speed up the game. In the extra inning, the Dodgers grabbed two runs in the top of the 8th with Tritons only unable to match them scoring just one run in the bottom of the 8th to complete the Dodger comeback.
Dodgers pitcher RJ Joe got the win with six total strikeouts after taking over for Freddy Cepeda in the 5th. Yobech took the loss for UOG as he was the third pitcher to take the mound for UOG as he entered in the 7th inning to relieve Jarren Gumataotao.
UOG had their best offensive inning in the 1st where they scored three runs. Catcher Derrin Pangelinan brought in a run off a double with the other two Triton runs coming off errors.
The Dodgers picked up their first run in the 6th inning with Randy 'Pudge' Alcantara getting a big RBI double to put his team on the board down 3-1.
A passed ball would give UOG a 4-1 lead in the 6th before Bautista's game-changing swing in the 7th.
The UOG Triton Invitational will continue play this Saturday and Sunday in their five-team league with the playoffs set to begin next weekend.
PHOTO GALLERY BROUGHT TO YOU BY: