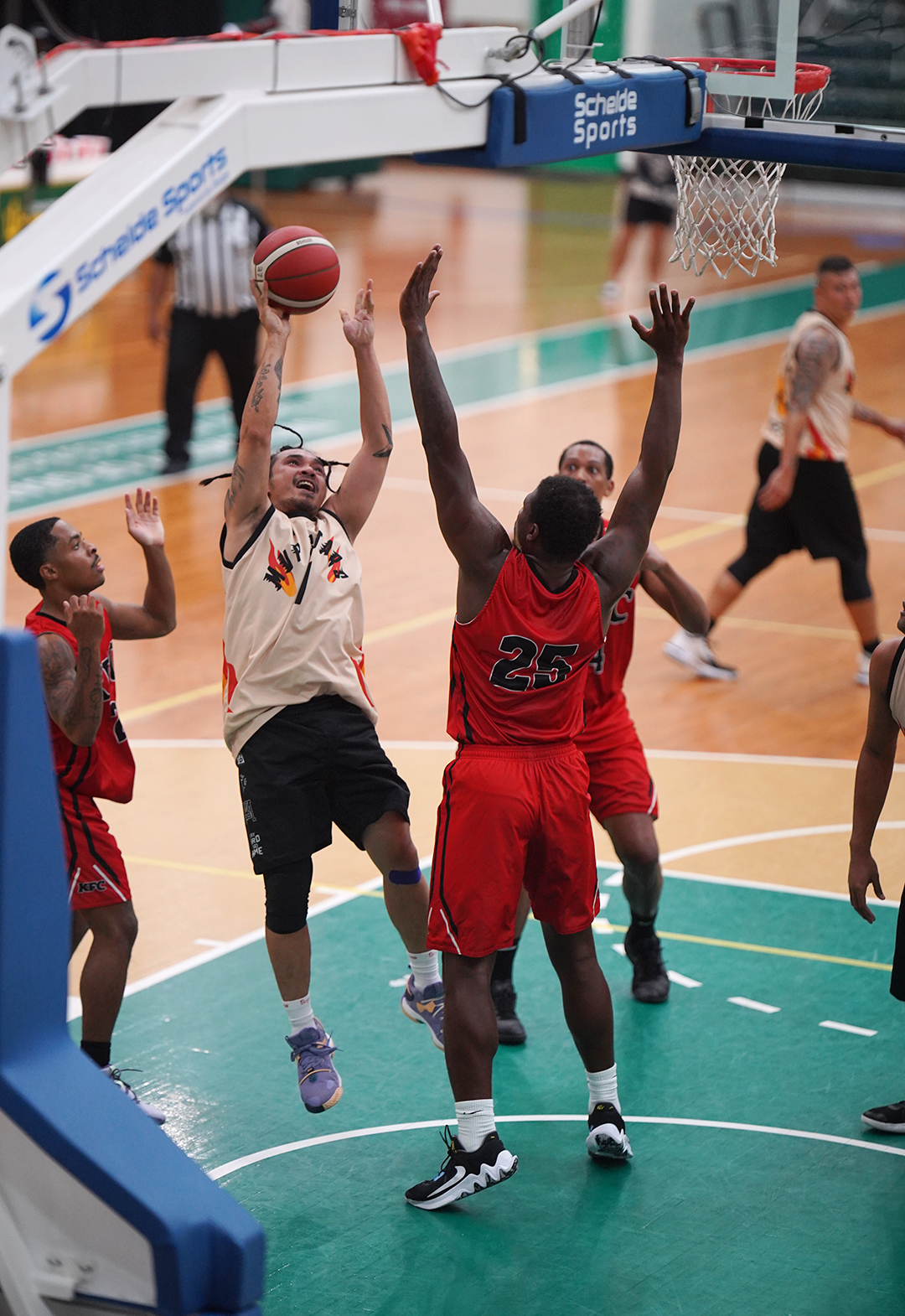 PRESS RELEASE – The KFC Bombers clinched the #1 Seed in the upcoming Triton-KFC Men's Basketball League playoffs on Thursday night in the UOG Calvo Field House with a 107-79 win over the MVP Stars. In the 2nd game of the night, Team OG by Hamon Water, Radio, and Ice defeated the Four Stars 100-90.
In the opener, the Bombers and MVP Stars started with a close game with the Bombers going out to a 7–8-point lead early in the first quarter but the Stars cut the lead and trailed only 25-21 at the end of the first quarter.
In the 2nd quarter, the Bombers again pushed their lead up to 8-10 points and then MVP leading scorer, JP Cruz, received his 2nd technical foul of the game with 3:23 left in the half and was ejected from the contest. The Bombers took control of the game at this point and led 47-32 at half-time.
The KFC Bombers expanded their lead in the 3rd period to 75-58 and won the game going away, 107-79.
Jaden Finley led the Bombers with 22 points while Divine Cox added 19 points. Sandy Fejeran led the Stars with 19 points with Karl Melencio adding 18.
The Bombers are now 8-0 in the Triton League and clinched the #1 seed in the playoffs with the win. The MVPs are 6-2 in the league and are in 2nd place. The Bombers play the Four Stars on Saturday at 2:45pm while the MVP Stars play Team OG on Saturday at 4:30pm.
In the 2nd game of the night, Team OG defeated the Four Stars 100-90. Team OG led most of the way, leading 25-16 at the end of first quarter and 48-44 at half-time. The Four Stars kept the game close, never allowing Team OG to pull too far away, but the Stars could not get back even with Team OG either.
AJ Grape led Team OG with 29 points and Eric Reyes scored 27. The Four Stars were led by Tommy Auputin with 24 points while Am Micky scored 22.
Team OG moves to 6-3 on the season while the Four Stars dropped to 1-7. Team OG plays the MVPs on Saturday at 4:30pm while the Four Stars play the KFC Bombers at 2:45pm.
All games are played in the UOG Calvo Field House, and all games are "Live" streamed on the UOG Athletic Facebook page.

QUICK HITS
3rd place: Big ups to the Para Todu Rugby Club for finishing 3rd out of 16 teams in the Manila 10's Rugby Tournament today. Biba Guam Rugby!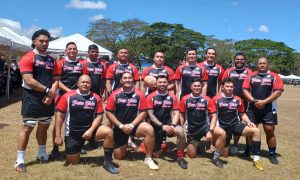 ——————————————
Guam MTB National Championship: Edward Oingerang and Jennifer Camacho are your 2023 MTB national champions. Oingerang finished the course in 1:13:24 while Camacho won her second straight title in 54:08.