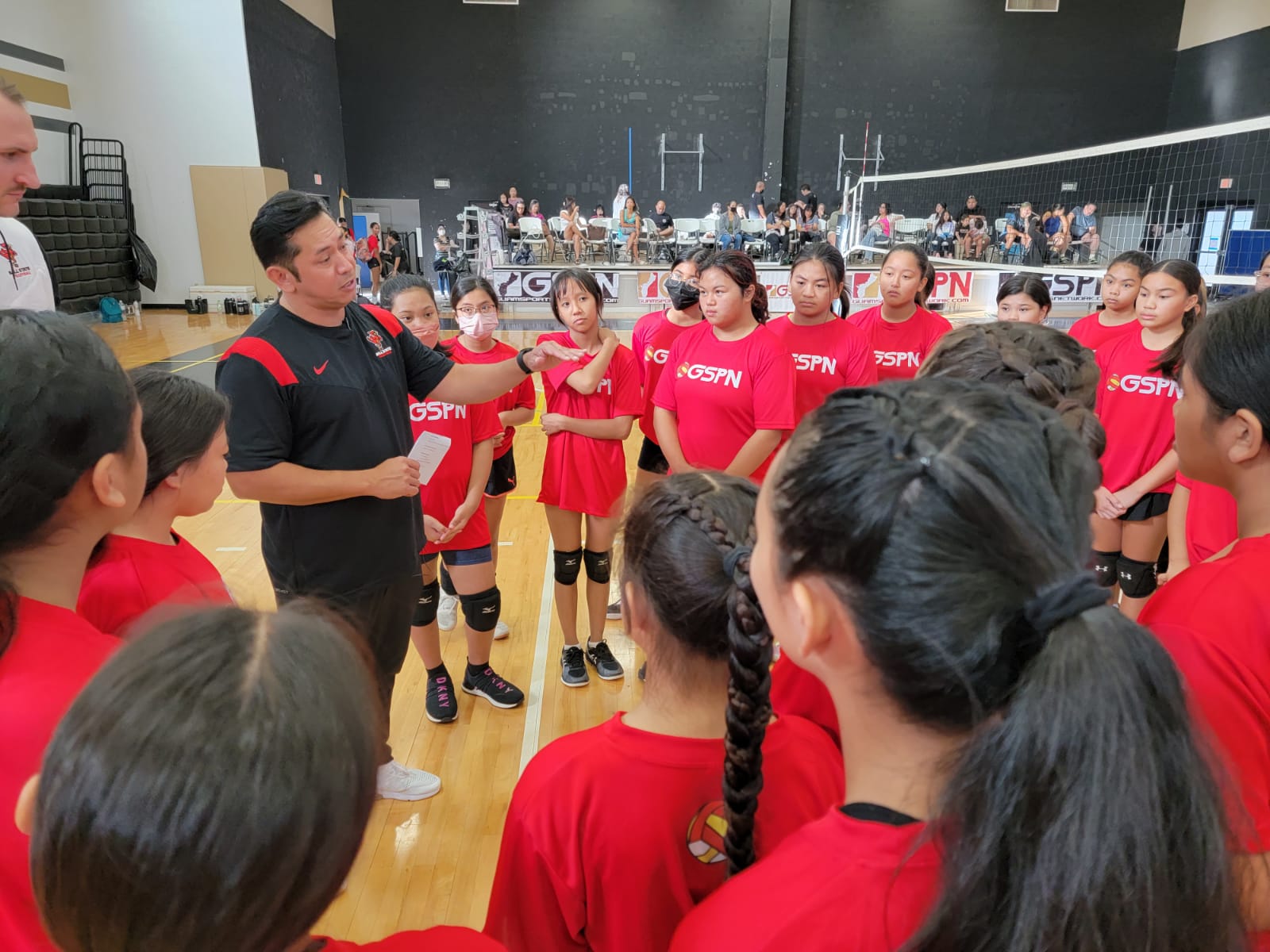 By Patrick Lujan
It was a special week for the Guam volleyball community last week as it welcomed Division-I college coach and Guam native Donan Cruz back home to conduct clinics for middle school, high school, national team and coaches.
Cruz brought along his Ball State assistant coach Christian Rupert to help out and the pair delivered high-level instruction across all stages and sessions.
Over 300 players and coaches throughout the week soaked in the knowledge and instruction provided that will certainly transcend the level of play on our island.
Here are some parting comments:
Donan Cruz, 2022 Men's Collegiate Volleyball Coach of the Year/Ball State Head Coach: Coming back home and working alongside the coaches and youth volleyball players is a life highlight for me. I am extremely grateful and thankful for Patrick and his GSPN team and partners. Without them this opportunity does not exist. The future of volleyball is in a healthy state and I promise to come back again and expand on our camp and clinic offerings and continue to bring in other knowledgeable coaches with me, as a way to nurture and contribute to the future of Guam's volleyball community. Until we meet again, Si yu'us ma'ase Guam!
Christian Rupert, Ball State Volleyball Assistant Coach: Looking back I am just so grateful for the opportunity to join Donan in journeying to Guam. It was so amazing to be able to meet, get to know, and coach all the volleyball players that came out from all ages. The island has some real talent in its youth and I really look forward in following the development of Guam Volleyball! I'll certainly be rooting hard for the National Teams as they start their upcoming international competitions!! The future is bright.
Being my first time on the island, I also appreciated the beauty and history that Guam has to offer. From discovering about ancient CHamoru culture to Guam's role in WWII, I couldn't get enough of learning about the island and its amazing people. Guam really is a unique place in the world and one I would love to visit again. Last of all, I am thankful for all the lifelong friendships that were made, and can't wait for a reunion in the not so distant future! Thank you!!!! I could go on and on including food and the beaches as well…hahaha.
Al Garrido, Guam National Team Coach/Far East-IIAAG-GDOE champion coach: The camp was probably the single most beneficial moment in Guam volleyball in a while. I would put it up there with Coach Rabago's certification and his ability to now certify Guam coaches. Both are potential catalysts that could jump start Guam volleyball. With Coach Donan being an "off-island" coach coming to Guam, there was a HUGE benefit that he was also a SON OF GUAM. He's been there, so he knows the challenges. The fact that he may even consider coming back is amazing.
What happened this past week not only helped our island's players, but our coaches as well. I look forward to continuing to follow Donan through his career. Biba Guam!
Big ups to coach Christian as well. Our honorary CHamoru who fit in perfect with the objectives Coach Donan was trying to reach.
Steve Pangelinan, Guam Men's National Team/Jr. National Team/FD Friars head coach: Observing and listening to Coach Donan as he ran each session gave me a renewed sense of focus and also some affirmation that we are moving in the right direction with our programs, but can still do better.
Tatiana Sablan, Women's National Team member/UOG Women's Coach: What an amazing fresh energy for the volleyball community. My children and I enjoyed each clinic…an extremely well rounded volleyball experience.
WHAT'S NEXT
Cruz heads to the college national annual meetings in Omaha this week where he will be receiving the Coach of the Year award in conjunction with the Women's Volleyball Final Four.
After Christmas Break, Cruz and Ball State go to Hawaii to open the season against the two-time defending champion Warriors. Hawaii is expected to open the season as the number one team in the nation, while the Cardinals are anticipated to be in the top five after their Final Four appearance from last season.
The two-game opener against UH happens on January 11-12 live on ESPN and if uniform compliance issues work out, you may see a cool Fresku Clothing shirt on the sidelines of Ball State representing Cruz's island home.

QUICK HITS
Bishop Obispos beat Mt. Carmel for the IIAAG Middle School Girls Basketball championship 37-25.
—————————————-
The Benavente Roadrunners crushed the Agueda Pirates 17-1 to win the 76 PONY Middle School Baseball League. Rodney San Nicolas was a beat, striking out 13 batters in a complete game while going 4-for-4 at the plate, including a homer and 4 RBI.