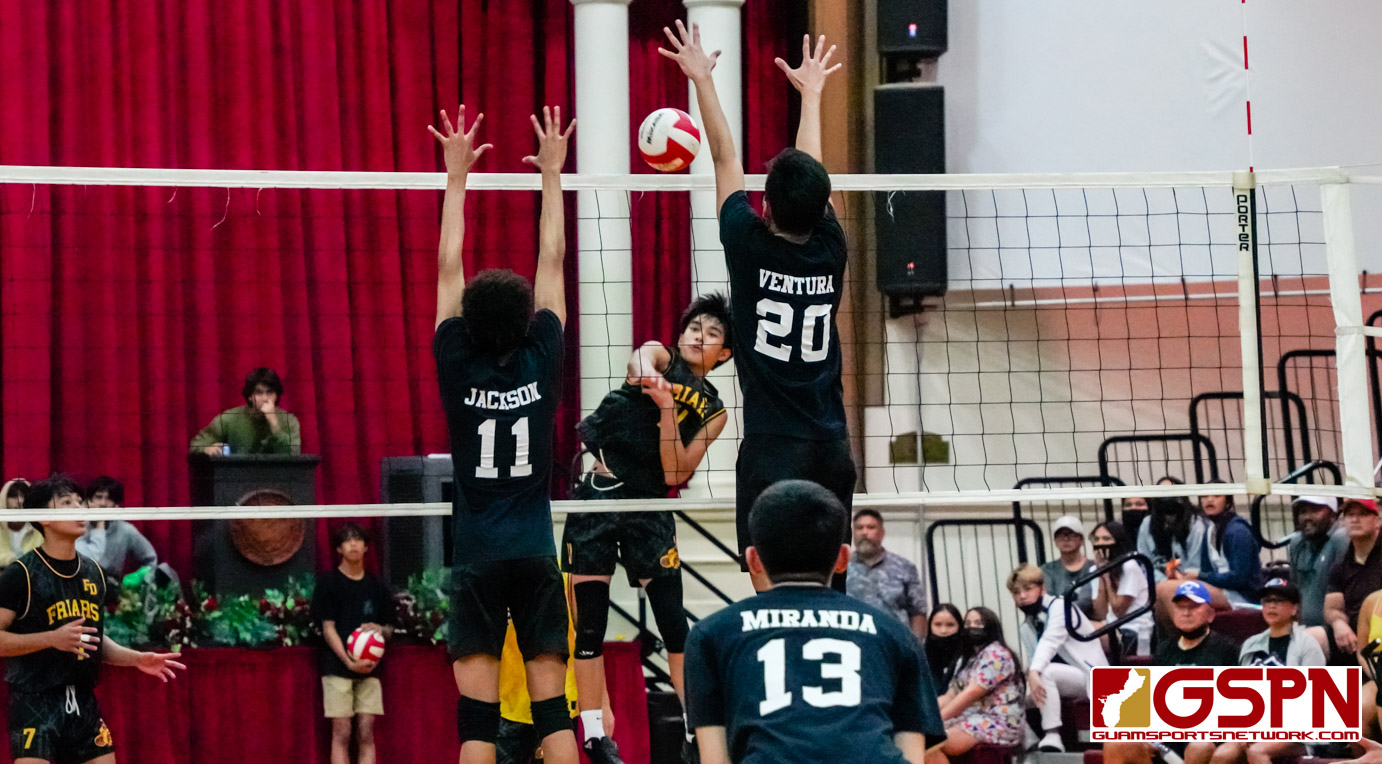 By Jay Leon Guerrero
The Harvest Eagles and the FD Friars are going to play for the 2022 IIAAG Boys Volleyball Championship next week after both teams earned four set victories in the semifinals. The Friars defeated the St. Paul Warriors in four sets (25-18, 20-25, 25-19, 25-17) and the Eagles defeated the ND Royals (25-12, 25-15, 20-25, 25-19).
The showdown between two powerhouse IIAAG teams will take place on Tuesday.
Wesley Keith had a huge night for the Eagles with 17 kills and three aces. Teammate Traven Ka'ae added 11 kills for the Eagles. Kiko Damian had eight kills, three blocks and three aces for the Friars.
It was not a flawless win for the Friars with the upset-minded Warriors coming into the FD Phoenix Center.
"I know some of us were already looking forward to Tuesday and the focus was not there tonight," said Damian. "After we lost that second set, we remained calm and focused more". The Friars settled down in the third set and got production from key bench players to win a crucial third set.
Keith will require a lot of attention from the Friar front line with his power. "Our game plan is to try and shut him down and throw two blockers at him," said Damian. Fans will be looking forward to Tuesday with highlight kills on the itinerary.
FD vs Warriors game sequence
The Warriors looked to take momentum in the opening set with Charles Jackson initiating the offense early with two kills as they trailed 10-12. The Friars bounced back and went on a run behind two kills from Damian to go up 16-10.
The Friars never looked back and it was kills in the middle from Damian and Joseph Mafnas that finished the set off to win 25-18.
Second set
St. Paul took their first lead of the night behind a Rui Ventura kill to go up 3-2. The Warriors continued to grind and went up 9-4 with Jacob Miranda serving an ace. The Warriors held on with the play of Jackson who tallied four kills and three blocks to win the second set 25-20.
Third set
Both teams had their moments of highlights and errors and the third set was tied at 10-10. Mafnas ignited a run and FD found momentum to go up 19-15. Mafnas later finished off the set with a kill to give FD a crucial 25-19 third set win.
Fourth set
FD surged ahead with outside hitters Hoben Barcinas and David Del Carmen recording two kills each for an early 8-4 lead. The Warriors bounced back to cut the lead to two points with nice kills from Elijah Bautista and Ventura.
Del Carmen seized momentum back in favor of the Friars with an ace at the service line. Barcinas recorded another kill and the Friars ended the Warriors season with a kill from Damian to end the game 25-17.
"Our bench players made an impact on the game tonight with some our starters sitting out," said Damian.
"I'm just glad we got back into focus after losing the second set and we are all looking forward to Tuesday."

FD's Kiko Damian
Mafnas ended the game with 13 kills; Del Carmen had nine kills and three aces. The Warriors season is over but they played their hearts out with Ventura recording 10 kills and two blocks. Jackson had nine kills and a game high five blocks.
TUESDAY CHAMPIONSHIP
The Friars and Eagles will now fake each other for the third time this season in the championship match. FD won both, however, Harvest had on won the first two sets of their last game, only to lose steam and drop a five-setter the the Friars.
PHOTO GALLERY BROUGHT TO YOU BY:

2022 GSPN I MÅS METGOT COMPETITION
2022 GSPN I Mås Metgot Competition Recap
2022 GSPN I MÅS METGOT COMPETITION
2022 GSPN I Mås Metgot Competition Recap
2022 GSPN I MÅS METGOT COMPETITION
2022 GSPN I Mås Metgot Competition Recap
COMING SOON …
Sat: Origin Power Lifting Meet 
ISA Girls Volleyball/Boys Soccer Finals
QUICK HITS
Guam runners complete London Marathon. Former Guam top runners Charlie Epperson and Aysha Perez Epperson along with Cameron ONeal completed the 42nd London Marathon.
Charlie 2:47:56
Cameron 2:59:49
Aysha 3:51:04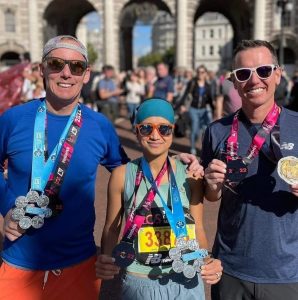 ———————————————–
Trevin Jones drops a unanimous decision 30-25, 30-27, 30-27 to Raoni Barcelos in UFC Fight Night 211 in Las Vegas.