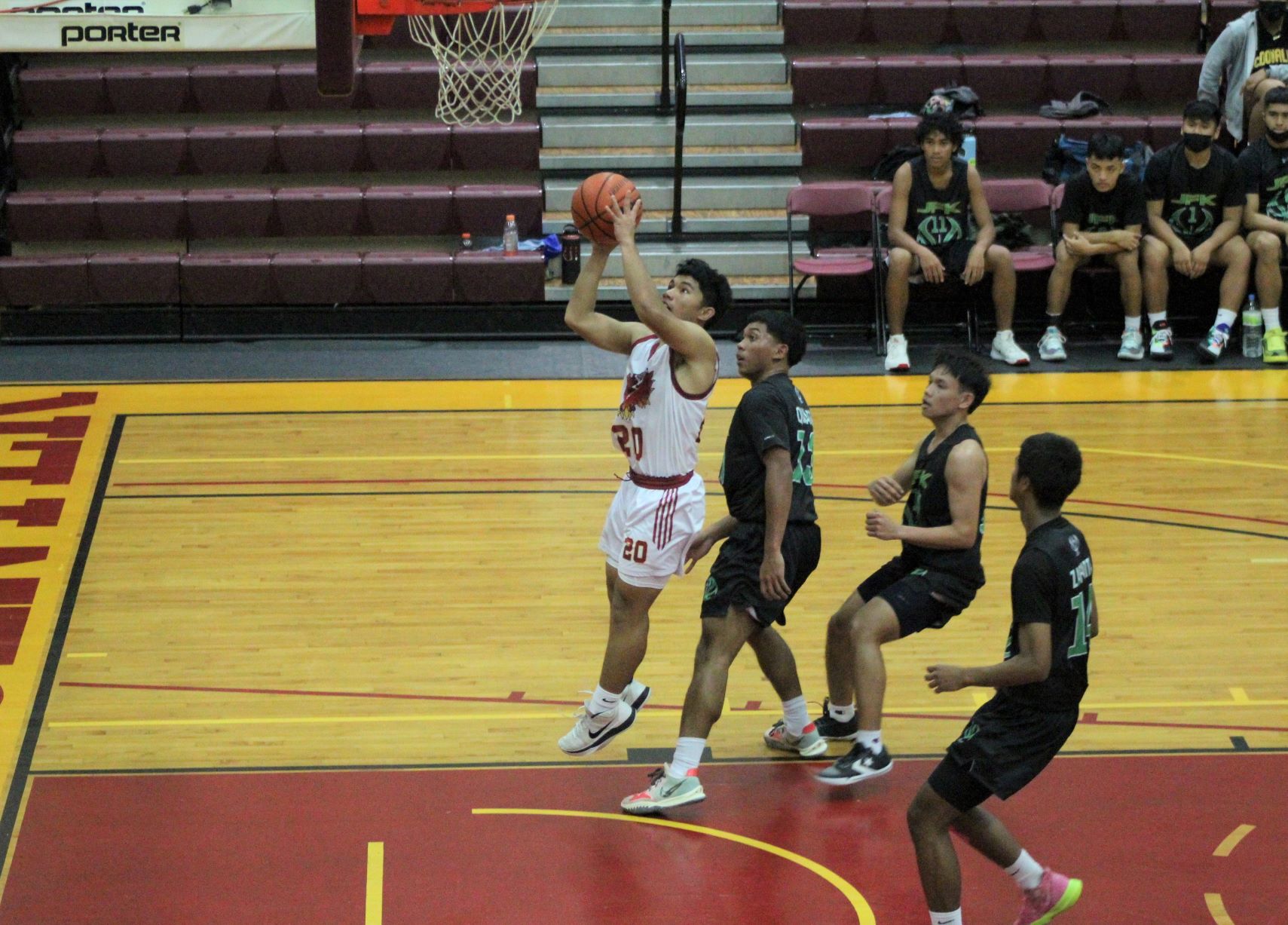 By Robert Balajadia
The FD Friars overcome early adversity, picking up a key win over the visiting JFK Islanders 53-52 in an interleague matchup in the ISA/IIAA Basketball League, the lone basketball game of the evening. The Friars and Islanders varsity game had gotten rescheduled twice already with the teams finally able to meet Friday.
FD's Kaine Santos scored 22 points to lead his team and guard Jaden Santos added a big 20 points to keep the Friars in the game. Trailing 27-19 at the half, FD got a big 3rd from Kaine were he scored 12 of his 22 points to get FD within 38-36 by the end of the quarter.
"It was the energy that we brought in the 2nd quarter," said Kaine on what he felt was the turning point of the game. "Our defense was what turned it around mostly."
FD took their first lead in the 4th off a Jaden Santos put-back 42-40, setting up a nail-biting sequence late in the game.
In the final minute, FD attempted to shave time off the clock, but a steal from JFK's Hendrix De Fiesta turned into a lead-changing fast break. De Fiesta attempted to hit teammate Karl Vinca on the wing, but a deflected pass found its way to Mark Morales for a layup to put JFK ahead 52-51.
The Friars turned to Kaine on the ensuing play as he got fouled on a drive to the rim. With 12.3 seconds to play, Santos stepped to the line and converted both free throws to give his team the 53-52 lead.
"I was really nervous honestly. I wasn't too sure I was going to make it," admitted Santos on his late-game free throws.
With eight seconds left, the Islanders turned to De Fiesta as he drove baseline for a highly contested layup as the ball hit the backboard and rolled around the rim before rolling out as Kaine corralled the rebound. Santos went full sprint with the ball to avoid the Islander defenders from fouling him as time expired.
"We told each other not to foul and if it's going to be a shot then let's force a bad one," said Kaine on the defensive strategy in the final seconds.
JFK was without versatile big-man Kirston Santos, who was out nursing an injury. The Islanders were led by Karl Vinca's 21 points with De Fiesta and Terreil Zapanta adding nine points each.
FD won't see action until Monday next week as they host the Guam High Panthers, but JFK gets ready for a quick turn as they play the Southern Dolphins Saturday afternoon.