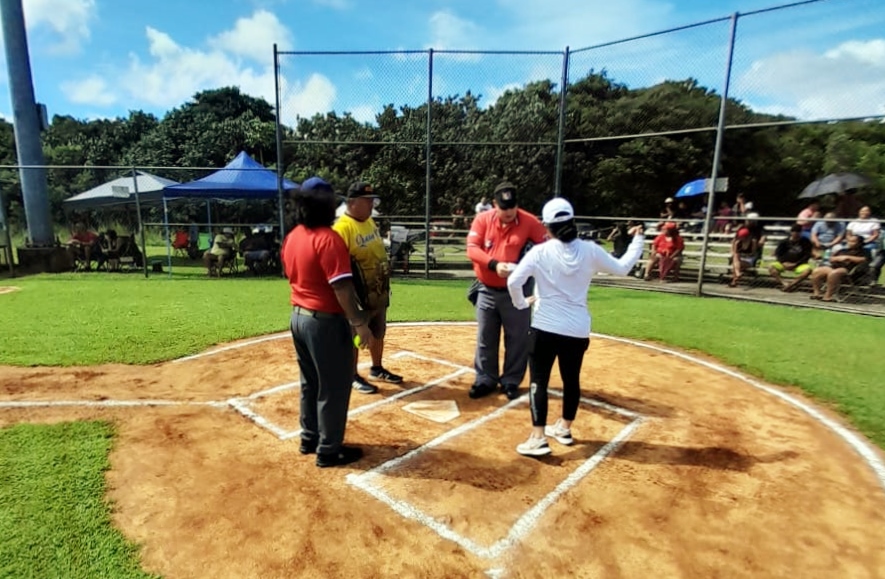 Recent results from the Guam Amateur Baseball League and the Triple J Pony Middle School Softball League at the Okkodo Field.
GABA LEAGUE
Game 01 – Tritons 8, Marlins 5
Tritons Jathen Barnes center fielder 1 for 1, 1 BBs, 2 runs, 1 rbi
Tritons Rico Miner Pitcher 5 innings, allowed: 2 runs, 4 hits, 4 BB, 1 SO
Game 02 – Crusaders vs Pirates – 3rd inning play was stopped because of heavy
rain shower. Crusaders were leading 5-2. Game will be continued at a later date.
Game 03 – Cardinals vs Amigos   Amigos requested a reschedule because of a family medical fund raiser. Game will be rescheduled at a later date.
Game 04 – Tritons 3, Braves 0
Tritons Pitcher Kobe Martinez pitched a complete 7 inning shutout allowing 0 runs 5 hits, 2 BB, 4 SO
Game 05 – Marlins 14, Rangers 0
Marlin Pitchers Sean Cruz and Jas Balajada combines for a complete game shutout
Cruz pitched 5 complete innings giving up 0 runs, 1 hit, 1 BB, 3 SO
Balajada 2 complete innings 0 runs, 1 hit, 1 SO
PONY SOFTBALL LEAGUE
Game 01 Saturday, 9/10, AIJMS has a scheduled Bye
Game 02, Saturday, 9/10, AMS vs OMS Game reschedule 10/1, 10:00am
Game 03, Sunday, 9/11, OMS vs AIJMS Game rescheduled 9/24, 10:00am
Game 04 Saturday, 9/17, IMS 7 vs OMS 0 OMS forfeit game not enough players
Game 05 Saturday, 9/17, FBLG has a scheduled Bye
Game 06 Sunday, 9/18, AIJMS 20 vs FBLG 15
Game 07 Sunday, 9/18, AMS vs IMS 0