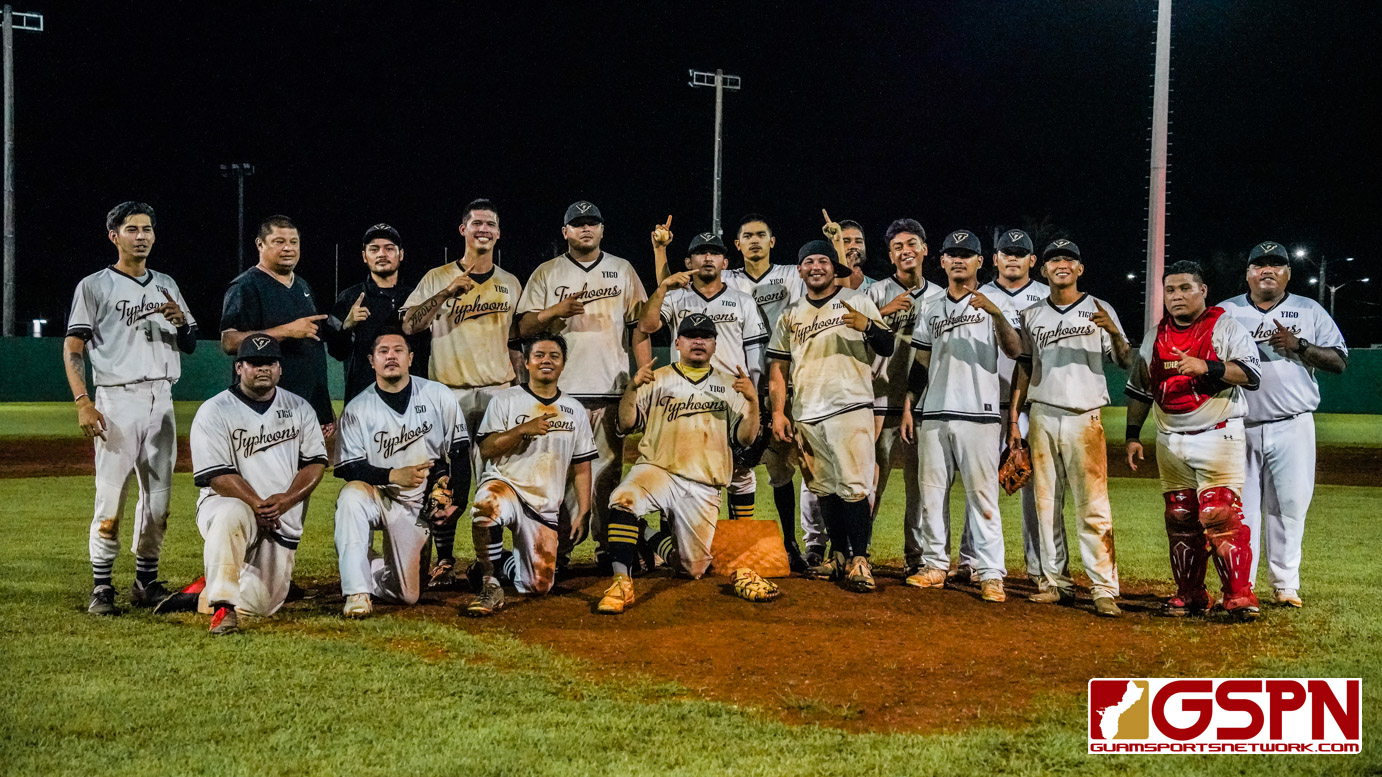 By Patrick Lujan
The dragged out 2022 Guam Major League season finally came to an and Tuesday night at Paseo Stadium.
The Championship Series between the Yigo Typhoons and the Jr. Nationals came down to a one game winner-take-all game because of the drawn out season that covered almost six months due to dozens of rain outs.
With the last minute agreement between the two teams just prior to what was supposed to the completion of Game 1, the Typhoons fought off the Jr. Nationals to take the title 9-6.
TOUGH DECISION MADE
With the uncertainty of games being playable, the over-extended season, and the rosters reducing, the two teams were asked by the league 20 minutes before game time to make a decision with the following options:
End now and be co-champions
Shorten the series to best-of- 3 or best-of- 5
Continue with best-of-7 and keep adjusting to the weather
Team managers Jeff Concepcion and Joe Tuquero left it to the players to decide – and they came up with the Winner-Take-All game.
"It was a good decision," Tuquero said. "The field was playable but we don't know how the field will be (the rest of the series). We all feel bad for the two guys (Matt and Philly) constantly breaking their backs due to poor draining qualities of the infield skin."
GAME HIGHLIGHTS
With everything on the line in just one game, Yigo's Dela Cruz Nena came up big going 3-for-4 and just a triple shy of hitting for the cycle, including a solo homer in the top of the 2nd inning that put the Typhoons up for good 2-1.
Sigi Sanchez also went 3-for-4 with 2 RBI while Shane Tenorio and Dan Blas adding a pair of hits.
Yigo went with their two horses on the mound as Julian Flores and R-Jay Joe doing just enough to keep the Jr. Nationals at bay despite their defense committing six errors.
"As a coach, it's a feeling I can't explain," Typhoons manager Jeff Concepcion said. "To accomplish winning a championship in a league that the best players on the island play – it's a great feeling."
The Typhoons took down the 2nd-ranked Dodgers in the semifinals and the pennant-winning Juniors in the finals to capture a crazy 2022 season.
For the Juniors, Javen Pangelinan and Ashton Tedtaotao had two hits each.
CONCEPCIONS: DAD BEATS SONS
Someone had to lose. Jeff Concepcion (dad) and older brother Jake were on the winning side with younger siblings Javier and Jace at the short end with the Junior Nationals. It was bitter sweet for the dad.
"As a fan and a father, it hurt to win it from a team that I'm one of their biggest fans. Knowing how hard those young men worked to be where they are today; if those boys stay together, they will get theirs."
PHOTO GALLERY BROUGHT TO YOU BY: