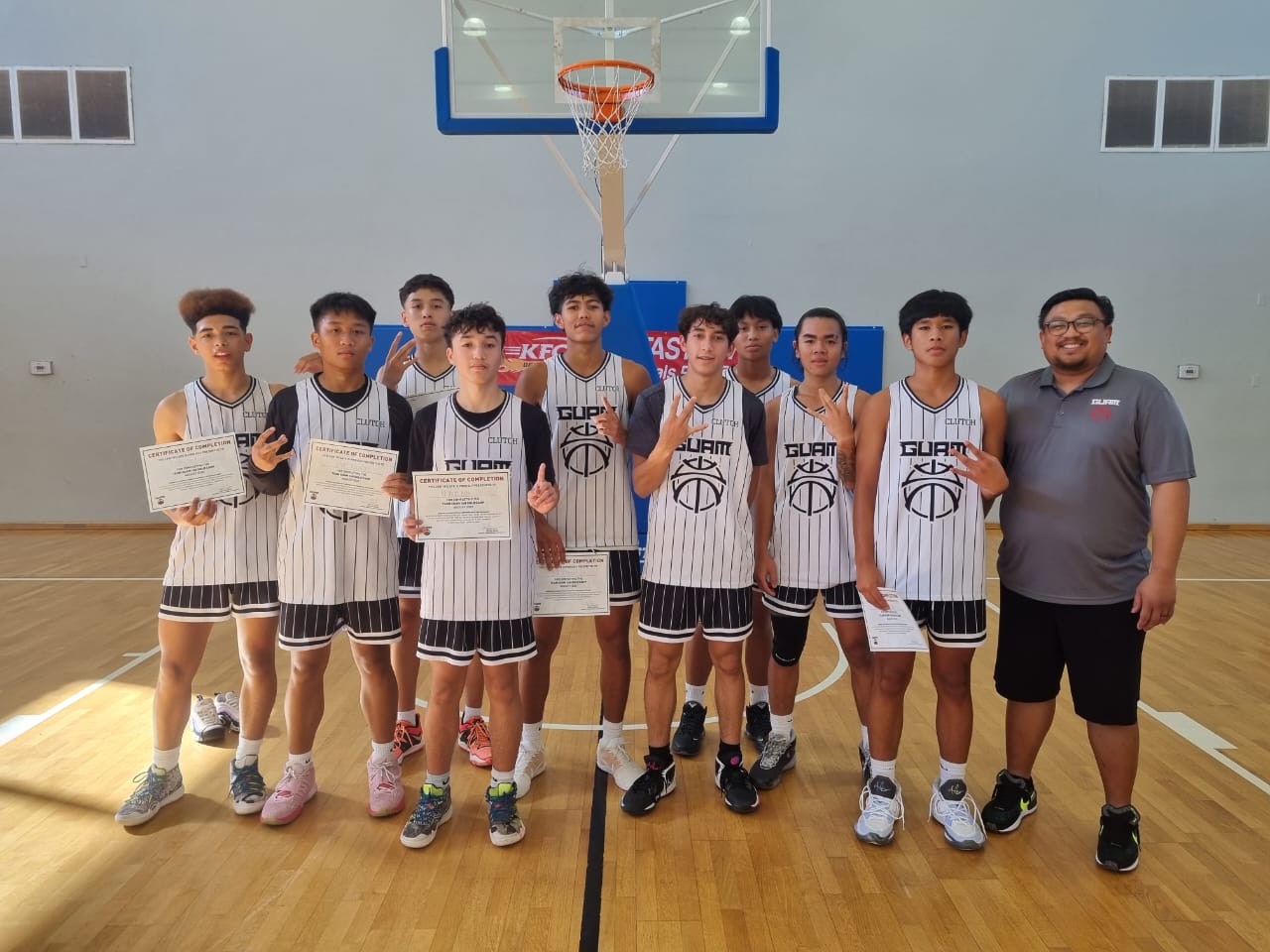 By Jay Leon Guerrero
The Guam Basketball Confederation completed its Gold Camp for 16U players at the Guam National Training Center in Tiyan.
Players were assigned to teams to promote equal skill levels. The camp offered players to come out of their comfort zone and play alongside players from different schools or clubs and also experience different coaches.
In a championship exhibition game in the boys division, the White Team coached by Arvin Domingo went against coach David Kenah's Blue team.
Both teams went back-and-forth to start the contest until the White Team went on a run in the second quarter. DJ Osborn ignited the run with a coast-to-coast lay-up followed up by a Keanu Anderson jumper.
"We've been trying to figure out our defense in the passed three or four games. Today, we did a better job at our help side and back side defense," said Anderson.
"Coming into this camp, I really didn't know many of these players. I was shy being the only kid from Harvest," said Anderson. "But as we played more, I learned how to talk and communicate and that really is the most important thing to do on the court."
The White team was looking to build a double-digit lead by halftime but the Blue team went on a small run before halftime behind the offense of 8th grader Tristan Hahn.
Hahn was able to fight off the bigger bodies and scored off an offensive rebound and made another transition basket to trail 33-26 by halftime.
"Being one of the younger players in this camp, I learned that I have to work harder and hustle more," said Hahn. "I learned so much from this camp experience, I came out a stronger player and it also raised my game IQ."
The White team opened the third quarter with Sthannlie Vitug converting a no-look shot and was fouled in the process to start the run. Dillon Santiago and Michael Bork added fast-break buckets and the White team was suddenly ahead 55-40.
"We did a better job at communicating with each other on defense because we had trouble communicating as a team on the first and second game," said Santiago. "Our defense was much better and we also did a good job executing our plays on offense."
Entering the fourth quarter, the Blue Team started with their pressure defense and went on a 6-0 run. Jarrett Ko started off the run with a nice dish down low to Markus Sulit.
Ko followed up with a fast break lay-up and dished out another assist to Sulit to cap the run.
The White team quickly ended any hopes of a Blue team comeback with Anderson scoring off a steal and Osborn attacking for another bucket. The final score ended at 73-57.
Vitug led all scorers with 19 points, Osborn had 15 points for Domingo's White team. Bork had 11 points, Anderson and Santiago each scored nine points for the White Team.
For Kenah's Blue team, Hahn led the way with 14 points.  Noah Hernandez and Sulit each scored 10 points, Ko contributed eight points.
In the girls final, the White team emerged victorious over the Black team 37-32. Maria Paulino led the way on both sides of the court for the White team with 12 points. Maddy Ada contributed nine points, Mylie Butters chipped in eight points.
Ronnie Cruz led all scorers with 13 points for the Black team. Pia Hart had eight points, Emma Borja had six points.
"This camp provided me with a different perspective from other coaches from different schools," said Cruz. "I also learned some new moves and played alongside players with a variety of skill levels and heights."
According to Guam National Team Head Coach EJ Calvo, the Gold Camp was a success and looks to build a competitive U17 team for future regional tournaments. There is a tournament in Papua New Guinea coming up and the camp helped both the coaches and players prepare for the tournament.

COMING SOON …
High School Football starts Sept. 29
Brawl 3: Oct 13
Guam's Strongest Man and Woman Competition October 29
QUICK HITS
The Figo Islanders 40s women's softball team took gold in the Senior Softball World Championship in Las Vegas. Figo came out of the loser's bracket and beat the Arizona Belles 17-3 in the AA division championship game Sunday afternoon.
Other Guam teams that played in the 40s tournament were: Team SOTTA (women's) and Bud Light Guam, Friars 671 and Sindalun Guahan (men's).
Sindalu finished a respectable 4th out of 24 AAA division teams.