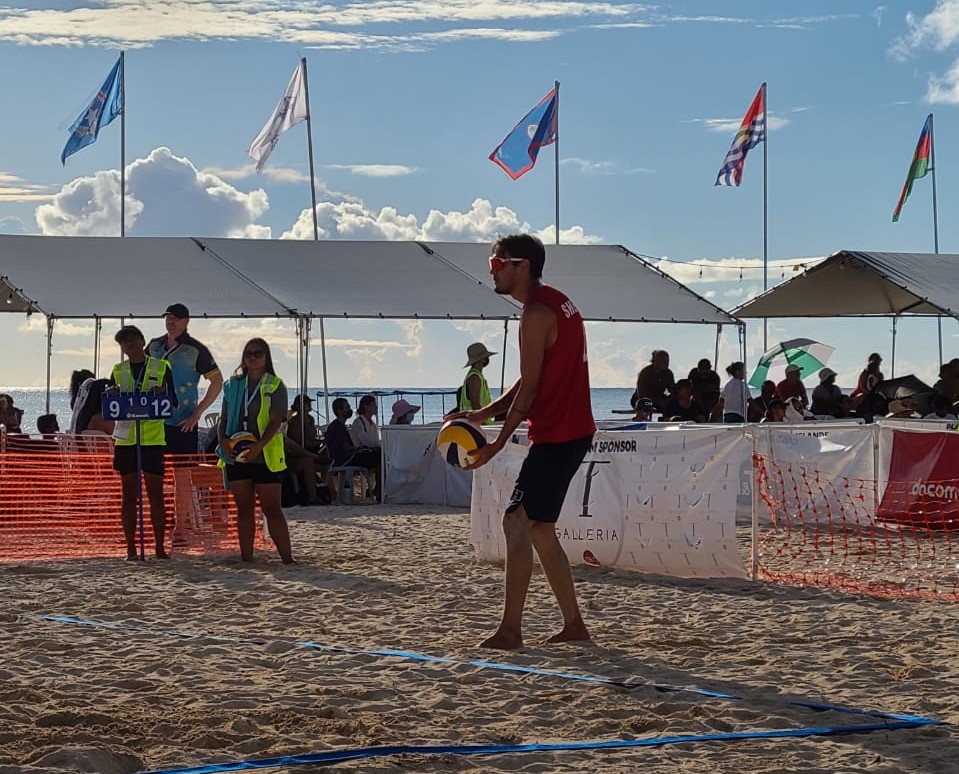 Mike Nauta, Jr.
With beach volleyball kicking things off on Monday at the 2022 Pacific Mini Games in Saipan, Team Guam got their quest on the sand started. In their only game of the day, Guam's Kendra Byrd and Kristen Serrano dropped a nail-biter to Wallis & Futuna losing in three sets 15-21, 21-15, 15-13.
On the other side in the men's division, Nicolas Shepherd and Galen Balajadia finished the day losing both of their matches. In their first match of the day, the men dropped their game to Samoa.
Guam vs. Kiribati
Taking on the Kiribati men in their second match of the day, Guam kept things tough from start to finish. However, plagued by unforced errors combined with the toughness of their opponents, Team Guam lost 21-18, 21-19.
In their first game of the competition, our men lost to Samoa 21-8, 21-8.
Fans witnessed the grit of both teams in the opening set as neither was able to build a substantial lead early on. Balajadia and Shepherd kept the Kiribati men on their toes by mixing things up. However, it wasn't until late in the first when things were knotted at 17-17. After returning from a timeout, Kiribati closed out with a 4-1 run to clinch the first set.
Guam began the second set hoping to bounce back and force a deciding set.
With that in mind the local boys jumped out to an 8-3 lead. Kiribati manage to narrow the gap before the technical timeout to make it a 12-9 game. Late in the set, Kiribati was able to equalize the game at 14-14. After a few lead changes Kiribati sparked a run to to take a 19 -17 lead and then eventually went on to close the match with ace serve and the 21-19 win.

2022 GSPN I MÅS METGOT COMPETITION
2022 GSPN I Mås Metgot Competition Recap
2022 GSPN I MÅS METGOT COMPETITION
2022 GSPN I Mås Metgot Competition Recap
2022 GSPN I MÅS METGOT COMPETITION
2022 GSPN I Mås Metgot Competition Recap
COMING SOON …