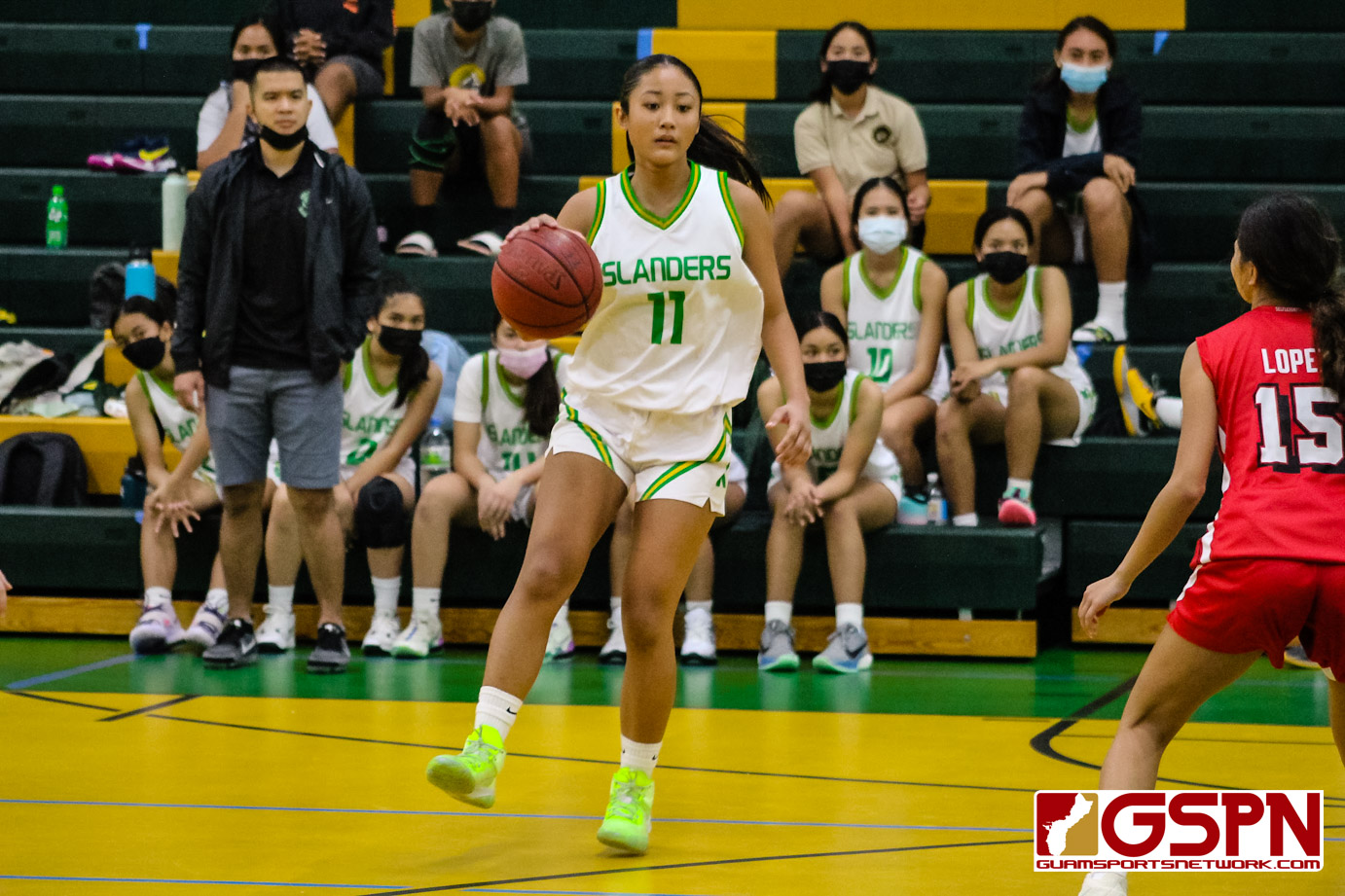 By Robert Balajadia
Tuesday evening featured an interleague ISA/IIAAG Girls basketball showdown between the St. John's Knights and home team JFK Islanders. The Islanders took the win 45-37 after getting hot from downtown, hitting seven three-pointers in the game which accounted for almost half of their total points.
Reigning league MVP JFK's Jada Han had a team-high 13 points and teammate Cassandra Kido added 12 with the tandem each hitting three three-pointers on the night. Han had a stellar 1st quarter where she scored the teams final eight points, including shot from half court as time expired.
"We've been working really hard on our three point shooting, especially Cassandra. But overall, our whole team has been shooting really good," said Han on the three-ball being the Islanders weapon of choice.
Kido did most of her damage in the 3rd quarter where she scored eight key points that stunted a Knights rally. St. John's trimmed the double-digit Islander lead to 33-24 after a Jadyn Palomares layup, but Kido, Philicita Rivera and Hannah Gogue would spark an 8-0 run to give JFK a 41-24 advantage through three quarters.
"I think a lot of the jitters got out. After all the hard work we put in, I think that we've improved a lot as a team and as individuals," said Kido.
The Knights would continue fighting in the 4th outscoring the Islanders 13-4 in the quarter, but JFK managed to regain composure in the closing minutes as they took 45 seconds off the clock to ice the game.
Han played her middle school basketball for the Knights which means she takes the court against plenty of her former teammates whenever JFK faces St. John's.
"I was ready to challenge them and I really wanted to beat them. It's just the competitiveness in me that brings out that fire," said Han on facing the Knights.
The Knights were led in scoring by Palomares' 12 points.
Same League for different playoffs
Despite having inter-league games between the ISA and IIAAG, each league will go into their own playoffs to decide a winner from the ISA and IIAAG. It is still undetermined whether a game between both league champions will happen, but both sides are expecting that possibility.
Grabbing a tip-off win was a step in the right direction for JFK as they have their sights set on the league title.
"We're already looking towards our next game. We're hoping to get to our goal at the end of the season, which is to win a Championship," said Han.
"I think that our confidence has definitely boosted. We still have a long way to go, but we will reach our goal; I know we can," added Kido.
The Islanders will travel to Harvest for another inter-league game while the Knighst will face the Okkodo Bulldogs up North.
Other Scores
Academy 59, GW 36
Sanchez 37, Guam High 36
Tiyan 60, Southern 54
PHOTO GALLERY BROUGHT TO YOU BY: