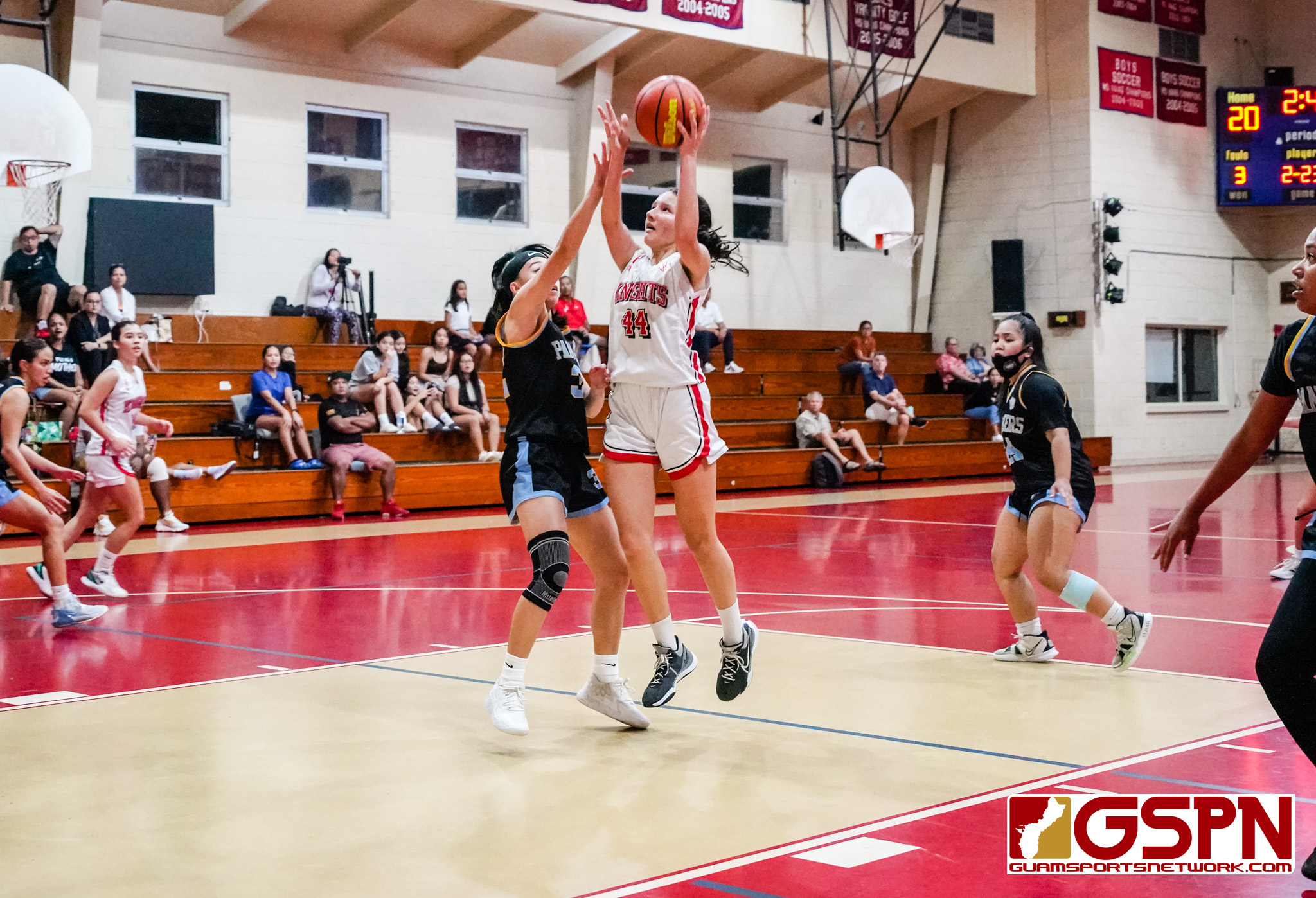 By Jay Leon Guerrero
The St. John's Knights are headed to the final four of the 2022 IIAAG Girls Basketball League after defeating the Guam High Panthers 56-31 on their home court.
The Knights advance to play the Academy Cougars on Tuesday at Academy in a showdown between the league's second and third seeds.
The Knights led this one from start to finish anchored by freshman Jia Peters and junior Ella Wigsten. Peters had a double-double by halftime and Wigsten provided excellent perimeter defense to help the Knights build a double-digit lead.
Peters finished with 21 points and 15 rebounds; Wigsten had 12 points, five steals and five assists for the Knights. "We played them (Academy) twice already and we are 1-1 against them so just need to keep working and moving the ball around when we play them Tuesday," said Wigsten.
"Academy is more aggressive so I need to work on my finishing skills and try to get the (free throw) line more," said Peters.
Peters said the team will be ready going into Academy's court. "We've been there before so we are just going in with the same mentality."
Wendy Zheng and Alexa Espaldon each made two three-pointers for the Knights. The shooters will be key against the Cougars next week. "Our confidence level is high, we just need to continue working hard at our practices," said Zheng.
Zheng said the Knights need to have a good start in their elimination versus the Cougars. "We clicked in the second half in our game against them; we need to start like that for our next game," said Zheng.
Kailee Guerrero, a senior from Guam High, made four shots from three-point land scoring a team high 20 points and grabbing seven rebounds. Despite the deficit and the limited bench, the Panthers played hard for the entire game and left it all out there on the court.
Gabbie Perry had eight points and nine rebounds; Sophia Fernandez had three points and six rebounds for Guam High.
Guerrero said she was proud of her team and thanked the supporters who stayed with them this season. "Coach (Chris) Fernandez and Coach (Onwah) Jameson have been amazing for us this season," said Guerrero. "The parents and supporters were always there for us at our home and away games. They gave us the encouragement and confidence to do the best we can".
Guerrero said the game between Academy and St. John's will be a good one. "I can't say who will win but it will be a good game. Both teams are equally matched up," said Guerrero.
Academy will host the Knights on Tuesday at 6 pm, the top-seed St. Paul Warriors will host the ND Royals. The Royals beat the Harvest Eagles 37-29 in the other Friday quarterfinal match.
PHOTO GALLERY BROUGHT TO YOU BY:

QUICK HITS
Bishop Obispos beat Mt. Carmel for the IIAAG Middle School Girls Basketball championship 37-25.
—————————————-
The Benavente Roadrunners crushed the Agueda Pirates 17-1 to win the 76 PONY Middle School Baseball League. Rodney San Nicolas was a beat, striking out 13 batters in a complete game while going 4-for-4 at the plate, including a homer and 4 RBI.