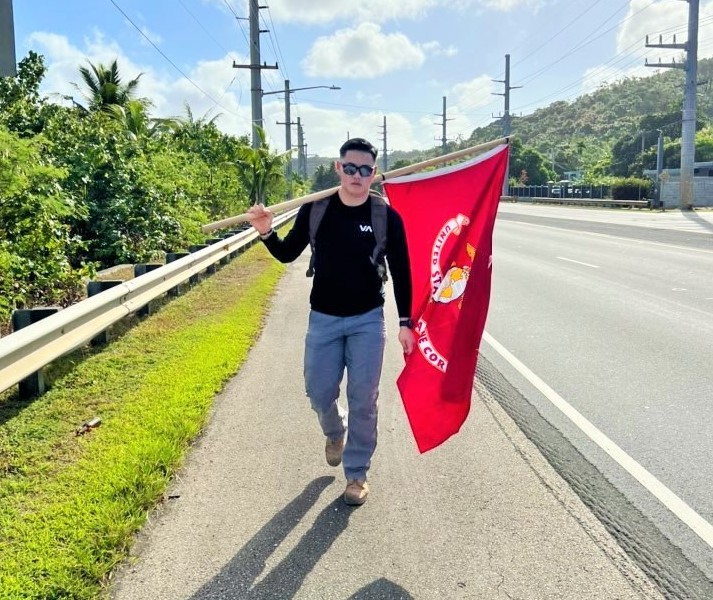 By Patrick Lujan
U.S. Marine and former JFK Islanders all-star basketball player Ricky Pak has taken the motto BFF straight to the heart.
Best Friends Forever.
Pak and Jaron Weilbacher were best buds since they were 10, played basketball together at JFK, culminating in a championship in 2015 along with Chris Conner, Billy Belger and Wayne Jesus. Pak and Weilbacher eventually would enlist in the U.S. Marine Corps.
Unfortunately, Weilbacher was a fatal victim from a fight outside King's Restaurant in October 2021.
Being his best friend's 24th birthday, Pak decided to ruck 24 miles from Andersen Air Force Base front gate just shortly after 3 am Saturday morning toward his friend's final resting place at the Veteran's Cemetery in Piti.
"I wanted to do something special to honor him and Sgt John Gerber," Pak said about his venture. Gerber is another popular Guam Marine who advocated for all Marines and single-handedly guided the Pacific War Museum before passing away in 2010
Carrying a large USMC flag along his shoulders throughout the journey, Pak didn't know what to expect.
"It was humbling, to be honest. The support from my family, friends and the local populace was surreal. Every honk or acknowledgement was truly awesome and appreciated."

Ricky Pak
As he made the final approach to the cemetery under the hot Guam sun right before noon, Pak was filled with emotions.
"Emotions were high for myself but I felt at ease knowing that I finally got to be with him again."
The social media impact was overwhelming over the weekend as over 6000 (and counting) people showed appreciation just on the GSPN IG alone.
"I'd like to personally thank GSPN for putting this out there for most of Guam to see. The messages, comments, and greetings have been nothing short of amazing and the love I felt from everyone who supported this has been unbelievable."