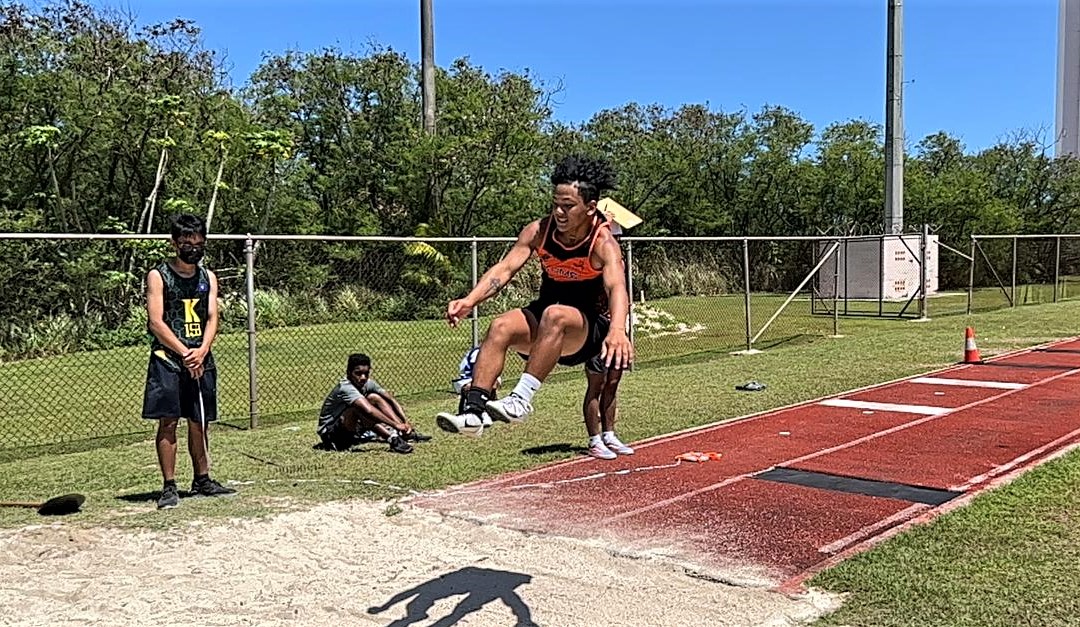 By Ben Leon Guerrero
The future looks bright for Guam's track & field community as over 100 athletes took part in the second meet of the ISA Middle School Track and Field season, Saturday morning at JFK's Ramsey Field. Though early in the season, many athletes are making big moves to establish their position in their respective events in preparation for the All-Island Meet. 
BOYS DIVISION
Strong showings came from Untalan's Jaeden Indalecio as he took first in two of his three events for the day. Indalecio set a personal record of 8.34 seconds in the boys 60 meter dash. In the long jump, Indalecio set a personal record and maintaining his spot atop the events overall standings by a fraction hitting his mark of 4.92 meters, and out jumping Agueda Johnston's Rayn Rios who had the second furthest jump measured at 4.90 meters.
Benavente Middle School's Javan Laxamana finished first in the 100m sprints with a time of 13.73 seconds and the 200 meter sprints with a time of 27.33 seconds. The BMS boys shot put team swept the top three spots with Allen Toves measuring 10.22m, Adrian Villanueva at 9.26m and Jeffrey Tapang at 9.13m for the Roadrunners. 
FBLG's Rynier Di Ramos put on a show in the long distance events, coming in first in the 400m race with a time of 1:00.92 and in the 1500m with a time of 5:07.14. Di Ramos was also part of the boys 4x400m relay team alongside teammates Noah Park, Tristan Park and Caleb Aguon who soared through the track to finish first.
GIRLS DIVISION
The Untalan Wildcats and FBLG Hawks were out in force in the girls division as both schools combined for nine of the meet's 11 first place spots.
Yenia Smartt from UMS took first in the girls 60m dash, setting a personal record of 9.16 seconds. Smartt also took first in the 100m race with a time of 15.13 second and in the 200m event with a time of 31.12 seconds. Smartt was also a member of the 4x100m relay which took second.
Teammate Gwenizah Barcinas took first in the 400m race with a time of 1:14.23, and the 1500m race with a time of 6:29.60. Barcinas was also a member of the 4x100m relay along with teammates Inina Bamba, Callie Wong and Yenia Smartt which finishes with a time of 1:03.41.
The FBLG's girls relay teams dominated both the 4x100m and the 4x400m relay races. The team of Paige Blas, Mary Romo, Tiara Boyd and Tatiana Fuimaono took first in the 4x100m relay by three seconds with a time of 1:00.01. The 4x400m team made up of Mary Romo, Emani Villegas, Lyrwana Mugol and Tatiana Fuimaono ran away with the race beating out Astumbo by seven second to take first with a time of 5:23.99.
Mary Romo also took first for FBLG in the long jump with a distance of 3.52m. Benavente Middle School's Erin Chemena took first in the shot put with a distance of 7.51m. Astumbo's Aisha Siguenza took first in the 800m with a time of 3:08.35.
PHOTO GALLERY BROUGHT TO YOU BY: