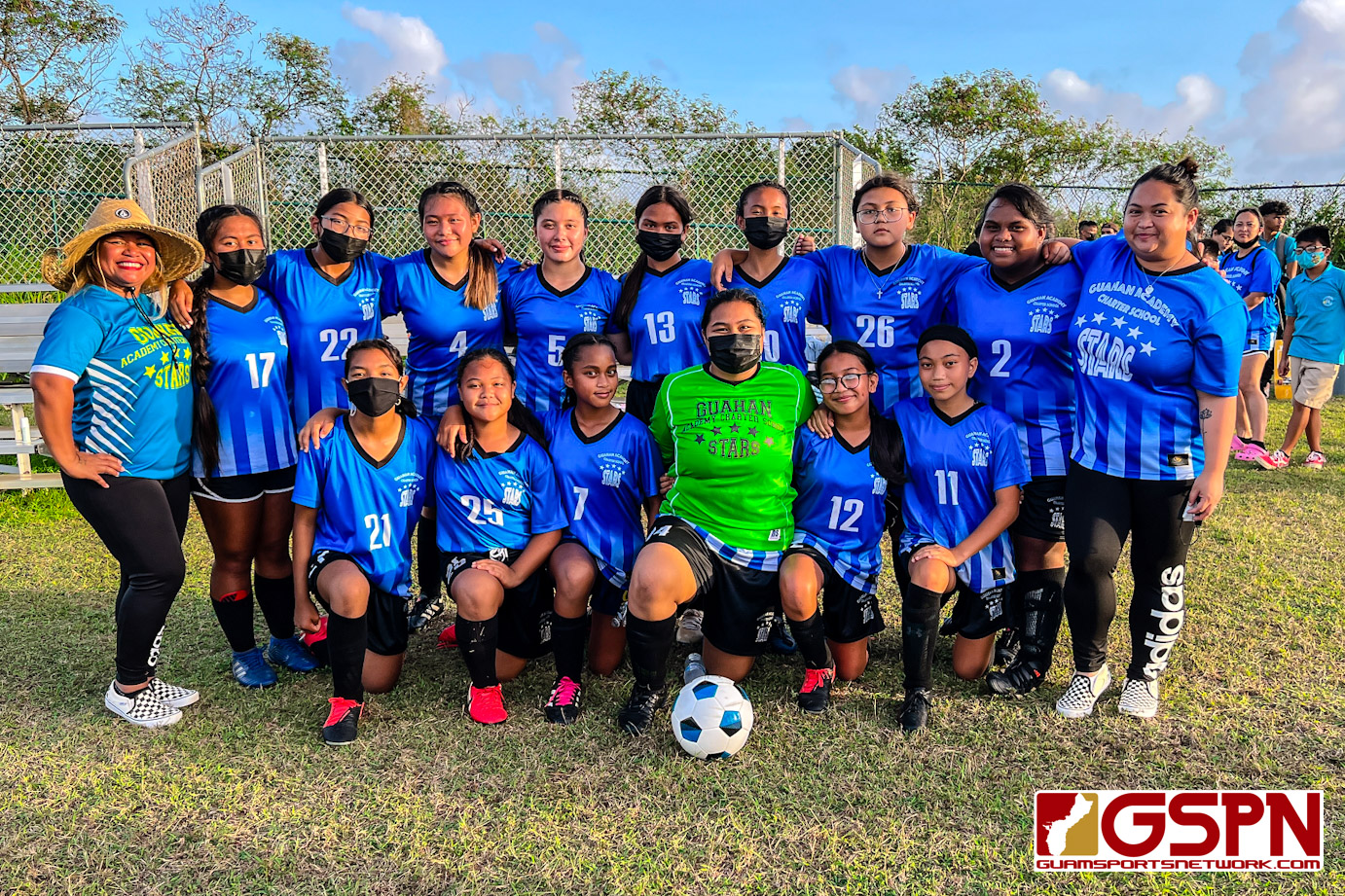 The Guahan Academy Charter School made history by capturing the school's first IIAAG girls middle school soccer title after beating the St. John's Knights 3-1 Tuesday afternoon.
This is their first year fielding teams for the IIAAG to include high school and middle school cross country and girls beach volleyball.
The Stars finished with a 6-1-1 record to win the championship and are led by head coach Resa Saddo and assisted by Jen Mata. Building the sports program is Athletic Director Chuck Hambley.
Congratulations Stars!
6th graders: Oryann Aflague, Ayrianna Cruz, Kirra Cruz
7th graders: Charli Aflague, Justine Carlos, Jessalin Cruz, Arielle Saddo
8th graders: Juanie Cruz, Aubrey Ibanez, Tiffany Manglona, Razaiya Quiambao, Angela Ramos, Yzabella Saddo, Shallane Smith
PHOTO GALLERY BROUGHT TO YOU BY:
The GACS Stars captured the IIAAG MS Girls Soccer Championship after defeating the SJS Knights 3-1 finishing the season with a 6-1-1 record. (Photo by Michael Blas)

The GACS Stars captured the IIAAG MS Girls Soccer Championship after defeating the SJS Knights 3-1 finishing the season with a 6-1-1 record. (Photo by Michael Blas)

The GACS Stars captured the IIAAG MS Girls Soccer Championship after defeating the SJS Knights 3-1 finishing the season with a 6-1-1 record. (Photo by Michael Blas)

The GACS Stars captured the IIAAG MS Girls Soccer Championship after defeating the SJS Knights 3-1 finishing the season with a 6-1-1 record. (Photo by Michael Blas)

The GACS Stars captured the IIAAG MS Girls Soccer Championship after defeating the SJS Knights 3-1 finishing the season with a 6-1-1 record. (Photo by Michael Blas)

The GACS Stars captured the IIAAG MS Girls Soccer Championship after defeating the SJS Knights 3-1 finishing the season with a 6-1-1 record. (Photo by Michael Blas)

The GACS Stars captured the IIAAG MS Girls Soccer Championship after defeating the SJS Knights 3-1 finishing the season with a 6-1-1 record. (Photo by Michael Blas)

The GACS Stars captured the IIAAG MS Girls Soccer Championship after defeating the SJS Knights 3-1 finishing the season with a 6-1-1 record. (Photo by Michael Blas)

The GACS Stars captured the IIAAG MS Girls Soccer Championship after defeating the SJS Knights 3-1 finishing the season with a 6-1-1 record. (Photo by Michael Blas)

The GACS Stars captured the IIAAG MS Girls Soccer Championship after defeating the SJS Knights 3-1 finishing the season with a 6-1-1 record. (Photo by Michael Blas)

The GACS Stars captured the IIAAG MS Girls Soccer Championship after defeating the SJS Knights 3-1 finishing the season with a 6-1-1 record. (Photo by Michael Blas)

The GACS Stars captured the IIAAG MS Girls Soccer Championship after defeating the SJS Knights 3-1 finishing the season with a 6-1-1 record. (Photo by Michael Blas)

The GACS Stars captured the IIAAG MS Girls Soccer Championship after defeating the SJS Knights 3-1 finishing the season with a 6-1-1 record. (Photo by Michael Blas)

The GACS Stars captured the IIAAG MS Girls Soccer Championship after defeating the SJS Knights 3-1 finishing the season with a 6-1-1 record. (Photo by Michael Blas)

The GACS Stars captured the IIAAG MS Girls Soccer Championship after defeating the SJS Knights 3-1 finishing the season with a 6-1-1 record. (Photo by Michael Blas)