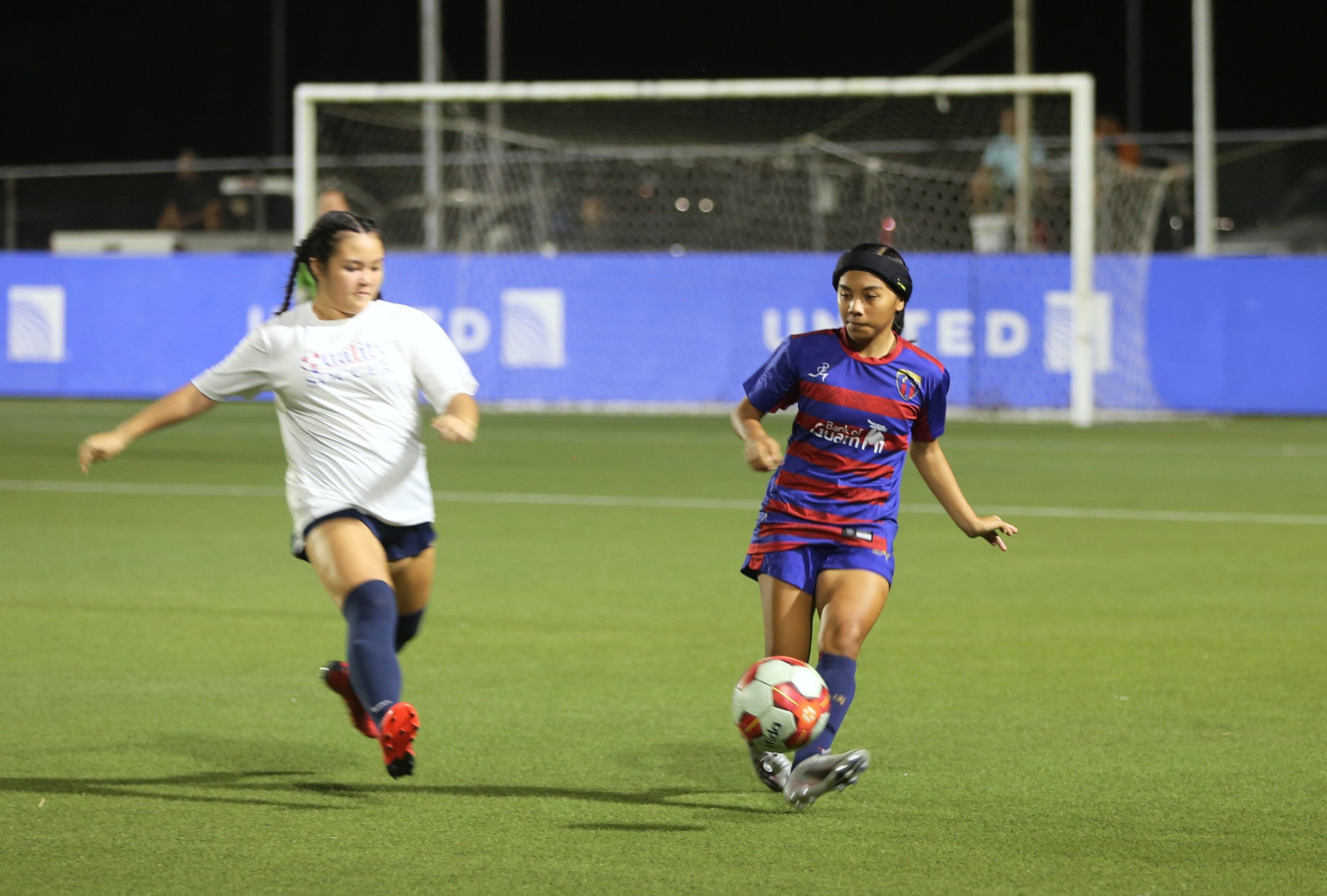 PRESS RELEASE – The Bank of Guam Strykers clinched the 2022 Bud Light Women's Soccer League Premier Division championship title early following its scoreless draw with Quality Distributors in Week 5 play at the Guam Football Association National Training Center.
The Strykers (3-0-2) will finish at the top of the league's leaderboard regardless of the results of this weekend's matches, the last set for the 2022 season. Quality (2-1-2) remains in the No. 2 position through Week 5, but will face Guam Shipyard in a showdown for the league's second-place trophy Sunday at 8 p.m.
Guam Shipyard (1-1-3) defeated the Metro Pacific Islanders FC 3-1, picking up a needed victory to stay in contention for a silver finish.
Hannah Cruz, Brianne Leon Guerrero, and Colleen Naden each scored once for Guam Shipyard. Kini Arroyo scored the Islanders' lone goal. The Islanders (0-4-1) next play the Strykers Saturday at 6:30 p.m.
Shipyard needs a win against Quality Sunday evening to take second place in league standings, while Quality needs at least a draw to secure second place.
In the league's Golden Boot race, Quality's Franshay Pangelinan and Guam Shipyard's Brianne Leon Guerrero and Colleen Naden are tied for first place at four goals each, followed by the Islanders' Jada Han with three.
In the league's Amateur Division matches, the GPSI Southern Cobras survived a scare to slip past the Bank of Guam Strykers II 3-2 in a battle of undefeated teams Friday evening's match. With the score level at 1-1 at halftime, the Strykers II struck first at the 49 th minute mark on a shot by Isabella Sasamoto.
The team held on to the slim 2-1 lead for over 20 minutes before the Cobras Cindy Maestrecampo leveled the match again in the 73 rd minute. Maestrecampo completed a hat trick four minutes later to seal the eventual win for the Cobras.
Christine Cruz scored the Strykers II's first-half goal.
In Sunday evening's match, Gina Naburn scored the eventual game-winner for Mosa's in the 78 th minute against the NAPA Rovers FC in a 3-2 contest. Naburn led all scorers with two for the night and teammate Deniece Hoya scored Mosa's other goal. Cassandra Kido and Aedlene Olidan scored for the Rovers.
The Amateur Division continues Friday with a match between The Venue Sidekick SC and Heavy Hitters/Nutrition Mission Southern Heat at 7:30 p.m.
Mosa's will take on the Bank of Guam Strykers II Saturday at 8:30 p.m. In Sunday's fixture, Heavy Hitters/Nutrition Mission Southern Heat returns to the pitch to take on the GPSI Southern Cobras at 6 p.m.
Schedules are online at https://guamfa.powerupsports.com