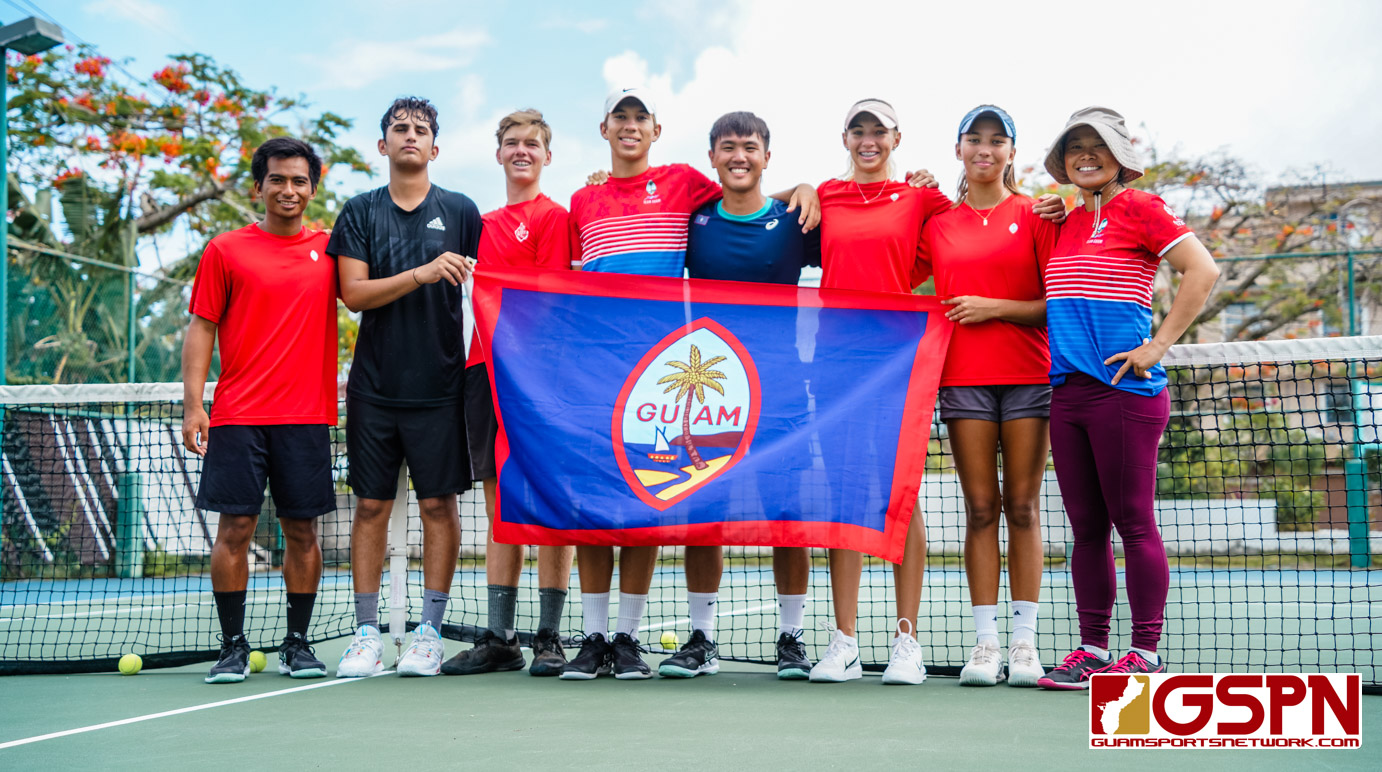 This is the fifth in a series of previews of Team Guam heading to Saipan for the 2022 Pacific Mini Games
By Jay Leon Guerrero
The Guam Tennis Federation will be sending six athletes to the CNMI for the Pacific Mini Games. The Guam contingent for Tennis will be playing from June 16-25 at the American Memorial Park and the PIC Hotel Saipan Courts. Tennis and Baseball have the longest schedule at the Mini Games, playing the entire duration from opening ceremonies till closing.
The National Tennis Team Roster includes four male and two female players. Camden Camacho, Dakota Gibson, Aarman Sachdev and Aidan Schembari will compete in the male bracket. Fremont Gibson and Sydney Packbier will compete in the female division. The Tennis Federation will bring two coach: Emil Christian Penafiel and Michelle Pang.
According to coach Pang, the team is very young with all the participants still in high school and one player, Camacho, competing in college. Pang said Camacho was one of the youngest players on their last trip, now he's the oldest at 20.
"For the Mini Games I believe my role is to not only to be a good teammate but also a leader. "I'm going to help them get through the nerves of competing in their first Games."

– men's tennis player Camden Camacho
"I've represented Guam in Jakarta, Saipan and Fiji in competitions just for tennis. This will be a much more special experience because it will include athletes playing other sports as well," said Sydney Packbier.
Siblings in Saipan
Siblings Dakota and Fremont Gibson are competing at the same event, something they are familiar with. The Gibson brother-sister duo has traveled together in the region for tennis tournaments, but they will share a more unique and prestigious experience representing Guam at the Mini Games.
"He's a good, supportive brother so I'm glad he is going to be there with me and we will be competing together," said Fremont Gibson.
Sydney Packbier said she will try and be there for her sister, Madison, who will be participating in Athletics. "I hope I can have some time to be able to support my sister and watch her races," said Packbier. "This experience is going to be so special for us because we have not traveled and competed in the same Games before. I'm really excited for us to be there supporting each other".
"This is my first Games so I'm pretty excited but nervous at the same time," said Dakota Gibson. "Me and the team are doing our best in training; we are just going to do our best and see how far we can take it".
98 total athletes from 16 countries will participate in tennis. Guam will be vying for singles and team medals. The team event will commence first with the team finale being held on June 19th. The singles event will take place right after with the round of 64 starting on June 20th.
"Its going to be interesting because we compete in the teams event on the day we arrive," said Pang. "We have a couple more weeks to figure out the doubles teams but individually, the team is ready," said Camacho.
Games Overview
The 2022 Pacific Mini Games will commence from June 17-25 in the Northern Marianas Islands. A total of nine sports will be played with seven sports played in Saipan while the other two sports take place in Rota and Tinian.
Athletics, Badminton, Baseball, Beach Volleyball, Golf, Tennis, Va'a and Weightlifting will be in Saipan. Beach Volleyball consolation matches will be played in nearby Tinian and the triathlon will take place in Rota.
The Guam contingent will be the largest since the 2005 Mini Games held in Palau. Guam's best performance was in Palau with six gold medals, nine silvers and 14 bronze medals.
Guam sent small contingencies to the 2009 (Cook Islands), 2013 (Wallis and Futuna) and 2017 (Vanuatu) Mini Games but were unable to come home with a gold medal.
The 2022 games will be the first time since Palau hosted the Games in 2005 that Guam will be sending a larger contingent. Guam will be sending more than 50 athletes which is the largest to date.
PHOTO GALLERY BROUGHT TO YOU BY:

QUICK HITS
Guam MTB National Championship: Edward Oingerang and Jennifer Camacho are your 2023 MTB national champions. Oingerang finished the course in 1:13:24 while Camacho won her second straight title in 54:08.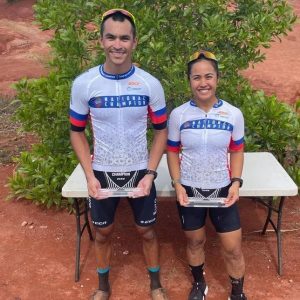 ——————————————
Kobe Miyashita, with St. John's coach Arvin Flores, was named the 2023 IIAAG Middle School Boys Volleyball MVP!