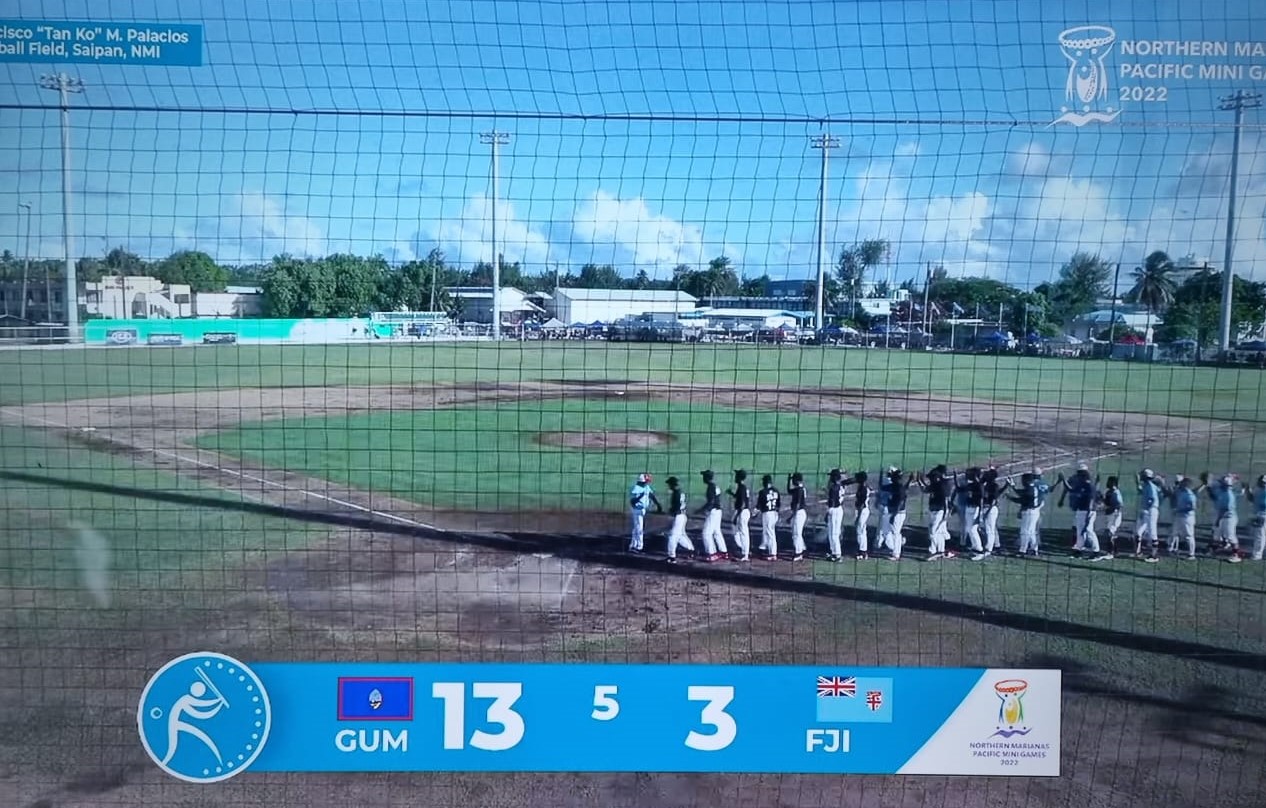 By Jay Leon Guerrero
The 2022 Pacific Mini Games Opening Ceremonies were spectacular in Saipan with a beautiful display of cultures and a stunning drone show to cap off Friday evening.
Thus far, tennis and baseball have started their pool play and both teams suffered both wins and losses. The Guam National Baseball team had to go against the home team CNMI and lost 4-1 in front of a capacity crowd to open the Games Thursday night.
Baseball quickly bounced back and jumped to an early 6-0 lead against Fiji on a hot Saturday afternoon with Guaifon Terlaje as the starting pitcher. Jathan Muna-Barnes had a three-run triple in the bottom of the second inning to help Guam jump to a 3-0 lead.
Team manager Joe Tuquero used the game to let his bench get some experience and they finished the game off in the fifth inning, winning by a 10-run mercy rule with a final score of 13-3.
The baseball team will have the day off tomorrow and will play the Solomon Islands at 7 pm.
TENNIS RECAP
The young Guam National Tennis team started the Games off with a pair of singles victories. Fremont "Monti" Gibson and Sydney Packbier winning their singles matches against the Kirabati women's team.
Gibson, Guam's 1-seed, defeated Kirabati 1-seed Kakaofo Kaoa (4-1, 4-0). Second seed Packbier defeated Helen Ioera Atenati (4-1, 4-0) to sweep the singles events for Guam.
Packbier and Gibson had no rest and were tasked with playing the doubles event and lost (2-4, 2-4), settling for a tie against Kirabati. Despite the loss in doubles, coach Michelle Pang said the two young prospects played well in their respective debuts in the Pacific Games.
In the men's division, Guam top seed Camden Camacho suffered a loss in the singles against Papua New Guinea's (PNG) top seed Clement Mainguy (2-4, 2-4). Dakota Gibson, number two from Guam, defeated PNG's two-seed Zachary Sands (4-1, 4-1).
It came down to the doubles event to decide the team winner in the mens game and Guam's doubles team composed of Camacho and Aarman Sachdev lost to PNG's Mainguy and Aymeric Mara (2-4, 0-4).
"I feel that the singles win gave us confidence for the next upcoming tournament especially since my partner (Packbier) and I are so young playing against experienced players," said Monti Gibson.
"Our singles win felt great because we didn't send a women's team to the last Pacific Games," said Packbier. Packbier said that she was to represent women's tennis on Guam and is excited for the next generation of female players to come from the island.
PHOTO GALLERY BROUGHT TO YOU BY:

COMING SOON …
High school girls volleyball playoffs
Brawl 3: Oct 13
Guam's Strongest Man and Woman Competition October 29
QUICK HITS
The Figo Islanders 40s women's softball team took gold in the Senior Softball World Championship in Las Vegas. Figo came out of the loser's bracket and beat the Arizona Belles 17-3 in the AA division championship game Sunday afternoon.
Other Guam teams that played in the 40s tournament were: Team SOTTA (women's) and Bud Light Guam, Friars 671 and Sindalun Guahan (men's).
Sindalu finished a respectable 4th out of 24 AAA division teams.