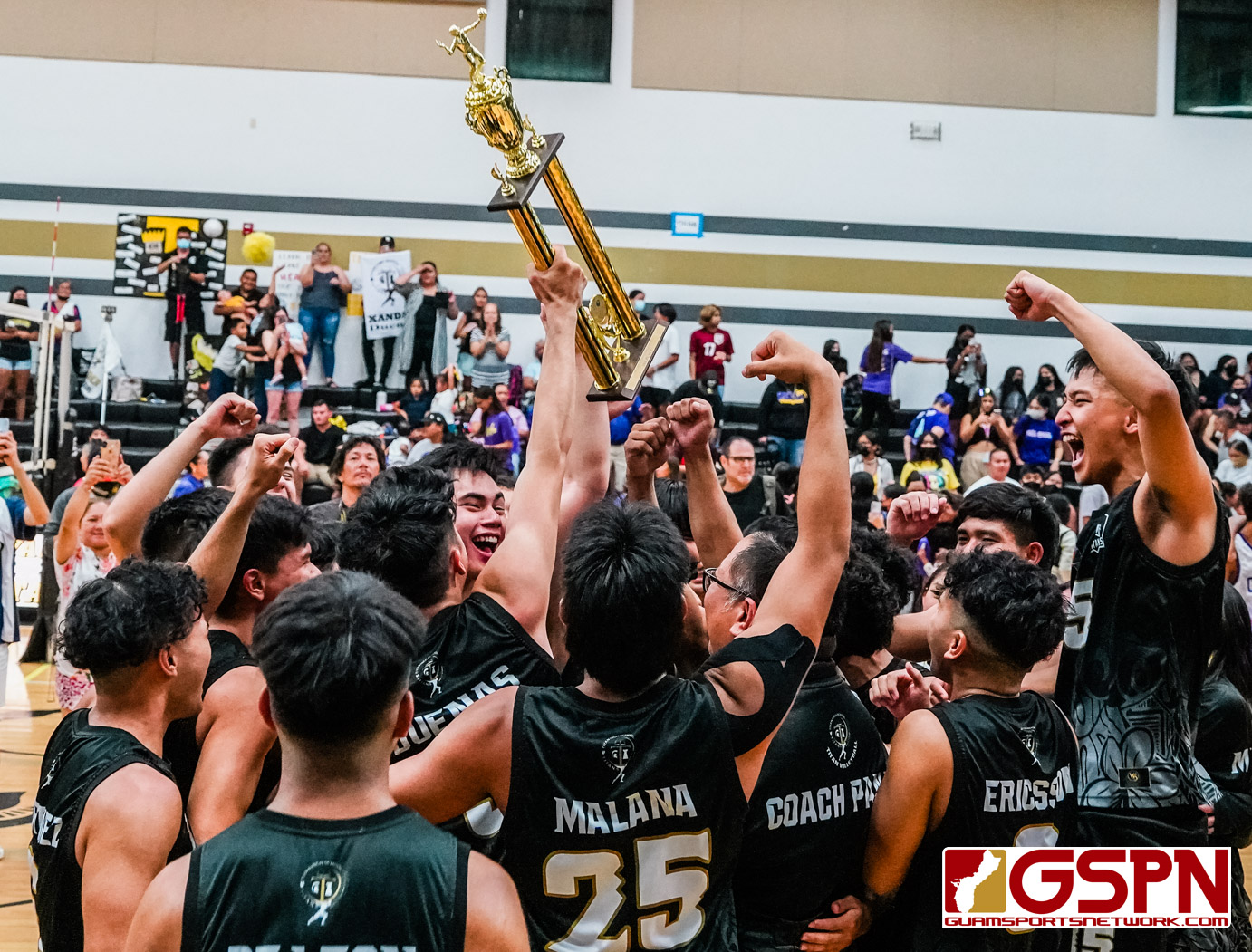 By Ben Leon Guerrero
The Tiyan Titans are back-to-back champions of the ISA boys volleyball league after defeating the GW Geckos in straight sets 25-15, 25-17, 25-13 Thursday night at the Tiyan gym.
With the win the Titans completed a perfect 14-0 season, including playoffs, and the first high school team to go undefeated without losing a single set since the volleyball league switched to the new scoring system, according to Tiyan Athletic Director Rommel Losinio. 42 sets played without losing one!
Xander Duenas, Gerald Malana and VJ Rosario combined for a total of 29 of the team's 48 kills to lead the Titans.
It was an atmosphere of championship intensity as faithful from both teams roared their support from start to finish. The Tiyan gym, also known as the "Throne," was filled to capacity leaving a line of spectators waiting outside for nearly the entire game trying to catch a glimpse of the championship.
1st Set
Tiyan started off on fire scoring four straight points including back-to-back kills from the Titans powerhouse duo of Rosario and Duenas. But the Geckos would get right back into the game following multiple errors by the Titans and a huge kill by Geckos Kaden Apiag.
Later in the set, a huge block by GW's Matthew Magaling would close the gap to 14-11, the closest the Geckos got to the Titans in the opening set.
Titans setter Tyrone Buekis would lead the offense serving up seven different teammates for kills in the set. Tiyan would go on to outscore the Geckos 11-4 with Titans middle blocker Nicholas Santos getting his first kill of the game to take the first set 25-15.
2nd Set
The Geckos looked to reset after dropping the first to the Titans starting the second set with another big block by Magaling, his second of the night. But a slew of errors from both teams would lock the score up at 3-3.
The Titans would then mount a short run scoring off of a block from Anthony Angoco , an ace by Gavin Macapagal, and three kills by Duenas (2) and Rosario (1) to jump out to in front 11-4. But the feisty Geckos would again climb back into the game behind blocks from Daniel Dela Rosa and Magaling and a kill by Aaron Apiag from the left side to cut the lead to 16-13.
Tiyan, however, would put an end to that threat as Angoco came up big with two big blocks and a kill with Rosario adding two kills of his own to power the Titans to a 23-15 lead. After back-to-back service errors by the Titans and a hitting error by the Geckos, Tiyan's Noel Ericsson sent a shot from the left side that was picked up by a diving Dela Rosa but fell in front of the net out of the reach of his teammates giving the Titans the 25-17 second set win.
3rd Set
Scoring at will, Tiyan went off at the start of the third set scoring seven of their first nine points off a pair of kills each by Duenas, Rosario and Malana and Angoco's fourth block of the game. The Geckos, however, would stay right on their heels with kills by Magaling and Kaden Apiag and aces from Leiland Gumabon and Dela Rosa to keep the Titans close at 9-8.
But that would be as close as the Geckos would get to the Titans as Tiyan's Malana went to work. Malana would lead the Titans' six-point run with three big kills accompanied by Angoco's fifth block of the night.
With the score 21-13, the Tiyan faithful could sense that the end was near as a Titan fan took a mop and began to sweep the baseline in front of the Titan stage indicating the impending three-set victory. A feeling that would be amplified after Buekis found Malana on the left side who sent a laser crosscourt shot just out of the reach of the Geckos Gumabon.
Duenas, who would serve for the remainder of the game, followed up Malana's kill with an ace of his own. Malana seemed to be the go-to guy as Buekis set up the junior standout with consecutive sets but it was a block by Christian Catt that put the Titans at the brink of their perfect season with a 24-13 lead.
As Duenas prepared for his final serve as a Titan and the crowd rose to their feet chanting, "one more point, one more point," the Tiyan seniors began to soak in their last moments as a Titan.
"I was just reminiscing all the years that led up to that final point and me serving. I just wanted to get the ball over the net."

– Tiyan senior Xavier Duenas on serving championship point
"I was thinking about pushing that one point, about getting that one more point," added Rosario. "We all just stayed focused and hyped just to push that one point, and when the whistly blew and the dust settled, that's when all the emotions came out."
Duenas sent a jump serve over the net which was sent back to the Titans. Tiyan libero Macapagal passed to Buekis who fed Catt for a kill attempt which but was picked up by the Geckos' Kaden Apiag. Aaron Apiag then attempted a kill but was picked up by Rosario who passed to Buekis at the net, who set up Malana on the left side for another cross court shot just past a diving Gumabon for his game high 10th kill giving the Titans a 25-13 victory.
Malana, who did not play in the second set, came out on fire hitting 7 of his 10 kills in the third and final set.
"My team put their trust in me and I just wanted to go out and play hard for coach (Pama) and for the boys," said Malana. "We worked hard for it, and they deserved it. I'm really excited and happy that I was able to contribute to our team defending our title."
"I feel accomplished right now," added Rosario. "We did this for Pama and we pushed all the way through so I feel accomplished that we gave coach another championship before we leave."
"We knew what we were supposed to do and we executed perfectly," said Duenas.
Titans head coach Rod Pama is no stranger to winning a championship without losing a set as his Untalan Wildcats, with then-8th grade volleyball standout Nathaniel Gaitan, did just that.
"Mission accomplished. That's what it's all about. All the emotions came out…the last 6-7 weeks all culminated to this."

– Tiyan head coach Rod Pama
"They stayed focused, stayed humble, they respected their opponents, but they showcased what they're made off today."
Heading into the championship game, the coach was shocked to see how calm his boys were considering what was at stake in the game.
"I really loved the vibe when I walked in here today. I base how the team would play by the way they warm up and tonight they were efficient and very systematic," said Pama. "Even when Daniel and Matt were getting kills in the game, we were able to hold them down."
Although the attacking trio of Duenas, Rosario and Malana took center stage for the Titans, Pama and the trio again gave high praise to setter Tyrone Buekis, defensive specialist Noel Ericsson and libero Gavin Macapagal for their execution.
"The hitters did great tonight, but they're nothing without a pass," said Pama. "They (Noel and Gavin) played the passing game really well, and of course, our QB of the team Tyrone as our setter. They are the unsung heroes." Adding that, "the highlights for VJ, Xander and Gerald wouldn't be possible if we didn't have an efficient passing game." "Noel was on point, Gavin was on point and Tyrone was accurate…and that's what they needed to do."
"Noel, Gavin, and Tyrone stepped up and played at a championship level and Im proud of them," said Duenas. "They elevated their game to a whole new level, and I can't wait to see what they do next year."
"It was just perfect execution," added Rosario. "They played the pass well and Tyrone set it up perfectly for us to get those kills. We as a team played cool and efficient tonight."
Pama and his Titans will enjoy the championship for a little bit but are already setting goals for next year as they prepare to defend their title in hope for the three-peat.
"We got to work hard for it," said Malana who will return to the Titans as a senior next year. "We have to set that goal and work hard especially with a new team if we want to get that three-peat."
"I'm pretty confident in the team next year," added Rosario. "Gerald and Tyrone are juniors and how they are playing is really good. Hard work is where it matters and they know that if they want to get it again, it's all up to them"
"We have a bunch of juniors and some from our jv program which went undefeated as well coming up," said Pama. "It's always a building in progress and once you set the expectation in the beginning, they just have to ride with the rhythm." Adding, "it's really what they want at the end…that's what it boils down too."
Fifth-year Geckos coach and a member of the 1998 GW Boys Volleyball championship team Greg Esplana, which went undefeated at 22-0 under then head coach Joe Sanchez, was pleased with his teams' accomplishments this year.
"They came together in a short amount of time with half the team returnees and the other half new and many of them first year playing," said Esplana. "They stuck together, played together with all heart and made it to the championship game."
With only five seniors on the team and the up and coming players from the junior varsity program, Esplana has high hopes for what the team will accomplish next year.
THIRD PLACE GAME
In the early game, the JFK Islanders defeated the Okkodo Bulldogs in four sets 25-19, 12-25, 25-21, 25-22 to take third place.
PHOTO GALLERY BROUGHT TO YOU BY:

2022 GSPN I MÅS METGOT COMPETITION
2022 GSPN I Mås Metgot Competition Recap
2022 GSPN I MÅS METGOT COMPETITION
2022 GSPN I Mås Metgot Competition Recap
2022 GSPN I MÅS METGOT COMPETITION
2022 GSPN I Mås Metgot Competition Recap
COMING SOON …