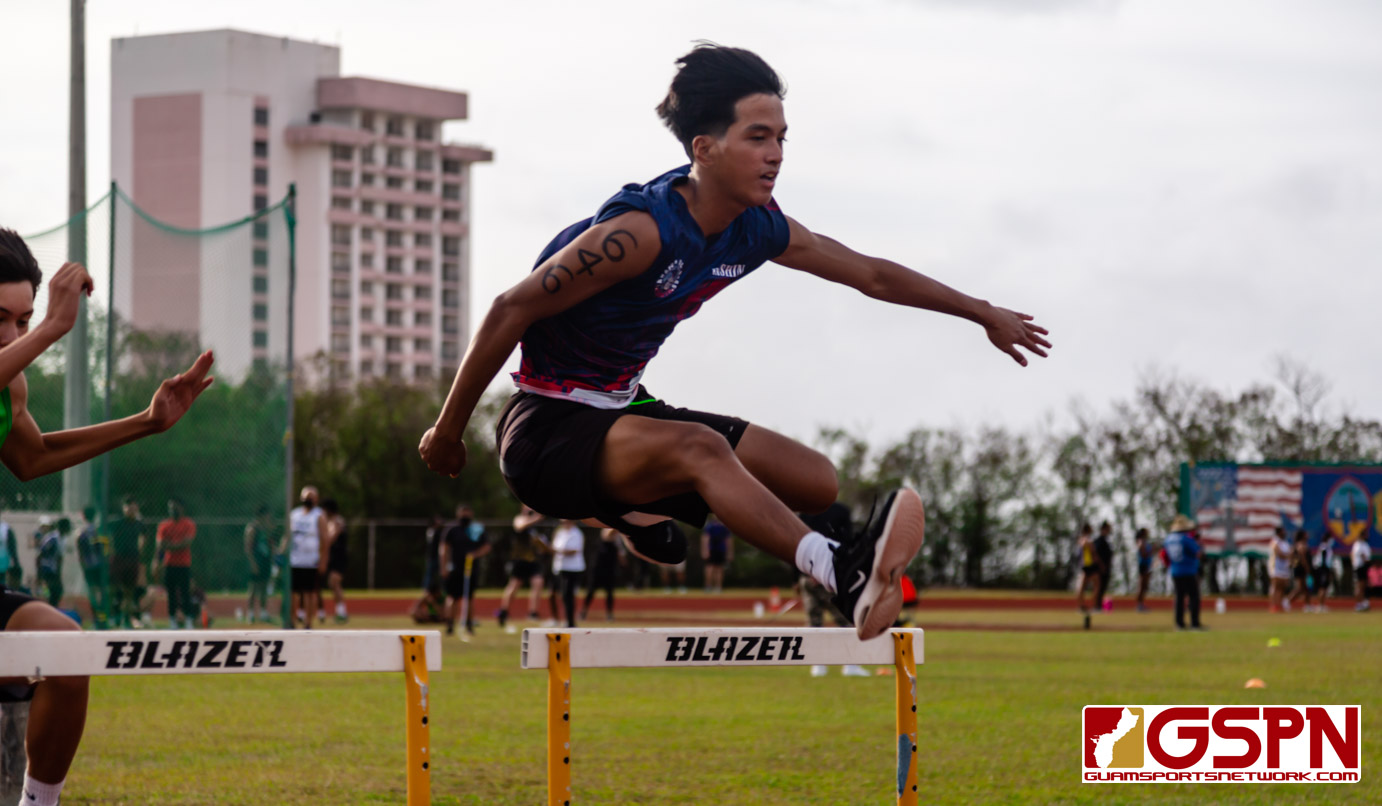 The 2022 ISA Track and Field season kicked off last night at John F. Kennedy High School with the Guam High Panthers looking to defend their boys and girls titles against the eighth other teams participating in this years meets. The anthers title defense began, however, without longtime track coach and legend Joe Taitano at the helm who is currently tending to personal matters.
The competition began with the boys 3000m race and a strong start by Guam High's Trayton Crandel who jumped to an early lead building a 30m gap between him and Southern's Danny Quinata. However, Crandel couldn't hold onto the lead as Quinata overtook him in the last lap, pulling away in the final 200m to secure first in the event with a time of 10:33.29 with Crandel finishing with a time of 10:37.31.
It was a different story in the girls 3000m race as Guam High's Keira Paz took a commanding lead from the start and maintained that lead finishing first in the event.
Men's 3000 Meters Varsity Finals
1 Quinata, Danny 12 SOUTHERN 1033.29
2 Crandel, Trayton 11 GUAM 1037.31
3 Galvez, Teo 12 SIMON SANCHEZ 1049.33
4 Clark, Alexander 10 GEORGE WASHINGTON 1053.89
5 Juico, Jadrian 12 OKKODO 1109.31
6 Aguilar, Ivan 11 JOHN F. KENNEDY 1113.81
7 Westlund, Mitchell 9 GUAM 1122.27
8 Huynh, Mykieu 11 JOHN F. KENNEDY 1127.59
9 Perez, Damian 9 GUAM 1141.21
10 Naputi, Javan 9 SOUTHERN 1143.97
11 Asuncion, Genoel 10 OKKODO 1204.43
12 Simon, Allan 12 SIMON SANCHEZ 1208.19
13 Wood, Hunter 9 JOHN F. KENNEDY 1208.29
14 Tydingco, Evan 9 JOHN F. KENNEDY 1209.85
15 Sato, Dino 9 JOHN F. KENNEDY 1216.91
16 Ewar, Ardrake 11 SOUTHERN 1220.67
17 Aflague II, Scott 11 OKKODO 1226.39
18 Echang, Sean 9 GEORGE WASHINGTON 1234.77
19 Sison, Breyton 10 FATHER DUENAS 1259.63
20 Ortega, Warren 11 SIMON SANCHEZ 1306.55
21 Limtiaco, Jurien 11 FATHER DUENAS 1323.11
22 Manlutac, Sean 12 SIMON SANCHEZ 1403.79
23 Santiago, Josh 12 GEORGE WASHINGTON 1426.79
24 Absalon, Jusitne 11 OKKODO 1512.29
— Douglas, Ryan 10 FATHER DUENAS DNS
— Muller, Sean 11 GUAM DNS
Women's 3000 Meters Varsity Finals
1 Paz, Keira 11 GUAM 1339.52
2 Ahn, Cheyoung 9 SOUTHERN 1343.62
3 Nakamori, Ai 9 JOHN F. KENNEDY 1347.39
4 Ahn, Cheyunne 11 SOUTHERN 1348.50
5 Taitano, Rhylaieh 9 GEORGE WASHINGTON 1352.76
6 Stringham, Rebekah 11 GUAM 1357.83
7 Villagomez, Franchesca 10 JOHN F. KENNEDY 1408.78
8 Gogue, Gabriella 9 JOHN F. KENNEDY 1419.10
9 Nelson, Savannah 9 GUAM 1434.70
10 Van Orman, Eden 9 GUAM 1446.46
— Matro, Chloe 9 GUAM DNS
— Namirembe, Mary 10 JOHN F. KENNEDY DQ
— Cervantes, Chrysthal 11 SOUTHERN DQ
Men's 110m Hurdles Varsity Finals
1 Almoite, Jan 9 SIMON SANCHEZ 19.36
2 Balbas, Gavyn 11 JOHN F. KENNEDY 21.35
3 Arriola, Christian 11 FATHER DUENAS 21.51
4 Jackson, Jacob 10 GEORGE WASHINGTON 21.52
5 Samortin, Kenshin 10 OKKODO 21.82
6 Jano-Edward, Joash 12 GUAM ADVENTIST ACA… 22.02
7 Sablan, Jacob 9 OKKODO 22.21
8 Lopez, Jude 9 OKKODO 22.28
9 Manalo, Moises 12 SIMON SANCHEZ 22.35
10 Raquel, Rai 9 JOHN F. KENNEDY 23.37
11 Biscocho, Joel 10 JOHN F. KENNEDY 23.42
12 Ranan, Derren 11 FATHER DUENAS 24.06
— Brantley, Cameron 10 GUAM DNS
Women's 100m Hurdles Varsity Finals
1 Calvo, Maria 11 JOHN F. KENNEDY 20.47
2 Agahan, Elexis 12 JOHN F. KENNEDY 20.85
3 Tumanda, Sadie 12 SIMON SANCHEZ 20.93
4 Mann, Tera 9 ACADEMY OF OUR LAD… 21.46
5 Castro, Aleah 10 GEORGE WASHINGTON 21.69
6 Marques, Eyana 10 SIMON SANCHEZ 22.20
7 Garcia, Makaella 10 OKKODO 22.32
8 Mann, Tisha 9 ACADEMY OF OUR LAD… 22.71
9 Miclat, Annika Luis 10 JOHN F. KENNEDY 22.94
10 Quichocho, Gabrielle 10 TIYAN 23.31
11 Fernandez, Veronica 11 ACADEMY OF OUR LAD… 24.09
12 Arjona, Jaeden 9 OKKODO 24.57
13 Santelices, Jhazlin 9 SIMON SANCHEZ 27.56
Men's 100 Meters Varsity Finals
1 Gallegos, Alex 11 GUAM 11.77
2 Johnson, Aaron 10 GUAM 11.99
3 Castro, Nathan 12 GEORGE WASHINGTON 12.05
4 Masnayon, Dean 11 TIYAN 12.20
5 Martinez, Devin 10 SIMON SANCHEZ 12.56
6 Kanekatsu, Taiyo 12 JOHN F. KENNEDY 12.70
7 Fejerang, Drake 10 SIMON SANCHEZ 12.75
8 Pangelinan, Pierce 12 JOHN F. KENNEDY 12.83
9 Perez, Beau 9 FATHER DUENAS 12.85
10 Okada, Devin 12 GEORGE WASHINGTON 13.08
11 Taisipic, Luke 12 FATHER DUENAS 13.21
12 Sanchez, Michael 10 SOUTHERN 13.22
13 Baird, Deshawn 10 GUAM 13.29
14 Jano-Edward, Joash 12 GUAM ADVENTIST ACA… 13.35
15 Cepeda, Jon 10 SOUTHERN 13.40
16 Dingcong, Benny 11 SOUTHERN 13.41
17 Gamboa, Rj 11 OKKODO 13.47
18 Dilag, Fidel 10 TIYAN 13.49
19 Francisco, Dylan 11 FATHER DUENAS 13.57
20 Dimag, Chance 12 OKKODO 13.75
21 Jano-Edward, Elijah 9 GUAM ADVENTIST ACA… 13.84
22 Ogo, John 12 JOHN F. KENNEDY 13.85
23 Junio, Jethro 11 SIMON SANCHEZ 13.86
24 Oclima, Arthur 11 GEORGE WASHINGTON 13.88
25 Cortez, Clarence 12 OKKODO 14.31
— Crisostomo, Ethan 10 TIYAN DNS
Women's 100 Meters Varsity Finals
1 Guerrero, Kailee 11 GUAM 14.13
2 Thompson, Kanyce 9 GUAM 14.78
3 Tumanda, Sadie 12 SIMON SANCHEZ 15.05
4 Santos, Taylor-Ann 10 ACADEMY OF OUR LAD… 15.35
5 Nacpil, Lily 10 SIMON SANCHEZ 15.43
6 Ibanez, Danarose 9 TIYAN 15.58
7 Losongco, Ellin 10 GUAM ADVENTIST ACA… 15.92
8 Santos, He'vea Jy 9 OKKODO 15.95
9 Paulino, Angel 11 GEORGE WASHINGTON 16.06
10 San Agustin, Aeris 12 TIYAN 16.24
11 Cruz, Aneli 12 SOUTHERN 16.27
12 Miclat, Patricia 9 JOHN F. KENNEDY 16.28
13 Garcia, Ava 9 JOHN F. KENNEDY 16.33
14 Johnson, Alina 12 GUAM 16.38
15 Quichocho, Gabrielle 10 TIYAN 16.63
16 Karamen, Kaniara 12 SIMON SANCHEZ 16.83
17 Torcelino, Nichelle 9 JOHN F. KENNEDY 17.23
18 Tangalan, Alexa 11 GEORGE WASHINGTON 17.74
19 Jano-Edward, Hadassah 12 GUAM ADVENTIST ACA… 18.06
20 Fernandez, Veronica 11 ACADEMY OF OUR LAD… 18.45
21 Payumo, Angel 10 GEORGE WASHINGTON 19.50
22 Sablan, Shanaeya 9 ACADEMY OF OUR LAD… 19.83
23 Lopez, Crystal 12 SOUTHERN 21.23
24 Santos, Domminiqua 10 SOUTHERN 21.93
— Iakopo, Filomenaleonisa 10 KAGMAN 14.34 X 14.69
— Dela Cruz, Cristel 10 OKKODO DNS
— Agsalud, Joannamae 11 OKKODO DQ
Men's 1500 Meters Varsity Finals

Men's 1500 Meters Varsity Finals
1 Kent, Hugh 10 JOHN F. KENNEDY 4:33.48
2 Rink, Alex 12 GUAM 4:40.07
3 Valdez, Isaac 10 JOHN F. KENNEDY 4:41.44
4 Juico, Jadrian 12 OKKODO 4:42.93
5 Crandel, Trayton 11 GUAM 4:44.30
6 Quinata, Danny 12 SOUTHERN 4:45.90
7 Clark, Alexander 10 GEORGE WASHINGTON 4:58.83
8 Perez, Damian 9 GUAM 4:58.91
9 Uncangco, Aiden 9 GEORGE WASHINGTON 5:05.24
10 Galvez, Teo 12 SIMON SANCHEZ 5:08.60
11 Cepeda, Thomas 11 JOHN F. KENNEDY 5:12.60
12 Aguilar, Ivan 11 JOHN F. KENNEDY 5:13.80
13 Garcia, Kyle 10 GEORGE WASHINGTON 5:21.80
14 Westlund, Mitchell 9 GUAM 5:22.00
15 Jung, Samuel 10 GUAM ADVENTIST ACA… 5:22.80
16 Naputi, Javan 9 SOUTHERN 5:22.90
17 Bordallo, Cameron 10 FATHER DUENAS 5:30.78
18 Asuncion, Genoel 10 OKKODO 5:32.79
19 Simon, Allan 12 SIMON SANCHEZ 5:33.80
20 Balbin, Nathan 10 FATHER DUENAS 5:35.90
21 Aflague II, Scott 11 OKKODO 5:38.80
22 Ortega, Warren 11 SIMON SANCHEZ 5:41.15
23 Arriola, Cameron 10 FATHER DUENAS 5:41.50
24 Echang, Sean 9 GEORGE WASHINGTON 5:45.19
25 Ewar, Ardrake 11 SOUTHERN 5:45.60
26 Limtiaco, Jurien 11 FATHER DUENAS 5:48.41
27 Sison, Breyton 10 FATHER DUENAS 5:55.43
28 Atoigue, Jeremiah 12 OKKODO 6:03.80
29 Samia, Rajah 9 OKKODO 6:11.40
30 Gumataotao, Paul 9 TIYAN 6:11.87
31 Reyes, Tristan 11 JOHN F. KENNEDY 6:14.33
32 Santiago, Josh 12 GEORGE WASHINGTON 6:20.06
33 Manlutac, Sean 12 SIMON SANCHEZ 6:24.20
— Muller, Sean 11 GUAM DNS
— Gatbonton, Joshua 10 SIMON SANCHEZ DNS
Women's 1500 Meters Varsity Finals
1 Baden, Jordan 11 GEORGE WASHINGTON 534.30
2 Cruz, Robin 10 GEORGE WASHINGTON 555.60
3 Fernandez, Sophia 9 GUAM 602.90
4 Lang, Molly 11 GUAM 606.00
5 Cervantes, Chrysthal 11 SOUTHERN 616.00
6 Marques, Eyana 10 SIMON SANCHEZ 617.20
7 Ahn, Cheyunne 11 SOUTHERN 618.00
8 Nelson, Genevieve 11 GUAM 618.40
9 Taitano, Rhylaieh 9 GEORGE WASHINGTON 618.70
10 Paz, Keira 11 GUAM 626.70
11 Minor, Chasity 12 JOHN F. KENNEDY 630.50
12 Ahn, Cheyoung 9 SOUTHERN 631.00
13 Stringham, Rebekah 11 GUAM 632.80
14 Nakamori, Ai 9 JOHN F. KENNEDY 635.20
15 Fukui, Marin 9 SIMON SANCHEZ 650.20
16 Gogue, Gabriella 9 JOHN F. KENNEDY 654.20
17 Soriano, Dina 9 JOHN F. KENNEDY 702.50
18 Namirembe, Mary 10 JOHN F. KENNEDY 706.10
19 Duenas, Eyana 9 TIYAN 745.60
20 Ghosh, Mitekshi 9 GEORGE WASHINGTON 753.20
21 Fredeluces, Tricia 10 OKKODO 755.90
22 Villegas, Nevaeh 11 SIMON SANCHEZ 758.00
Women's 4×100 Relay Varsity Finals
1 GUAM 'A' 56.70
1) Thompson, Kanyce 9 2) Levy, Alexandria 10 3) Guerrero, Kailee 11 4) Whiting, Valerie 9
2 ACADEMY OF OUR LADY OF GUAM 'A' 101.42
1) Santos, Taylor-Ann 10 2) Limtiaco, Ava 11 3) Manlapaz, Karina 11 4) Sablan, Shanaeya 9
3 TIYAN 'A' 101.82
1) Duenas, Eyana 9 2) Quichocho, Gabrielle 10 3) San Agustin, Aeris 12 4) Ibanez, Danarose 9
4 JOHN F. KENNEDY 'A' 102.14
1) Franco, Kirsten 9 2) Garcia, Ava 9 3) Miclat, Annika Luis 10 4) Miclat, Patricia 9
5 GEORGE WASHINGTON 'A' 106.15
1) Leon Guerrero, Madison 11 2) Clement, Mariana 10 3) Cruz, Havannah 11 4) Paulino, Angel 11
6 OKKODO 'A' 110.78
1) Garcia, Makaella 10 2) Manacmul, Donita 10 3) Cristales, Rhaiza 10 4) Agsalud, Joannamae 11
Men's 4×100 Relay Varsity Finals
1 GUAM 'A' 45.10
1) Gallegos, Alex 11 2) Finona, Matua 10 3) Johnson, Aaron 10 4) Finona, Magahet 11
2 SOUTHERN 'A' 50.20
1) Sanchez, Michael 10 2) Dingcong, Benny 11 3) Bautista, Dylan 11 4) Cepeda, Jon 10
3 TIYAN 'A' 50.80
1) Dilag, Fidel 10 2) Crisostomo, Ethan 10 3) Paulino, Jerome 11 4) Masnayon, Dean 11
4 OKKODO 'A' 51.70
1) Dimag, Chance 12 2) Canlas, Eucklid 12 3) Absalon, Jusitne 11 4) Cortez, Clarence 12
5 FATHER DUENAS 'A' 55.20
1) De vera, Gio 10 2) Palad, Giovanni 9 3) Lizama, Dylan 10 4) Gray, Caleb 10
— JOHN F. KENNEDY 'A' DQ
1) Aquiningoc, Jack 9 2) Saplan, Lord 12 3) Pangelinan, Pierce 12 4) Sagun, Rhenan 11
— GEORGE WASHINGTON 'A' DQ
1) Osborn, David 10 2) Treltas, Daran 10 3) Oclima, Arthur 11 4) Castro, Nathan 12
Men's 400 Meters Varsity Finals
1 Fejerang, Drake 10 SIMON SANCHEZ 55.74
2 Brewer, Logan 12 GUAM 57.99
3 Pangelinan, Pierce 12 JOHN F. KENNEDY 59.38
4 Brantley, Cameron 10 GUAM 59.63
5 Bautista, Dylan 11 SOUTHERN 102.11
6 Hutapea, Timothy 11 GEORGE WASHINGTON 102.43
7 Chargualaf, Isaiah 9 SIMON SANCHEZ 103.44
8 Paulino, Jerome 11 TIYAN 103.66
9 Aflague, Ziah 11 FATHER DUENAS 103.97
10 Hernandez, Shaun 10 GEORGE WASHINGTON 104.75
11 Certeza, Michael 10 SOUTHERN 104.99
12 Almoite, Tom 10 JOHN F. KENNEDY 105.09
12 Taitingfong, Landon 11 JOHN F. KENNEDY 105.09
14 Almoite, Jan 9 SIMON SANCHEZ 105.37
15 Angoco, Christopher 10 TIYAN 105.56
16 Arriola, Cameron 10 FATHER DUENAS 105.73
17 Asuncion, Gerome 12 OKKODO 105.99
18 Matthews, Delevan 11 TIYAN 107.21
19 Samia, Rajah 9 OKKODO 108.56
20 Techaira, Josiah 11 OKKODO 108.80
21 Cruz, Jahaziah 10 SOUTHERN 110.40
22 Huihui, John 10 FATHER DUENAS 110.47
23 Deleon Guerrero, Tetin 9 GEORGE WASHINGTON 120.84
— Jano-Edward, Elijah 9 GUAM ADVENTIST ACA… DNS
— Jackson, Jayden 10 GUAM DNS
Women's 400 Meters Varsity Finals
1 Guerrero, Kailee 11 GUAM 106.66
2 Castro, Aleah 10 GEORGE WASHINGTON 107.35
3 Kanemoto, Kayna 10 SIMON SANCHEZ 108.25
4 Thompson, Kanyce 9 GUAM 109.53
5 Arriola, Jena 9 SIMON SANCHEZ 114.26
6 Fernandez, Sophia 9 GUAM 115.07
7 Miclat, Patricia 9 JOHN F. KENNEDY 116.02
8 Nacpil, Lily 10 SIMON SANCHEZ 116.16
9 Losongco, Ellin 10 GUAM ADVENTIST ACA… 122.41
10 Torcelino, Nichelle 9 JOHN F. KENNEDY 125.12
11 Abraham, Myah 9 SOUTHERN 132.68
12 Palma, Jarelle 11 OKKODO 155.49
13 Santos, Domminiqua 10 SOUTHERN 211.82
— Chung, Yoon Tori 12 JOHN F. KENNEDY DNS
— Fredeluces, Tricia 10 OKKODO DNS
Women's 300m Hurdles Varsity Finals
1 Calvo, Maria 11 JOHN F. KENNEDY 58.47
2 Gumabon, Geneva 10 GUAM 59.74
3 Mann, Tisha 9 ACADEMY OF OUR LAD… 59.91
4 Levy, Alexandria 10 GUAM 59.95
5 Garcia, Makaella 10 OKKODO 100.55
6 Mann, Tera 9 ACADEMY OF OUR LAD… 100.60
7 Minor, Chasity 12 JOHN F. KENNEDY 101.46
8 Miclat, Annika Luis 10 JOHN F. KENNEDY 105.84
9 Fernandez, Veronica 11 ACADEMY OF OUR LAD… 107.18
10 Arjona, Jaeden 9 OKKODO 107.44
11 Johnson, Alina 12 GUAM 110.29
12 Tangalan, Alexa 11 GEORGE WASHINGTON 119.36
13 Santelices, Jhazlin 9 SIMON SANCHEZ 121.06
Men's 300m Hurdles Varsity Finals
1 Manalo, Moises 12 SIMON SANCHEZ 48.50
2 Jano-Edward, Joash 12 GUAM ADVENTIST ACA… 49.24
3 Jackson, Jacob 10 GEORGE WASHINGTON 50.25
4 Arriola, Christian 11 FATHER DUENAS 51.02
5 Sablan, Jacob 9 OKKODO 51.10
6 Balbas, Gavyn 11 JOHN F. KENNEDY 53.45
7 Lopez, Jude 9 OKKODO 53.68
8 Samortin, Kenshin 10 OKKODO 54.16
9 Ranan, Derren 11 FATHER DUENAS 54.54
10 Uncangco, Aiden 9 GEORGE WASHINGTON 54.79
11 Raquel, Rai 9 JOHN F. KENNEDY 55.68
12 Wharton, Cameron 10 GUAM 58.57
13 Brantley, Cameron 10 GUAM 58.96
14 Reyes, Leeland 10 JOHN F. KENNEDY 105.14
15 Roxas, Ryland 11 SOUTHERN 108.81
— Certeza, Michael 10 SOUTHERN DNS
— Jackson, Jayden 10 GUAM DNS
— Bilong, Dann 11 FATHER DUENAS DNS
Men's 800 Meters Varsity Finals
1 Imazu, Mark 12 JOHN F. KENNEDY 208.64
2 Kent, Hugh 10 JOHN F. KENNEDY 212.68
3 Rink, Alex 12 GUAM 213.78
4 Quinata, Danny 12 SOUTHERN 216.45
5 Valdez, Isaac 10 JOHN F. KENNEDY 216.69
6 Osborn, David 10 GEORGE WASHINGTON 221.24
7 Galvez, Teo 12 SIMON SANCHEZ 225.16
8 Crandel, Trayton 11 GUAM 225.61
9 Garcia, Kyle 10 GEORGE WASHINGTON 229.90
10 Perez, Damian 9 GUAM 230.77
11 Naputi, Javan 9 SOUTHERN 235.35
12 Hutapea, Timothy 11 GEORGE WASHINGTON 236.48
13 Matthews, Delevan 11 TIYAN 237.67
14 Balbin, Nathan 10 FATHER DUENAS 239.15
15 Ortega, Warren 11 SIMON SANCHEZ 240.26
16 Barcinas, Ben 12 TIYAN 240.54
17 Simon, Allan 12 SIMON SANCHEZ 242.54
18 Ewar, Ardrake 11 SOUTHERN 242.80
19 Limtiaco, Jurien 11 FATHER DUENAS 246.86
20 Gumataotao, Paul 9 TIYAN 251.60
21 Asuncion, Gerome 12 OKKODO 253.49
22 Baluyut, John 9 OKKODO 258.38
23 Tang, Jeremy 11 FATHER DUENAS 310.88
24 Escano, Joash FR OKKODO 313.62
Women's 800 Meters Varsity Finals
1 Baden, Jordan 11 GEORGE WASHINGTON 238.41
2 Cruz, Robin 10 GEORGE WASHINGTON 258.08
3 Lang, Molly 11 GUAM 300.69
4 Ahn, Cheyunne 11 SOUTHERN 304.99
5 Fernandez, Sophia 9 GUAM 305.35
6 Marques, Eyana 10 SIMON SANCHEZ 307.72
7 Gogue, Gabriella 9 JOHN F. KENNEDY 309.98
8 Villagomez, Franchesca 10 JOHN F. KENNEDY 311.69
9 Fukui, Marin 9 SIMON SANCHEZ 313.09
10 Ahn, Cheyoung 9 SOUTHERN 318.29
11 Leon Guerrero, Madison 11 GEORGE WASHINGTON 320.13
12 Santos, He'vea Jy 9 OKKODO 323.23
13 Namirembe, Mary 10 JOHN F. KENNEDY 332.52
14 Duenas, Eyana 9 TIYAN 337.84
15 Carlos, Keisha 11 OKKODO 356.12
16 Cristales, Rhaiza 10 OKKODO 405.82
17 Rojo, Annjasmine 12 TIYAN 426.67
— Abraham, Myah 9 SOUTHERN DNS
— Paz, Keira 11 GUAM DNS
Men's 200 Meters Varsity Finals
1 Castro, Nathan 12 GEORGE WASHINGTON 24.40
2 Masnayon, Dean 11 TIYAN 24.78
3 Brewer, Logan 12 GUAM 26.59
4 Treltas, Daran 10 GEORGE WASHINGTON 26.98
5 Carlson, Nathaniel 10 GUAM 27.15
6 Dilag, Fidel 10 TIYAN 27.21
7 Jano-Edward, Joash 12 GUAM ADVENTIST ACA… 27.24
8 Cruz, Raidon 10 GEORGE WASHINGTON 27.28
9 Sagun, Rhenan 11 JOHN F. KENNEDY 27.33
10 Gamboa, Rj 11 OKKODO 27.40
11 Weilbacher, Damen 11 JOHN F. KENNEDY 27.82
12 Bautista, Dylan 11 SOUTHERN 27.92
13 Almoite, Jan 9 SIMON SANCHEZ 28.16
14 Crochet, Brent 9 GUAM 28.34
15 Jung, Samuel 10 GUAM ADVENTIST ACA… 28.50
16 Bejerana, Rin 11 OKKODO 28.65
17 Palad, Giovanni 9 FATHER DUENAS 28.72
18 Saplan, Lord 12 JOHN F. KENNEDY 28.79
19 Jano-Edward, Elijah 9 GUAM ADVENTIST ACA… 28.94
20 Junio, Jethro 11 SIMON SANCHEZ 28.97
21 Paulino, Jerome 11 TIYAN 29.00
22 Camacho-paulino, Noah 10 FATHER DUENAS 29.12
23 Samortin, Kenshin 10 OKKODO 30.30
24 Cruz, Jahaziah 10 SOUTHERN 30.40
25 Rediliphy, Jared 9 SOUTHERN 31.54
26 Guiao, Xavier 9 SIMON SANCHEZ 36.17
— Taisipic, Luke 12 FATHER DUENAS DNS
Women's 200 Meters Varsity Finals
1 Castro, Aleah 10 GEORGE WASHINGTON 30.26
2 Kanemoto, Kayna 10 SIMON SANCHEZ 30.30
3 Santos, Taylor-Ann 10 ACADEMY OF OUR LAD… 31.69
4 Nacpil, Lily 10 SIMON SANCHEZ 32.14
5 Gumabon, Geneva 10 GUAM 32.54
6 Arriola, Jena 9 SIMON SANCHEZ 32.78
6 Ibanez, Danarose 9 TIYAN 32.78
8 Sablan, Shanaeya 9 ACADEMY OF OUR LAD… 33.15
9 Miclat, Patricia 9 JOHN F. KENNEDY 33.31
10 San Agustin, Aeris 12 TIYAN 33.51
11 Pareja, Jericah 9 JOHN F. KENNEDY 33.80
12 Losongco, Ellin 10 GUAM ADVENTIST ACA… 33.85
13 Limtiaco, Ava 11 ACADEMY OF OUR LAD… 33.95
14 Whiting, Valerie 9 GUAM 34.03
15 Manacmul, Donita 10 OKKODO 34.62
16 Franco, Kirsten 9 JOHN F. KENNEDY 34.96
17 Dial, Kiara 10 GUAM 37.02
18 Abraham, Myah 9 SOUTHERN 37.22
19 Clement, Mariana 10 GEORGE WASHINGTON 37.84
20 Underwood, Tavia 10 TIYAN 39.35
21 Payumo, Angel 10 GEORGE WASHINGTON 41.57
22 Cristales, Rhaiza 10 OKKODO 41.59
23 Santos, Domminiqua 10 SOUTHERN 46.20
— Palma, Jarelle 11 OKKODO DNS
— Iakopo, Filomenaleonisa 10 KAGMAN X 30.29
Women's 4×400 Relay Varsity Finals
1 GEORGE WASHINGTON 'A' 448.10
1) Baden, Jordan 11 2) Leon Guerrero, Madison 11 3) Cruz, Robin 10 4) Castro, Aleah 10
2 GUAM 'A' 504.82
1) Fernandez, Sophia 9 2) Thompson, Kanyce 9 3) Whiting, Valerie 9 4) Stringham, Rebekah 11
3 JOHN F. KENNEDY 'A' 513.10
1) Gogue, Gabriella 9 2) Minor, Chasity 12 3) Nakamori, Ai 9 4) Villagomez, Franchesca 10
4 ACADEMY OF OUR LADY OF GUAM 'A' 544.97
1) Sablan, Shanaeya 9 2) Limtiaco, Ava 11 3) Manlapaz, Karina 11 4) Fernandez, Veronica 11
5 OKKODO 'A' 557.29
1) Agsalud, Joannamae 11 2) Carlos, Keisha 11 3) Santos, He'vea Jy 9 4) Belga, Nya 12
Men's 4×400 Relay Varsity Finals
1 GUAM 'A' 347.99
1) Johnson, Aaron 10 2) Finona, Matua 10 3) Rink, Alex 12 4) Gallegos, Alex 11
2 GEORGE WASHINGTON 'A' 358.01
1) Osborn, David 10 2) Uncangco, Aiden 9 3) Garcia, Kyle 10 4) Castro, Nathan 12
3 SOUTHERN 'A' 417.03
1) Naputi, Javan 9 2) Certeza, Michael 10 3) Sanchez, Michael 10 4) Quinata, Danny 12
4 FATHER DUENAS 'A' 417.27
1) Arriola, Cameron 10 2) Perez, Beau 9 3) Arriola, Christian 11 4) Aflague, Ziah 11
5 JOHN F. KENNEDY 'A' 422.88
1) Rios, Ayden 11 2) Na, Alex 9 3) Ogo, John 12 4) Taitingfong, Landon 11
6 SIMON SANCHEZ 'A' 425.67
1) Mondina, Kyle 9 2) Ednaco, Aldryn 9 3) Chargualaf, Isaiah 9 4) Fejerang, Drake 10
7 OKKODO 'A' 505.31
1) Mercado, Ahron 11 2) Canlas, Eucklid 12 3) Asuncion, Gerome 12 4) De Jesus, Angelo 10
Men's Long Jump Varsity Finals
1 Osborn, David 10 GEORGE WASHINGTON 5.16m
2 Johnson, Aaron 10 GUAM 4.89m
3 Gallegos, Alex 11 GUAM 4.81m
4 Masnayon, Dean 11 TIYAN 4.75m
5 Taisipic, Luke 12 FATHER DUENAS 4.60m
6 Cepeda, Jon 10 SOUTHERN 4.47m
7 Jung, Samuel 10 GUAM ADVENTIST ACA… 4.37m
8 Dimag, Chance 12 OKKODO 4.29m
8 Angoco, Christopher 10 TIYAN 4.29m
10 Rosas, Czar 12 JOHN F. KENNEDY 4.13m
11 Ranan, Derren 11 FATHER DUENAS 4.06m
11 Bilong, Dann 11 FATHER DUENAS 4.06m
11 Rediliphy, Jared 9 SOUTHERN 4.06m
14 Sanchez, Michael 10 SOUTHERN 4.05m
15 Wharton, Cameron 10 GUAM 4.02m
15 Stith, Michael 12 JOHN F. KENNEDY 4.02m
17 Jackson, Jacob 10 GEORGE WASHINGTON 3.85m
18 Canlas, Eucklid 12 OKKODO 3.81m
19 Briand, Ruie 10 JOHN F. KENNEDY 3.76m
20 Martinez, Devin 10 SIMON SANCHEZ 3.68m
21 Bejerana, Rin 11 OKKODO 3.58m
22 Antonio, Keileb 11 GEORGE WASHINGTON 3.50m
— Crisostomo, Ethan 10 TIYAN DNS
Women's Long Jump Varsity Finals
1 Calvo, Maria 11 JOHN F. KENNEDY 4.31m
2 Cruz, Robin 10 GEORGE WASHINGTON 3.91m
3 Quichocho, Gabrielle 10 TIYAN 3.76m
4 Santos, Taylor-Ann 10 ACADEMY OF OUR LAD… 3.46m
4 Ibanez, Danarose 9 TIYAN 3.46m
6 Tumanda, Sadie 12 SIMON SANCHEZ 3.45m
7 Gumabon, Geneva 10 GUAM 3.31m
8 Garcia, Makaella 10 OKKODO 3.30m
9 Santos, He'vea Jy 9 OKKODO 3.29m
10 Paulino, Angel 11 GEORGE WASHINGTON 3.25m
11 Garcia, Ava 9 JOHN F. KENNEDY 2.94m
12 San Agustin, Aeris 12 TIYAN 2.71m
13 Arjona, Jaeden 9 OKKODO 2.38m
— Francisco, Rialene 12 JOHN F. KENNEDY ND
— Limtiaco, Ava 11 ACADEMY OF OUR LAD… ND
Men's Discus Varsity Finals
1 Maniebo, Jhavin 11 SOUTHERN 39.50m
2 Villegas, Jericho 11 SIMON SANCHEZ 31.97m
3 Cellona, Brendon 11 FATHER DUENAS 28.15m
4 Sy, Ranti 12 SIMON SANCHEZ 27.53m
5 Poppe, Carlos 12 GUAM ADVENTIST ACA… 24.60m
6 Uhls, Cristian 12 OKKODO 24.14m
7 Gonzales, Eric 11 SOUTHERN 23.90m
8 Junio, Jethro 11 SIMON SANCHEZ 21.35m
9 Rosero, Elijah 12 JOHN F. KENNEDY 20.91m
10 Meno, Landon 10 GEORGE WASHINGTON 20.32m
11 San Nicolas, Gavin 11 TIYAN 19.87m
12 Alcantara, Joshua 11 OKKODO 19.77m
13 Cooper-nurse, Lucas 12 FATHER DUENAS 19.63m
14 Briand, Ruie 10 JOHN F. KENNEDY 19.47m
15 Eckles, Tobias 12 GUAM 19.10m
16 Fernandez, Damien 10 GEORGE WASHINGTON 18.80m
17 Vice, Aaron 12 TIYAN 18.28m
18 Santos, Josiah 9 JOHN F. KENNEDY 18.15m
19 Roxas, Ryland 11 SOUTHERN 18.08m
20 Barcinas, Ben 12 TIYAN 16.75m
21 Cruz, Raidon 10 GEORGE WASHINGTON 16.69m
22 Cruz, Connor 12 FATHER DUENAS 15.20m
23 Pablo, Antwone 11 OKKODO 13.46m
— Jano-Edward, Elijah 9 GUAM ADVENTIST ACA… DQ
— Naputi, Javan 9 SOUTHERN DNS
Women's Discus Varsity Finals
1 Cruz, Aneli 12 SOUTHERN 24.39m
2 Indalecio, Zoey 11 TIYAN 23.04m
3 Cruz, Mary 10 SIMON SANCHEZ 19.73m
4 Belga, Nya 12 OKKODO 18.79m
5 Jano-Edward, Hadassah 12 GUAM ADVENTIST ACA… 17.88m
6 Rosario, Melody 10 GEORGE WASHINGTON 17.06m
7 Soriano, Dina 9 JOHN F. KENNEDY 16.26m
8 Leon Guerrero, Christine 12 TIYAN 16.14m
9 Baird, Keilani 11 GUAM 15.54m
10 Lopez, Crystal 12 SOUTHERN 14.66m
11 Censon, Jenheck 11 SIMON SANCHEZ 14.51m
12 Zacarias, Kristle 12 GEORGE WASHINGTON 14.45m
13 Ready, Naima 10 GUAM 14.08m
14 Hawkins, Jaylene 10 JOHN F. KENNEDY 13.72m
15 Cruz, Havannah 11 GEORGE WASHINGTON 12.68m
16 Corilla, Rica 10 GUAM 12.45m
17 Losongco, Ellin 10 GUAM ADVENTIST ACA… 11.82m
18 Leon Guerrero, Kaylee 10 SIMON SANCHEZ 11.01m
19 Underwood, Tavia 10 TIYAN 10.23m
20 Carlos, Keisha 11 OKKODO 9.75m
21 Sanchez, Angellaena 10 SOUTHERN 9.65m
22 Quinata, Geralynn 9 ACADEMY OF OUR LAD… 7.39m
— Camaquin, Chantal Raine 12 JOHN F. KENNEDY DQ
— Apuron, Sadie 12 OKKODO DQ
Women's Shot Put Varsity Finals
1 Belga, Nya 12 OKKODO 8.22m
2 Lopez, Crystal 12 SOUTHERN 7.90m
3 Rosario, Melody 10 GEORGE WASHINGTON 7.65m
4 Jano-Edward, Hadassah 12 GUAM ADVENTIST ACA… 7.29m
5 Indalecio, Zoey 11 TIYAN 7.25m
6 Baird, Keilani 11 GUAM 7.13m
7 Soriano, Dina 9 JOHN F. KENNEDY 6.91m
8 Estoy, Trinity 10 JOHN F. KENNEDY 6.87m
9 Leon Guerrero, Christine 12 TIYAN 6.65m
10 Cruz, Aneli 12 SOUTHERN 6.35m
11 Apuron, Sadie 12 OKKODO 6.08m
12 Ready, Naima 10 GUAM 5.94m
13 Simon, Asia 11 SIMON SANCHEZ 5.79m
14 Mann, Tera 9 ACADEMY OF OUR LAD… 5.72m
15 Mann, Tisha 9 ACADEMY OF OUR LAD… 5.49m
16 Cruz, Mary 10 SIMON SANCHEZ 5.26m
17 Zacarias, Kristle 12 GEORGE WASHINGTON 5.11m
18 Corilla, Rica 10 GUAM 4.94m
19 Hawkins, Jaylene 10 JOHN F. KENNEDY 4.92m
20 Ocampo, Merry Ann 12 SIMON SANCHEZ 4.38m
21 Quinata, Geralynn 9 ACADEMY OF OUR LAD… 4.15m
22 Sanchez, Angellaena 10 SOUTHERN 4.01m
23 Carlos, Keisha 11 OKKODO 3.90m
24 Clement, Mariana 10 GEORGE WASHINGTON 3.84m
25 Rojo, Annjasmine 12 TIYAN 3.80m
Men's Shot Put Varsity Finals
1 Maniebo, Jhavin 11 SOUTHERN 11.83m
2 Poppe, Carlos 12 GUAM ADVENTIST ACA… 11.15m
3 Ednaco, Marvin 12 SIMON SANCHEZ 10.47m
4 Benavente, Zian 12 JOHN F. KENNEDY 10.13m
5 Barcinas, Ben 12 TIYAN 9.48m
6 Alcantara, Joshua 11 OKKODO 9.18m
7 Jung, Samuel 10 GUAM ADVENTIST ACA… 9.09m
8 Bustamante, Stephen 12 SIMON SANCHEZ 8.97m
9 Vice, Aaron 12 TIYAN 8.75m
9 Gonzales, Eric 11 SOUTHERN 8.75m
11 Meno, Landon 10 GEORGE WASHINGTON 8.70m
12 Lizama, Thaddeus 11 JOHN F. KENNEDY 8.47m
13 Lampa, Rouen 12 SIMON SANCHEZ 8.29m
14 Eckles, Tobias 12 GUAM 8.04m
15 Fernandez, Damien 10 GEORGE WASHINGTON 7.83m
16 Laurente, Nicolas 11 FATHER DUENAS 7.56m
17 Gofigan, Ryan 11 FATHER DUENAS 7.46m
18 Alam, Alex 11 FATHER DUENAS 7.31m
19 Atoigue, Jeremiah 12 OKKODO 6.65m
20 Perez, Byeong (Jerry) 10 GEORGE WASHINGTON 6.52m
21 San Nicolas, Gavin 11 TIYAN 6.49m
22 Pablo, Antwone 11 OKKODO 6.03m
23 Roxas, Ryland 11 SOUTHERN 5.93m
24 Causing, Derrick 10 JOHN F. KENNEDY 4.86m
Women's Javelin Varsity Finals

Women's Javelin Varsity Finals
1 Kanemoto, Kayna 10 SIMON SANCHEZ 25.61m
2 Franco, Kirsten 9 JOHN F. KENNEDY 20.09m
3 Rosario, Melody 10 GEORGE WASHINGTON 18.54m
4 Leon Guerrero, Christine 12 TIYAN 18.04m
5 Belga, Nya 12 OKKODO 17.71m
6 Cruz, Aneli 12 SOUTHERN 16.90m
7 Cruz, Mary 10 SIMON SANCHEZ 16.71m
8 Lopez, Crystal 12 SOUTHERN 16.44m
9 Tithinyinug, Marykate 9 ACADEMY OF OUR LAD… 16.08m
10 Cruz, Havannah 11 GEORGE WASHINGTON 15.82m
11 Mcdonald, Sophia 9 ACADEMY OF OUR LAD… 15.77m
12 Indalecio, Zoey 11 TIYAN 15.47m
13 Estoy, Trinity 10 JOHN F. KENNEDY 14.31m
14 Apuron, Sadie 12 OKKODO 13.84m
15 Baird, Keilani 11 GUAM 12.61m
16 Corilla, Rica 10 GUAM 12.61m
17 Verango, Skyler 9 SIMON SANCHEZ 11.85m
18 Borja, Camille 10 ACADEMY OF OUR LAD… 11.78m
19 Ready, Naima 10 GUAM 8.87m
20 Jano-Edward, Hadassah 12 GUAM ADVENTIST ACA… 8.48m
21 Manacmul, Donita 10 OKKODO 8.45m
22 Sanchez, Angellaena 10 SOUTHERN 8.03m
23 Underwood, Tavia 10 TIYAN 7.69m
— Pareja, Jericah 9 JOHN F. KENNEDY ND
— Zacarias, Kristle 12 GEORGE WASHINGTON ND
Men's Javelin Varsity Finals
1 Arellano, Hanzelrein 12 JOHN F. KENNEDY 39.90m
2 Imazu, Mark 12 JOHN F. KENNEDY 36.03m
3 Martinez, Devin 10 SIMON SANCHEZ 34.81m
4 Benavente, Zian 12 JOHN F. KENNEDY 32.60m
5 Ednaco, Marvin 12 SIMON SANCHEZ 31.46m
6 Poppe, Carlos 12 GUAM ADVENTIST ACA… 30.62m
7 Maniebo, Jhavin 11 SOUTHERN 28.75m
8 Atoigue, Jeremiah 12 OKKODO 26.59m
9 Bilong, Dann 11 FATHER DUENAS 25.05m
10 White, Warner 9 GUAM 23.53m
11 Anulao, Jared 12 FATHER DUENAS 23.49m
12 Chargualaf, Isaiah 9 SIMON SANCHEZ 22.27m
13 Okada, Devin 12 GEORGE WASHINGTON 21.01m
14 Certeza, Michael 10 SOUTHERN 20.91m
15 Roxas, Ryland 11 SOUTHERN 19.82m
16 Benzon, Thomas 11 FATHER DUENAS 19.73m
17 Vice, Aaron 12 TIYAN 19.19m
18 Pablo, Antwone 11 OKKODO 18.63m
19 Barcinas, Ben 12 TIYAN 16.07m
20 San Nicolas, Gavin 11 TIYAN 15.06m
21 Pineda, John 12 GEORGE WASHINGTON 12.52m
22 Alcantara, Joshua 11 OKKODO 10.24m
— Deleon Guerrero, Tetin 9 GEORGE WASHINGTON ND
Women's Triple Jump Varsity Finals
1 Calvo, Maria 11 JOHN F. KENNEDY 9.55m
2 Minor, Chasity 12 JOHN F. KENNEDY 8.00m
— Garcia, Ava 9 JOHN F. KENNEDY ND
Women's Triple Jump Varsity Finals
1 Calvo, Maria 11 JOHN F. KENNEDY 9.55m
2 Minor, Chasity 12 JOHN F. KENNEDY 8.00m
— Garcia, Ava 9 JOHN F. KENNEDY ND
PHOTO GALLERY BROUGHT TO YOU BY:

2022 GSPN I MÅS METGOT COMPETITION
2022 GSPN I Mås Metgot Competition Recap
2022 GSPN I MÅS METGOT COMPETITION
2022 GSPN I Mås Metgot Competition Recap
2022 GSPN I MÅS METGOT COMPETITION
2022 GSPN I Mås Metgot Competition Recap
COMING SOON …