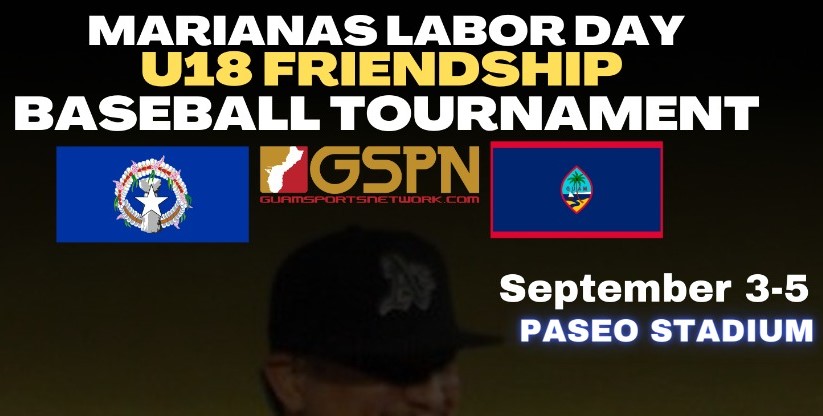 By Patrick Lujan
Guam and CNMI will be coming together once again through baseball, this time forming the Marianas Labor Day U18 Friendship Baseball Tournament to be held at Paseo Stadium September 3-5.
Two teams from Saipan and two teams from Guam will make up the tournament with some of the best young talent hailing from the two baseball rivalry islands.
The idea came about when Roke Alcantara, Jr. and Saipan's Jerome Delos Santos, once opponents on the diamond, decided to unite and create a friendly tournament for our prime teenagers.
"It's always been a dream of mine to get the top young CNMI players to come over and compete with our top young players," Alcantara said. "It was easy to get Coach Jerome to buy into the concept and now we have a pretty good talent pool for the three-day tournament."
SAIPAN TEAMS
Coach Delos Santos is super excited to bring his players to Guam, saying that the Saipan boys haven't played in four years since they were in Little League.
"They are so happy and they're are so grateful for me to do this and train them. Some of these kids lost their potential and lost the love of the game. But now that they're on my team they love the game again. They are so excited to play again for the first time in four years."
Delos Santos said his team is so excited that practices are fully attended and the energy is high.
"They come every practice prepared to learn more of the fundamentals of baseball. I am so honored to train and coach these kids. They're all excited and so am I. We can't wait to be down there."
The tournament is in honor of former pitching standout Steve Alcantara, who passed away in a drowning accident in 2011. Delos Santos remembers facing Steve Alcantara back in the day.
"One of the best pitchers I've ever face during my all-star career," added Delos Santos
GUAM TEAMS
Prospects Baseball
Dominic Cruz
Jathan Alvarez
Jovin Terlaje
Ethan Palomo
DJ Alcantara
Nolan Cruz
Franklin Ninete
Javen Pangelinan
Ricky Leon Guerrero
Zhavier Panes
Andrew Perez
Kyle Yoon
Jace Gumataotao
Jonathan Sablan
Raythan Sablan
Kaleb Salas
DJ Perez
Gage Lim
Dubs Baseball
Arren Yatar
Ashton Tedtaotao
CJ Tenorio
Darren Eclavea
Eden Sudo
Guaifen Terlaje
Jathan Miner
Javier Concepcion
Jayden Duenas
Jesse Castro
Jonathan Delos Santos
JJ Cabrera
John Salas Jr
Jose Kenlaman
Keedyn Cepeda
Keoni Raguindin
Zach Muna
Zavier Camacho
CNMI TEAMS
Team Scoutz Saipan 1
Noah Aguon
Jus Camacho
Kaipo Dikito
Bing Nakamura
Ried Teregeyo
Angelo Igitol
Keahi Jo
Charlie McDonald
King Evangelista
Terrell Rabago
IJ Iguel
Kide Blanco
Team Scoutz Saipan 2
Dizzle Diaz
Jylon Sablan
Joel Deleon Guerrero
Justin Magofna
Kazu Dela Cruz
Joel Borja
Forrest Pangelinan
Chris Pangelinan
Johnny Diaz
Jarrod Muna
Javen Camacho
Antonio Norita

2022 GSPN I MÅS METGOT COMPETITION
I Mås Metgot Athlete Spotlight: Tim Nauta
2022 GSPN I MÅS METGOT COMPETITION
I Mås Metgot Athlete Spotlight: Tim Nauta
2022 GSPN I MÅS METGOT COMPETITION
I Mås Metgot Athlete Spotlight: Tim Nauta
QUICK HITS
1LT Belizabeth Nicole V. Rengiil is known to be the first female from Guam and Palau to make the All-Army Women's Rugby Team. She is an active duty Signal Officer with the US Army and is stationed at Joint Base Lewis-McChord in Washington. Her team won the Armed Forces Women's Rugby Championship with a 4-0 record.
Belizabeth is the daughter of Edwin and Juliana Rengiil with siblings Johanna and Edwin-Isaiah Rengiil from Mangilao.