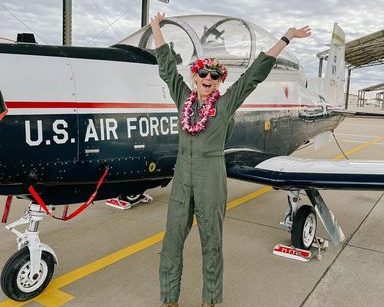 By Patrick Lujan
Former basketball and track star Alison Bowman has added wings to her running shoes.
The 2015 JFK graduate who starred in cross country, basketball and track & field just completed flight school on January 6th with the Hawaii Air National Guard.
After receiving a Bachelor's Degree in mechanical engineering from the University of Hawaii in the Spring of 2019, Bowman didn't know what career direction she'd take.
"I really didn't know what I wanted to do," Bowman said. "I tried a few internships, but I realized they were desk jobs. I wanted to travel and be a part of something bigger than myself. My dad was a pilot for the Navy so I kept asking questions."
Casual conversations with fellow Hawaii surfers who happened to fly F-22s peaked her interest even more in becoming a pilot.
"I just showed up to the Hawaii Guard building and made connections. My background as a D1 (track) athlete helped."
Being from Guam paid dividends during her interview, leading to her signing up with their tanker squadron.
"I talked about Guam in my interview a lot. They saw that I was on all these national teams. I told them I went to JFK and they knew where that is. The tanker squadron goes to Guam all the time."
Bowman entered the Hawaii Guard through Officer Training School, earning her commission in November 2021. Air Force flight school followed in April 2022 before graduation just a few weeks ago.
She is currently in Oklahoma training toward her certification with the KC-135 tanker.
Heart of an Islander
Bowman was a multi-sport star with the Islanders, finishing in the top 10 of GSPN's multi-sport female athletes of the 2010 decade. Add surfing to her sports list. In fact, the last time she was on Guam was in 2019 when she was preparing to represent Guam in the World Surfing Games in Japan that year.
While starring at JFK, it was her robotics class that piqued her interest in what she would major in college.
"A huge person in my life that helped me was Ms. Beausolei (robotics teacher at JFK). She just really encouraged me to apply for mechanical engineering. It is so hands on, so I really had a good time with that."
After graduating from JFK, she kept the islander theme with the UH Rainbow Warriors. She successfully juggled attaining an engineering degree while running cross country and indoor/outdoor track for UH. "We were on the road all year round."
Guam flight
Not only will Bowman be seeing the world as an Air Force pilot, but she'll be seeing Guam a lot since we are frequently on the squadron's route.
"It goes full circle because we're in Guam a lot, so I'll be going to Guam quite a few times."
After further training in Oklahoma this year, 2024 is the target for Bowman to get behind the stick and venture from one island home to another.
"Hopefully, I'll be touching down and this time I'll be flying the airplane. It's going to be really special to me."
Giving thanks to Guam: "I'd like to thank everyone on Guam for always being so supportive. All the opportunities on Guam is the reason I'm here. Guam really gave me those opportunities that makes me so successful. It inspired me to do this and know that I could do it."