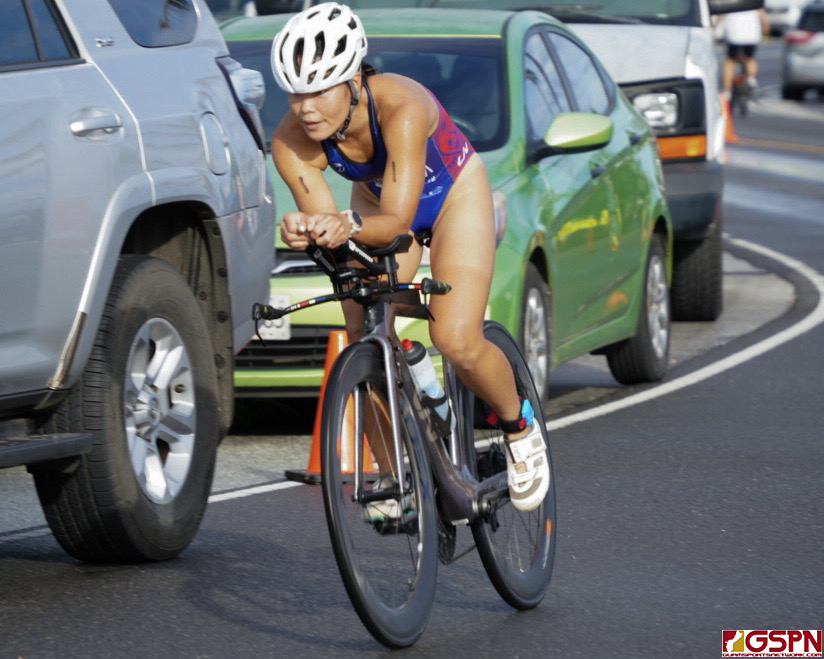 By Patrick Lujan
Pro triathlete Manami Iijima-Martin came in first overall in Sunday morning's 2023 Guam National Triathlon Championship in Piti, while self-proclaimed 'COVID triathlete' Jacob Torres earned the men's title and 2nd place overall.
Iijima-Martin, who's quest is to qualify for the 2024 Olympics, has done almost 20 triathlons this year so far and Sunday's event was like a walk in the park as she came out of the 1500m swim portion in 2nd place and quickly took control in the first of three laps of the 40k bike portion. There was no one in striking range during the 10k run segment.
"At the start, I bumped into the first buoy and I lost Ryan Tangi's pace, so I was hoping to catch his bike rider," Iijima-Martin said. "I held a good pace and felt great despite just coming back on Tuesday."
Catch she did as she quickly turned a one-minute gap into a two minute lead in just the first lap of the bike portion. It was clear sailing from there as she finished in 2 hours, 10 minutes, 10 seconds.
FRIENDLY COMPETITION
What caught Manami off guard a bit was the well-wishes from fellow competitors while on the course. That's what happens when you are on a totally different level.
"Everyone was cheering for me. I didn't know I was like a local celebrity," Manami laughed. "The other athletes were cheering me on, so that was great. The past year, I've been racing off island, and when you're racing the top dogs, they are so focused and have no time to cheer and they're just racing hard. I forgot how super nice it is racing back at home."
COVID TO CHAMPION
Talk about a late bloomer. 30-year-old Jacob Torres just started his triathlon career during the COVID pandemic and is now the male champion, finishing in 2 hours, 17 minutes, 56 seconds.
The 2010 graduate from JFK started taking on virtual triathlons during the global shutdown and hasn't looked back since.
"It feels great (to win)," Torres said. "It's a lot of time and a lot of training. Shout out to my other half and the kids – they let me train a lot."
Torres came out of the water together with Tom Schils but pulled away in the bike portion with a strong and steady stride, finishing with the day's fastest bike portion in 1:02:00.
"The bike is always my favorite and my strength, but the swim, I got lucky and found somebody to draft behind, so that helped a lot," Torres added. "And in the run, I managed it well, but overall, the bike has always been my favorite."
Ryan Matienzo had a strong 10k run in 40:34 (best of the day) to sneak past Tom Schils for 2nd in the men's.
75-year-old Killy Kunimoto continues to be a shining example of health and longevity, completing the course in 3:38:34.
PHOTO GALLERY BROUGHT TO YOU BY:

COMING SOON …
High School Football starts Sept. 29
Brawl 3: Oct 13
Guam's Strongest Man and Woman Competition October 29