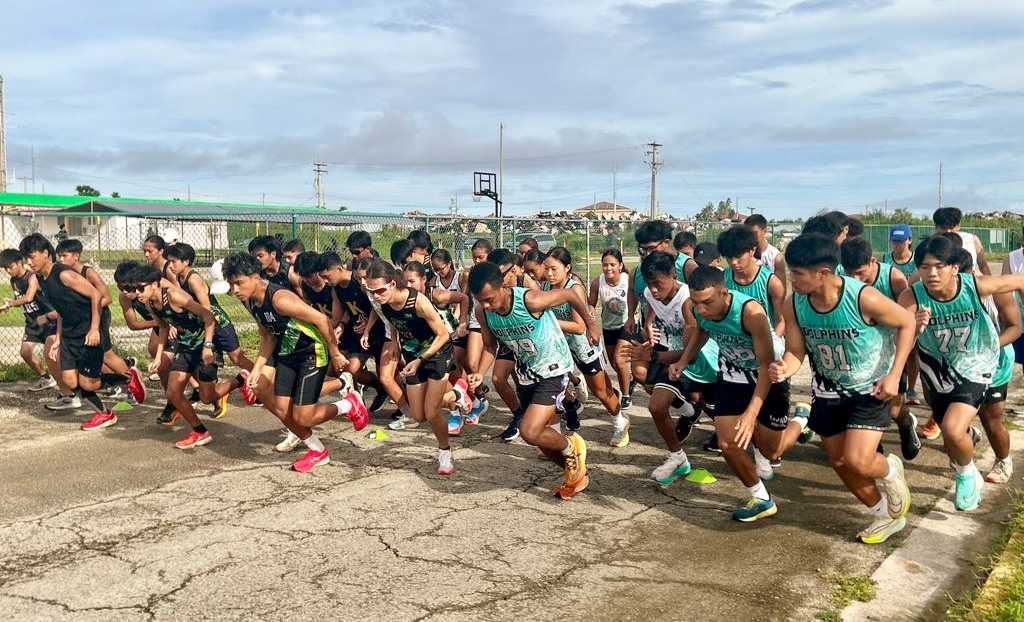 By Paradis Jolie Fejerang
The defending champions for ISA High School Cross Country, John F. Kennedy, took the top spots in their third meet of the season challenging both Southern and Tiyan High in a tri-meet at the Titans' home track Monday afternoon.
Some athletes competed in a local 5K event this past Sunday and had not fully recovered from the race as fatigue was apparent amongst the young competitors.
Thankfully for the uncommonly weary runners, much of the course was sheltered by a cool day that allotted for high spirits. Though, the weather and dispositions took a turn once the starting whistle blew as clouds began to clear, no longer guarding the runners from the sun's beam. In addition to the already numbered obstacles of today's race, an array of bugs were present for the race for the athletes to find themselves swatting at and running into the inconveniencing pests.
Moving through the hurdles of the run, JFK's team led the pack with what seemed to be an effective strategic mentality of running with each other to push one another forward. Even their top runners, seniors Hugh Kent and Annika Luis Miclat ran the course with their respective packs before creating some distance during the final lap.
Miclat has been looking forward to this season of cross-country, putting in extra time to accomplish the status she has attained. "I ran by myself during the summer because I felt like just [in-season] training wasn't going to be enough."
On top of her preseason training, Miclat has another source of encouragement in her sister, a junior on the team. The two race against each other in practice and on the course, driving the other to excel in a competitive yet caring nature.
In his usual lead, Kent's motivation comes from his desire to keep advancing. The goal for the Islander runners this season is simple. Speaking for himself as well as on behalf of his team, Kent shares the objective: "Stay ahead and stay in first place."
Top Five
Female
Annika Luis Miclat, JFK – 23:56.00
Cheyoung Ahn, SHS – 24:11.50
Gabriella Gogue, JFK – 24:48.70
Patricia Cerise Miclat, JFK – 24:55.80
Mia Chloe Decano, JFK – 26:20.20
Male
Hugh Kent, JFK – 18:23.70
Isaac Valdez, JFK – 19:27.40
Kaito Sakuguchi, JFK – 19:36.80
Gabriel Hollingsworth, SHS – 19:45.80
Javan Naputi, SHS – 19:48.60
Team Results
Southern High v. John F. Kennedy
Female
JFK (19) beats SHS (44)
Male
JFk (19) beats SHS (36)
Southern High v. Tiyan High
SHS wins both divisions as THS team has insufficient number of athletes for a full team.
PHOTO GALLERY BROUGHT TO YOU BY:

COMING SOON …
High School Football starts Sept. 29
Brawl 3: Oct 13
Guam's Strongest Man and Woman Competition October 29