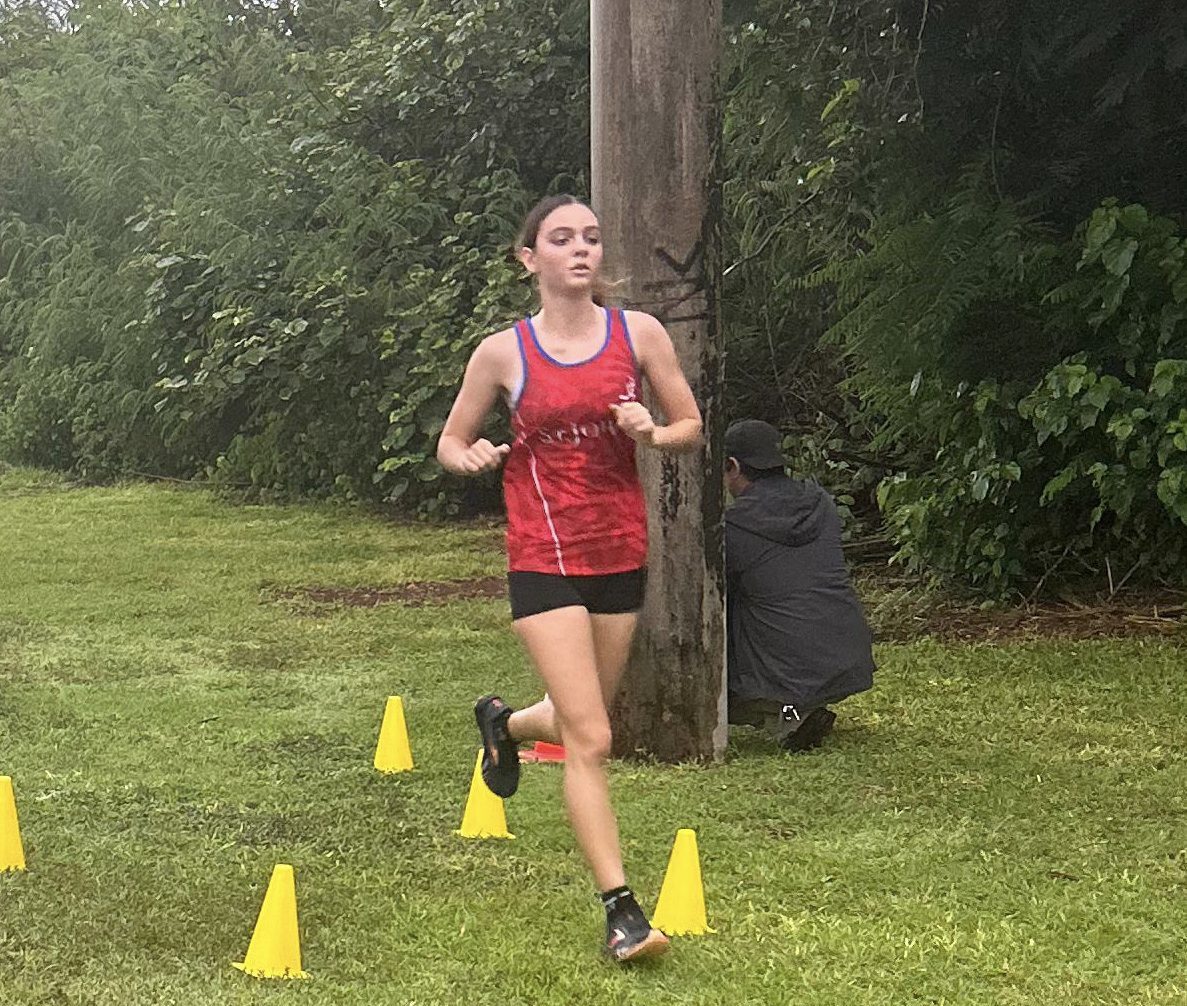 By Paradis Jolie Fejerang
Tensions were ablaze as rain fell onto the mud-covered Two Lover's Point cross country course where the Harvest Eagles took on the St. John's Knights Friday afternoon.
With bouts of passing each other and catching back up, both teams of athletes were practically refusing to give their opponents breathing room. The pressure from both teams were visible as rival runners were pulling into the chute nearly shoulder-to-shoulder. Even the top finisher, St. John's senior Alexander Clark, had a tail the entirety of the race in Harvest's Elijah Dixon.
Despite the strain the competitors seemed to put on each other, runners from both schools displayed encouraging moments of positive sportsmanship once completing their runs. From helping members of the contending teams out, extending congratulations and cheering for those who had yet to finish. The teams seemed to push each other so much so that a good amount of athletes from both schools were raving about realizing they reached personal records right after the race.
Top Runners – SJS Captains: Clark & Conroy
St. John's seniors Alexander Clark and Maeva Conroy were the leaders of their respective categories. The two have been a duo to watch as anticipated top competitors for this year's season, both of which are eyeing higher rankings for their team this year.
"We have a really good female team this year," shares Conroy, who was all smiles as one of the athletes to accomplish a PR during the meet. Although the SJS female team is small, the girls took the win over Harvest with all six athletes only allowing one HCA member, Bekah Tavarez, into the top seven spots. "We have a lot of really excited freshmen…everyone's hyped and ready." 
The SJS captains are well aware of the training leading up to the start of this new cross country season, the pair acknowledging the team needing to be ready in both body and mind. "Training helped us prepare mentally," Conroy notes as her team approached the first race feeling prepared rather than nervous. "We worked hard and we were ready for this one…we'll stay ready for the next ones," adds Clark.
Top Five & Final Score
Females: SJS (17) beats HCA (42)
Maeva Conroy, SJS – 23:31.90
Hazel Wilson, SJS – 24:19.20
Elizabeth Higley, SJS – 24:48.20
Bekah Tavarez, HCA – 25:04.50
Sujin Oh, SJS – 25:05.00
Males: SJS (19) beats HCA (38)
Alexander Clark, SJS – 18:48.00
Elijah Dixon, HCA – 19:17.00
Jackson Fulkerson-Smith, SJS – 20:01.40
Alwyn Lin, SJS – 21:04.90
Kyle Marutani, SJS – 22:38.70

COMING SOON …
High School Football starts Sept. 29
Brawl 3: Oct 13
Guam's Strongest Man and Woman Competition October 29