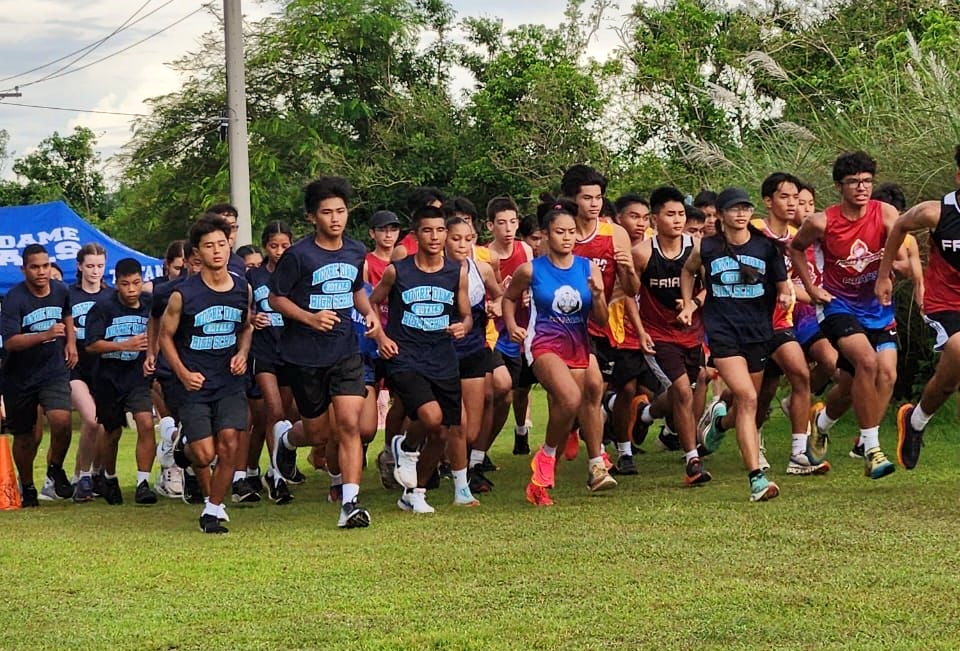 By Paradis Jolie Fejerang
The combined team of the Father Duenas Friars and Academy Cougars had the top finishers in IIAAG's first cross-country meet of the season. 
FD cleaned up quickly at Upper Tumon's Two Lovers' Point course, leaving the Notre Dame's Royals in the mud. FD senior EJ Manibusan crossed the finish line with a time of 20:29 with only one other teammate, Cam Bordallo, nearby. The two had a couple of minutes to themselves before more Friars could be seen nearing the end, taking up the top spots before any Royals could catch up. 
Unlike their male counterparts who dominated, the Cougars couldn't find a way to beat the Royals pack. Despite Cougar senior Taylor-Ann Santos' ability to take the lead for the females, ND's athletes kept up enough to secure the team win.
Top Runners
FD/AOLG's top runners are feeling good not just about this first meet, but about starting off athletics for the school year and getting the excitement back up for sports.
"It's good to get the first meet out of the way…and we'll build off that," Manibusan shared.
This isn't Santos' first time leading the females in a race and notes the training she's been doing has really helped her out in the beginning of this new season.
Manibusan and Santos have high hopes in their teams for the cross-country season, Manibusan explaining how consistent they have been with working hard during practices and trusting the coaches that lead them. The goal Manibusan looks to not only for himself, but for his entire team, is that every next run will become their best run. Santos has the same sentiment, comparing her and her team's placements last year and knowing that this time around she wants them all to work on getting better scores.
Top Five & Final Score
Female: NDHS (26) beats AOLG (31)
Taylor-Ann Santos, 12, AOLG – 24:27.40
Camille Leon Guerrero, 10, NDHS – 25:44.20
Jordyn Crisostomo, 10, NDHS – 29:32.70
Ema Kozaki, 12, NDHS – 29:35.30
Ashling Wade-Dickens, 12, NDHS – 28:38.80
Male: FDMS (15) beats NDHS (50)
EJ Manibusan, 12, FDMS – 20:29.00
Cam Bordallo, 12, FDMS – 20:31.40
Ryan Douglas, 12, FDMS – 22:11.20
Dylan Lizama, 12, FDMS – 22:34.40
Breyton Sison, 12, FDMS – 22:36.60

COMING SOON …
High School Football starts Sept. 29
Brawl 3: Oct 13
Guam's Strongest Man and Woman Competition October 29